Day 10 Najera - Santo Domingo de la Calzada | MY KNEE!
Today is another beautiful day on the Camino, albeit a little brisk in the morning.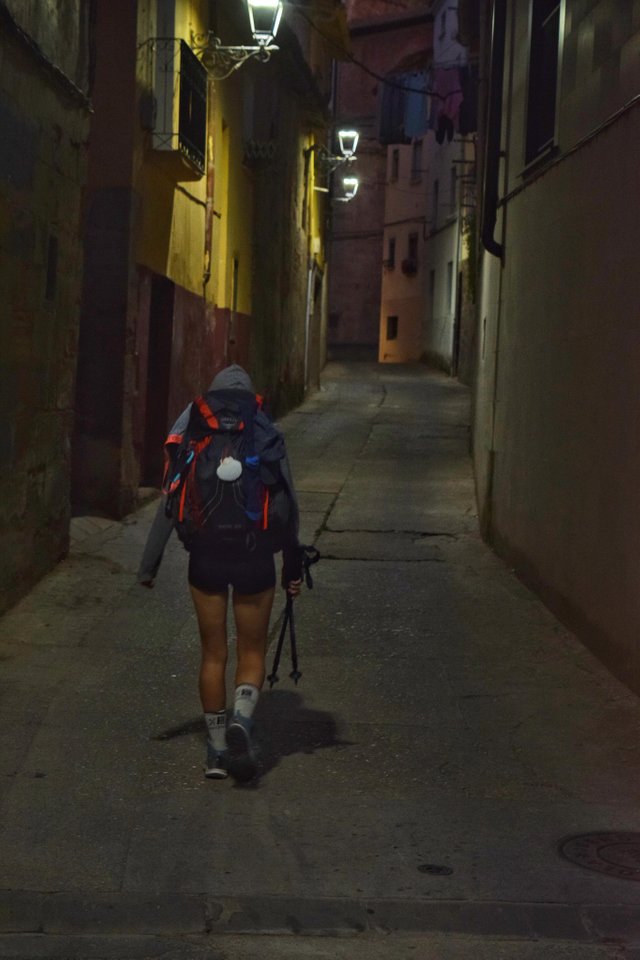 We begin our climb from the riverside over the surrounding cliffs. We notice in the cliffs there are some sort of old settlements carved into the soft rock. We find out these are from the iron age and very unstable so we can't visit.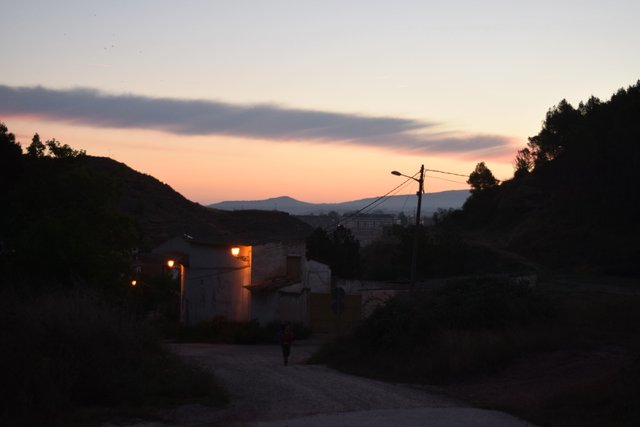 After climbing for a half hour my knee begins to give me a bit of grief. I need to wrap it. I grab the blue self adhesive elastic band we brought from home and wrap it as best I can.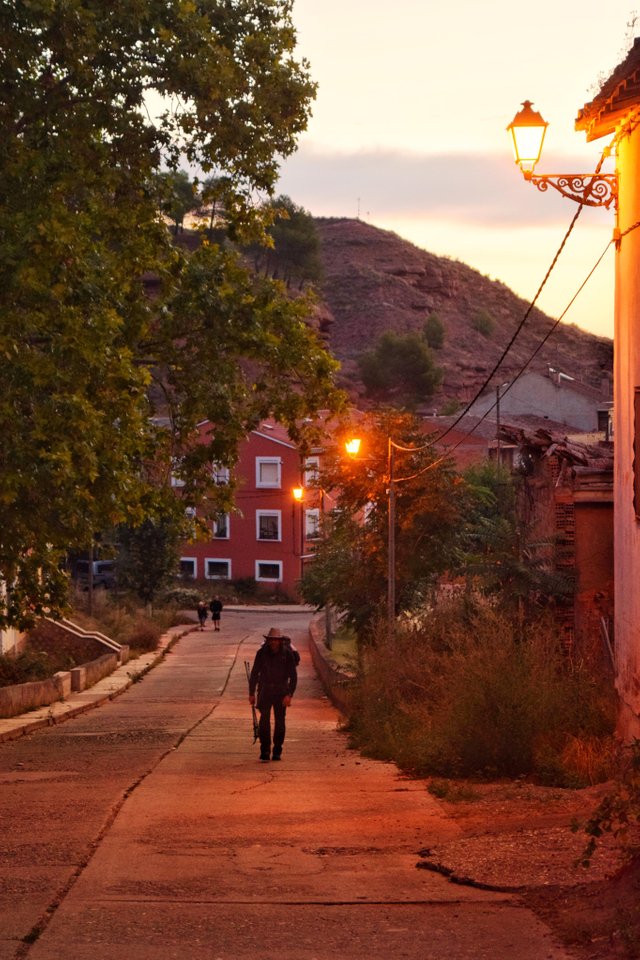 By now Charlotte is quite far ahead of me. The sun is just beginning to peak over the cliffs which are now behind us.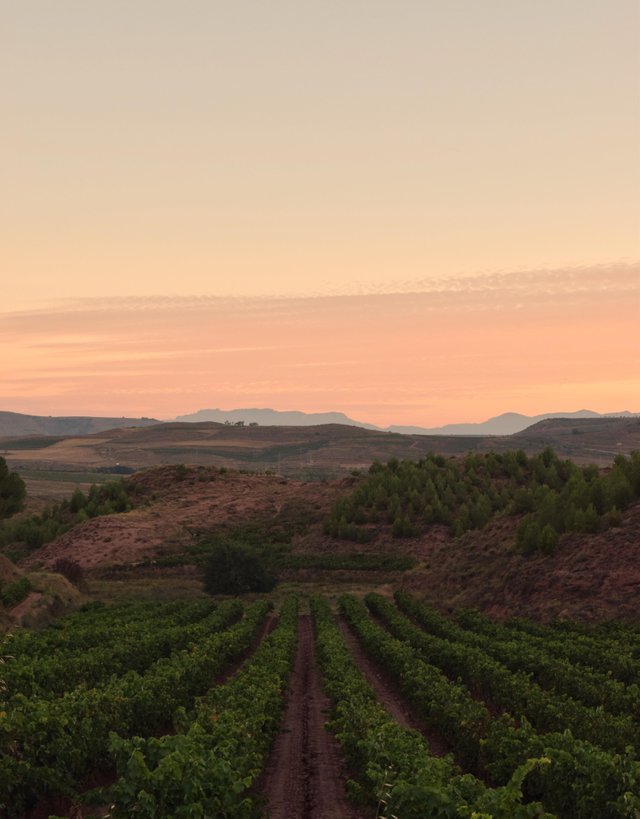 We head down the other side and the grapvines surrounding us are slowing becoming illuminated. It's a very beautiful day.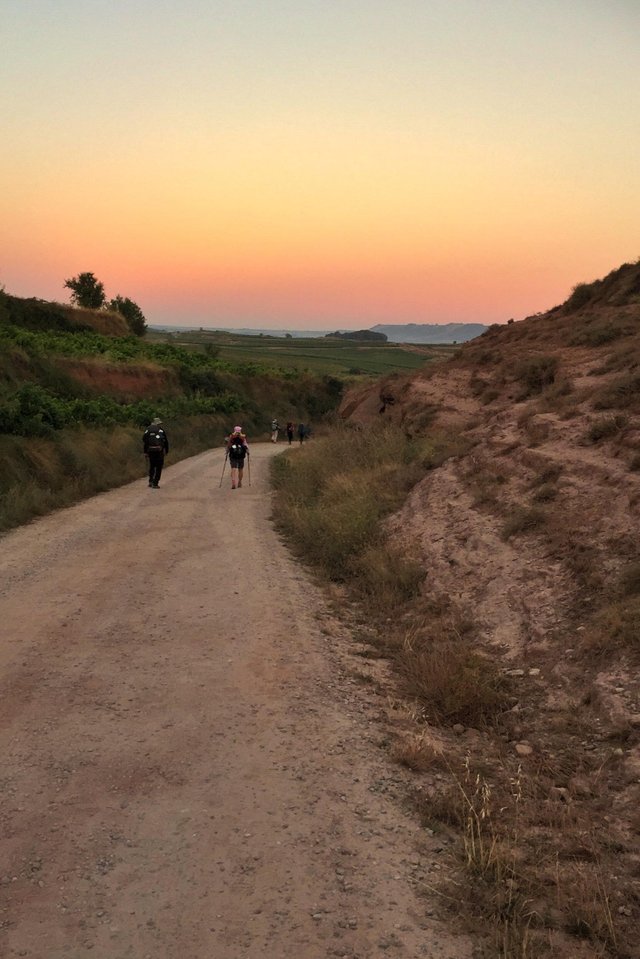 When I catch up to @chazzie-leigh, she notices how much pain I'm in and gives me her walking poles. These are fantastic, since walking and watching others use theirs I can transfer the majority of my weight onto my arms and relieve the pressure on my knee. Every stride is now propelled through my shoulder, down to my triceps and forearms and then finally the sticks which are just an extension of my body. It's not easy, but it's better.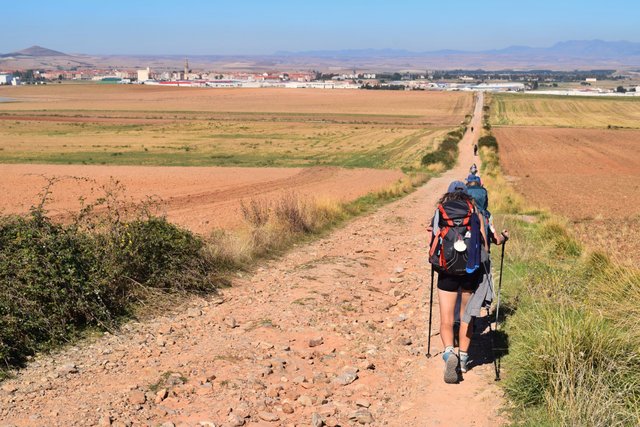 Today is all about struggling my way through it. It is only a 21 kilometre journey and because it is a Sunday everything is shut. Nothing to see on the way so we push through. I end up walking ahead of Charlotte with my shear determination to get this day over with. To stop the pain. I find myself walking alongside two ladies from Utah, one of which also has a knee injury. I find that walking and talking with someone helps so much to pass the time and take your mind off the pain. We push push and push up a hill. At the top we find a 'donativo' rest stop. Perfecto.
I take a seat and rest my weary legs next to the dog that belongs to the man running the stand. Its a cute little toy dog and very easy going. When Char catches up I go to see what is on offer at the stand. The guy has cold drinks, camino badges, fresh fruit and a box saying 'donation'. I grab myself a can of drink, a cup of sliced watermelon and then throw some coins into the box. The guy says thanks and then I saw he has some figs, they look a little green so I ask the man if they are ripe to eat. He then tells me that I have enough for what I donated! I was like "HUH!?" That's not how donations work right??? I was fuming. So I leave him be and go to sit back down. I feel so frustrated that on this path of sharing and helping others this man is clearly only here to make money. I notice how much he is watching how much money people are putting into the box and it makes me angrier! I feel like he should be reported to someone official on the camino. This is not the welcoming, generous atmosphere that we have come to know and love.
I also must say that we have been helping others as much as we can. We are not here only taking, we are giving. We are sharing and helping as much as we can. We are donating everytime we stay in the 'donativo' albergues even though they specifically state it is free and optional to contribute. I just feel bad that this man is here. He is not a part of this camino. Anyway, he makes me angry writing about him so I will stop.
The next town we pass looks like a modern pop up village. You know one of those places where a developer gets hold of some cheap land and tries to make something out of nothing. Well there is only a golf course here and after a quick Google search we find there is not even a supermarket. Because we have about 7km to go I grab a baguette from the golf club. Luckily, because there was nothing else until we arrived.
The last leg of the walk took ages, as it always does. Though we were earlier than usual to arrive to the destination, because we could see the town from the hilltop it seemed to take forever to reach! What made it harder was my worsening limp. But after a decent amount of suffering we got to town. The first albergue we found I pulled out some suave espanol and asked "puede mira dormitorio?" (Can we see the room?) I was stoked and the host replies "Si!" I'm glad we did have a look because it looked like a hostel from the 1600s. It was very dated, the floors were slanted, covered in cheap, poorly laid vinyl and the beds were those really bad spring beds you have when you are a child. As much as I wanted to stop here and rest we carried on. The next albergue was huge. It holds 220 pilgrims. It looks like a hotel. There is a massive common room area, huge kitchen, lovely garden and the rooms hold about 16 people each. There are even vending machines which dispense beer, olive oil, balsamic vinegar, pasta, tomato sauce and sweets. Everything you might need! Very nice, and 1 euro cheaper than the first place. So we settled in at about 1pm and waited to see who would turn up.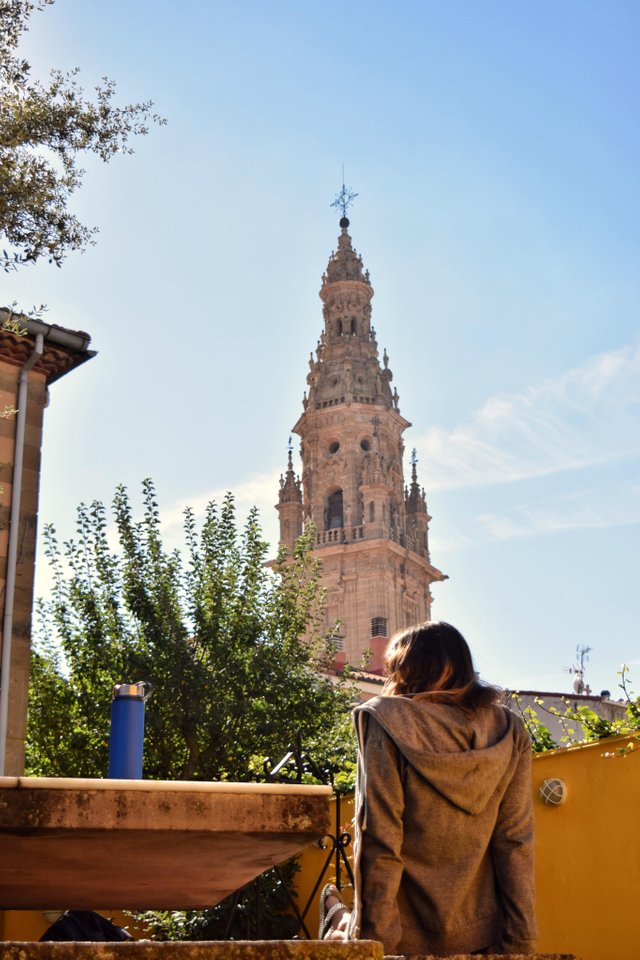 Staying in the largest albergue in town usually guarantees you will reunite with friends and it's so nice to walk into a place after a long hard day and see a familiar face. I bought Brad a beer for when he arrived and we all gathered in the garden to sit in the sun and catch up. It was a really lovely afternoon. Soon enough dinner time rolled around and we all went to the main street with restaurants and had a family meal. Once again, ahhhh the community. It's the most welcome I've felt by strangers in my life. Later that evening we even saw Marvin pull up. He joined us for wine and food before we called it a day and returned to our albergue.
Another day in paradise.
PEACE