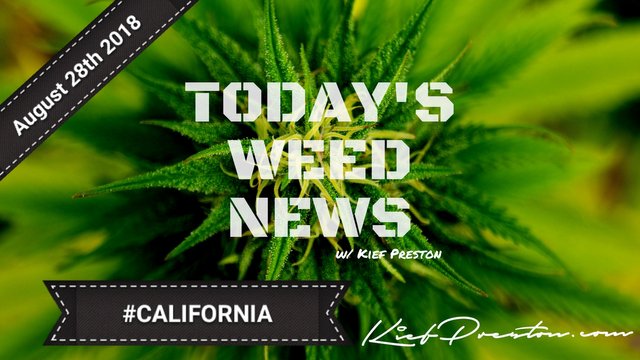 For today's weed news we go to the great state of California.
Thanks to a new bill passed by the California State Assembly earlier this week, some California parents are finally going to be allowed to give their kids medical marijuana while at school! (As long as the governor signs it.)
Although minors in California have been allowed to obtain medical marijuana cards since the late 90s, parents have been forced to remove their kids from school grounds in order to give them their meds on a daily basis. That does not seem right.
Thanks to the bill (sponsored by Democratic senator Jerry Hill), kids with medical marijuana prescriptions will now be allowed to ingest medical weed in the form of capsules or oils during the school day.
The bill makes it clear that smoking or vaping is excluded. The bill also gives school districts the option to opt-in to this policy change, but does not require them to do so. That could prove problematic for thousands of kids across the state.
Senator Hill said that this legislation was created to help "children and teenagers with severe medical disabilities". It remains to be seen how many, if any school districts in the state choose to opt out of allowing kids to access their medication while at school. Any districts that do, would be sending a very clear message that the well-being of their students is not their first priority.
Let's hope that all school districts do adopt this legislation and make it easier for sick kids to go to school.
Shoutouts to Senator Jerry Hill for introducing this legislation.
And that's what's up in California!
source: bit.ly/2N8DbL3
"Take Action Today to Help Legalize Weed Tomorrow" -Kief Preston
START HERE: kiefpreston.com/
Wanna GROW? Free GROW BIBLE – https://bit.ly/2podIAg
NEED A VAPE? VaporNation has Da Buddah Vaporizer and ALL the BeSt Brands + FREE SHIPPING - https://bit.ly/2L6hOFp
If you enjoy my content please leave a comment, ask a question, like it, share it, and subscribe for more! It will help me grow my blog and motivate more people to stand up for cannabis and start enjoying its' many benefits.
Stay UP! -Kief
▶ STEEMIT steemit.com/@kiefpreston.com
▶ Pinterest – pinterest.com/kiefpreston
▶ Youtube Channel – bit.ly/2GPQg64
▶ Kief Preston's Time-Tested Edibles Cookbook Series http://bit.ly/2EXIwAZ
▶ My website KiefPreston.com
▶ You can also support the cause by shopping on Amazon for ANYTHING you need using this link https://amzn.to/2GrxPog
More FIRE TRACKS from LMR & Mr Go Hard https://bit.ly/2plIWbe
▶ Hear me on Smoke Radio here: https://bit.ly/2JTCgJw
》》》FOLLOW and LIKE the Weekly Weed News 2.0 Podcast on Spreaker: bit.ly/2HjLf99 or on Itunes, Stitcher, Soundcloud, iHeartRadio AND nOw on Spotify!