Hi to all my followers and fellow Steemians! Just wanted to check and see if you got those free Byteball tokens that Byteball is giving for free to every person on Steemit.
---
NEW INFORMATION!!! JULY 21, 2018
You No Longer need to ask anyone to send you some bytes for the attestation process! Now simply use My Link:
https://steem-byteball.org/#CGUB2LWT2HKRZADQ75JYIRFTTFDXRAV5
to download your wallet, then do the attestation process which remains the same.
You can verify this change by reading Byteballs announcement on Medium:
https://medium.com/byteball/byteball-steem-attestations-now-referral-by-link-only-8ec6c79276b5
Also Note this change:
Rewards for the rep 30–40 and 40–50 brackets have been halved to combat the profitability of buying upvotes to boost your reputation.
---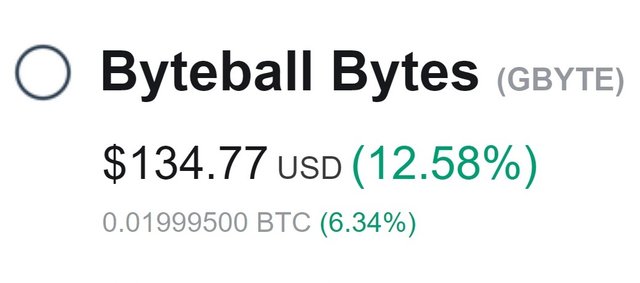 The official Steemit company blog mentioned it here: https://steemit.com/steem/@steemitblog/welcome-byteball-to-steem
and the post from Byteball is here: https://steemit.com/steemit/@punqtured/official-byteball-airdrop-to-steemians
The amount you get is based on your rep as you can see here:
Steem reputation above 30: you get a $10 reward (now $5)
Steem reputation above 40: you get a $20 reward (now $10)
Steem reputation above 50: you get a $40 reward
Steem reputation above 60: you get a $80 reward
Steem reputation above 70: you get a $160 reward
All rewards are paid in Bytes and may be subject to changes particularly for the lower reputation scores.
Your reward is split 50/50 between cash and a smart contract. This means that 50% of the reward is spendable immediately and the other 50% is paid to a smart contract that can be unlocked after one year.
And Byteball is going UP a lot today!
https://coinmarketcap.com/currencies/byteball/
Just wanted to make sure you heard about this, so you can get this free token! I got my $80 worth of Byteballs today (https://twitter.com/KennyCrane/status/1018964356502081536) which are Already UP in value, and just helped 2 Steemit friends get their Byteballs (https://twitter.com/KennyCrane/status/1019051923884924928) and I wanted to make sure everyone else knows about it too.
If you have any questions or need any help, just ask! Have a Great Day!