Subscribe here for the very latest Byteball news via email
JavaScript library for Byteball arrives
Community member Fabien has
released the beta of Byteball.js
.
Byteball.js is a JavaScript library that allows you to interact with a Byteball node. It was designed to work both in the browser and in Node.js.
Reminder - in simple terms the library will be like web3.js for Ethereum, which enables other projects to be created on top of it, like the popular Metamask browser extension.
For example, this would mean users could send/receive private messages or interact with the Sports Betting Bot through their web browser.
Developers can view all the documentation here.
Incidentally, if you are thinking Fabien managed to release the beta rather fast, you are correct! He submitted his grant request to fund the project in early August. If you wish to be paid for contributing to the Byteball ecosystem please see here for more details on how grants work.
---
LuckyBytes autoplay bonus

Users that enable autoplay now gain a free ticket for every 25th game joined this way.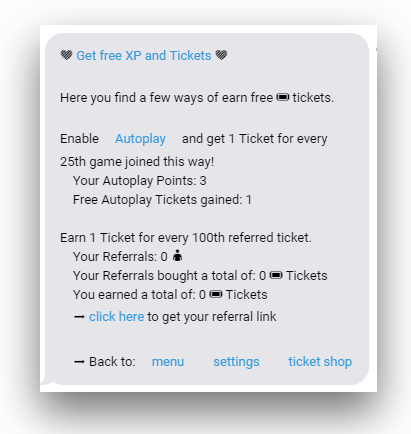 Reminder - LuckyBytes is the provably fair lottery that you can play from inside your Byteball wallet).
---
New tokens for Byteball Use-a-Thons
We have created two new tokens for
Byteball Use-a-Thons
: one for the main prizewinners and an Honourable Mention awarded at the judges' discretion.
There is a theory that all money tokens (seashells etc ) started out as collectibles, so use-a-thon tokens with issuance strictly controlled could be seen as valuable.
The total supply of prizewinner tokens is 1,000 which you can see on the Byteball Marketplace.
Once Byteball has formed a legal entity (which should be soon, there is lots of paperwork) the ability for real world institutions to issue their own tokens will be more appealing.
---
Binaryballs trading breaks the 1 million Megabyte mark

At the time of writing 1,244,908 Megabytes have now been traded on [Binaryballs](
https://binaryballs.com/
).
Further, user QF3NOV now holds the 24 hour net profit record with a 4,277 Megabyte profit.
At the time of writing that is a USD profit of around $350.
Reminder - Binaryballs allows you to anonymously trade financial futures using Bytes (the main currency of the Byteball platform), and profit when you make correct predictions on whether the price of an asset will be higher or lower in the future.
Disclaimer: binary trading can lead to huge profits but also huge losses very quickly. Not for the faint hearted.
---
Korean Slack
For the growing Byteball community in South Korea there is now a dedicated Korean Byteball Slack account. You can
[join here]
.
---
Would you love to see Byteball become a major platform in the crypto world?
Then please vote for Byteball to be listed on Binance! Then please give this article some Steem love!
Thank you