Byteball Bot War - Winner Announcement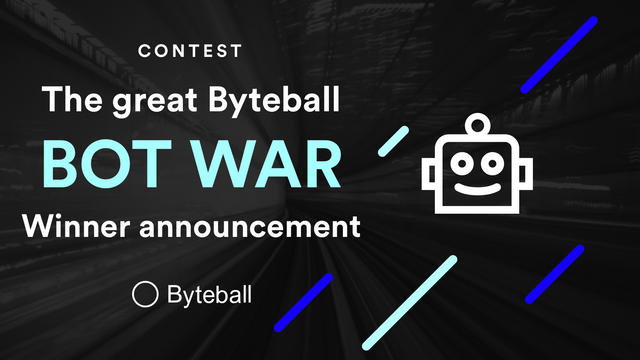 GitHub Attestation Bot by @drsensor
Error Fare Bot by @angr
Carpooling for Byteballers by pmiklos (@byteball.market)
Social Boost Bot by Andrii (@opposition)
Byteball Donation Bot by @genievot
General Observations
Winners of the First Byteball Bot War contest
The jury decided to award the third place and the $250 worth of Bytes to a bot that introduces an entirely new form of economic model to the Byteball platform. The third place goes to:
3rd place: Error Fare Bot by @AnGr

In second place, the jury decided to award a bot that establishes a link between the Byteball platform and social media platforms in a way that provides financial incentive to becoming and remaining a Byteball user. The second place and the $500 worth of Bytes goes to:
2nd place: Social Boost Bot by Andrii (@opposition)

The first place in this very first version of the Byteball Bot War is awarded to a bot that stands out in the way that it not only adds a new use case, but also introduces the Byteball platform to a whole new audience. By implementing several new features, the jury unanimously decided that the first prize and the $1000 worth of Bytes goes to:
1st place: Carpooling for Byteballers by pmiklos (@byteball.market)
Congratulations to each of the three winners, who will also receive one of the rare Use-a-thon winner tokens!

The race for the three prizes was indeed tight, and the jury would therefore like to extend an Honourable Mention to
@drsensor
for his GitHub attestation bot as well as to
@whoisterencelee
for his Know-it-all bot. Each will receive an Honourable Mention token as proof of their excellent and engaging participation in the Byteball Bot War.
Prizes will be transferred directly to each of the three winners and this post will be updated as soon as the transactions are made.
On behalf of the Byteball core team, the Byteball Bot War Jury of Xjenek, Punqtured and Slackjore sends their best wishes to all Byteballers and everyone who followed the contest over the course of the 4 weeks.
We wish all of you a prosperous New Year!