If you have read a few of my previous posts you might have seen some changes in the formatting of my posts. One of the reasons is I have started using Busy.org as the interface of choice for blogging on Steemit.
​
In one of my recents posts I had written about couple of improvements that I would like to see in Steemit Then I found busy.org. It already solves a few of the problems that I was facing and gives some value addition as well.
​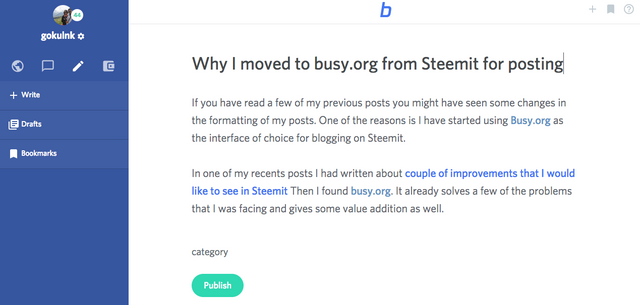 ​
Here are the things that I liked right away in Busy.org
A better GUI
Easy Wysiwyg, if you like medium then you will like busy.org
Ability to save drafts. (One of my biggest pain points on steemit)
Ability to bookmark others posts for reading later.
There are a couple of other things that I would like to see in Busy.org but will get to that after exploring the UI a little more.
​