Let's Talk Albums #11: It's a Scary Site by Fredo Santana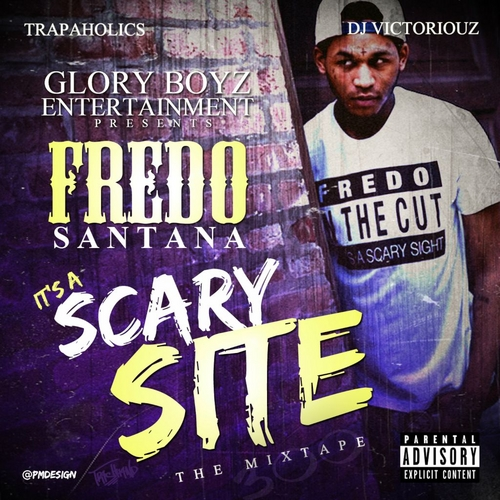 It's A Scary Site
I don't plan on being done with talking about drill albums for a bit. I feel that I will do a few more after finally getting to talking about one of my favorite Fredo tapes. Seems fitting that we make it the week of drill given the circumstances from earlier this week. Let's honor Fredo by going over the great tracks that are off one of his first tapes.
Flexing Finessing
I think this song has been in my constant rotation since the day it first dropped. Its also easy to say that it is one of my favorite songs off the tape since it has both Lil Bibby and G Herbo featured on it. I think I may have mentioned it at some point this week, but G Herbo is my favorite drill rapper next to Lil Durk so its pretty easy to point this to being my favorite since its his only feature on this tape. Honestly both of their verses are pretty standard though, the real thing here is that I could have this chorus on repeat over and over again. It just never gets old for me.
Respect
Gotta love the classic 2012 reverb on this. The song starts with the chorus "Money power respect, all a nigga know, got junkies at my door, I sell a lot of coke" That whole chorus is probably just a great icon for drill music, but I guess the same could be said for trap music...if only he mentioned Chicago in there somewhere lol. Reese is actually on this song again, which isn't surprising since he is on like half the songs from this tape, but definitely not the reason that I love the song.
Beef
Young Chop on the beat is right. I would once again like to point out that even though I picked THREE songs that have Lil Reese, its just because I like the actual song as a whole! Fredo's verse is actually pretty weak here, he rides the same flow and lines as the chorus for the most part repeating "Fuck nigga you don't want no beef" similar to how it is in the chorus. Still a dope song.
I still plan on writing about at least one more Fredo tape, but haven't decided which one yet! You will for sure see another one soon. Probably another drill artist talk before that :).
Let me know any other suggestions you have! I am going to be talking about Blacc Hollywood soon based on the suggestion of user @rapdaily