Bitcoin Dumps More Then $1000 In Last 20 Minutes. Is This A Another Bad Day For Crypto | Binance Hacked Or Rumors
OMG ! Have you seen the dump of Bitcoin of last 20 minutes Bitcoin is not trading at $9692 which was $10751 20 minutes ago
Quick Update Bitcoin fall
Is this is a another bad day for the Crypto market and it's users because there is a news coming from somewhere that Binance Is Hacked but this is not confirmed. Some Binance users has reported that their alts are automatically sold for bitcoin and now they have bitcoins in their account. Another users reported that he has checked it's two factor authentication but it seems that there is no problem with them and i don't know how my alts are sold for bitcoin automatically.
Look at the last minutes chart of Bitcoin.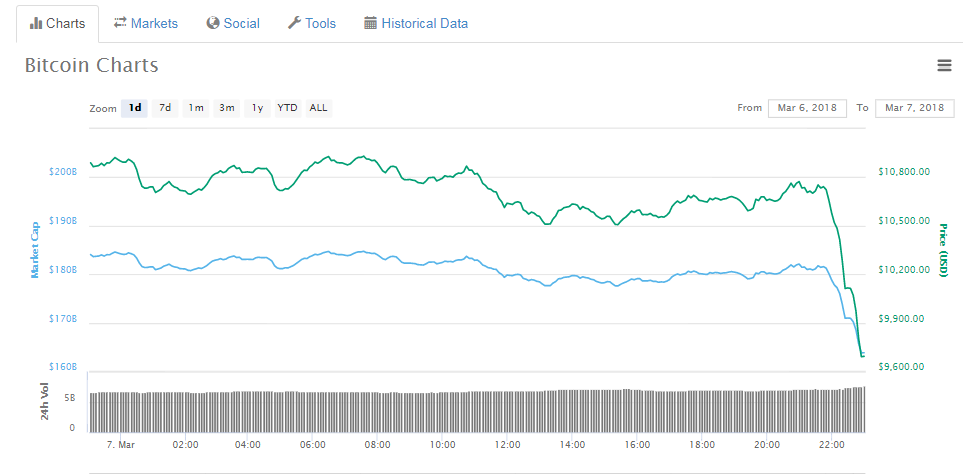 I haven't seen something like this before. I have checked my Binance holdings and i have my alts as i left so no problem or any change happens with my Cryptos unlike those has reported that there alts are sold for bitcoins.
Binance has also stop withdrawals. Here is what they reported on reddit.

May be the news of hack of Binance is all fake or rumors, can't say anything. I wish that, all these news are rumors and bitcoin recovers again.
Update
Binance not hacked. It was a rumor. This is all because using of third party tools ( Bots ) that uses Binance API keys and Someone hacked the bot not Binance.
Best Of Luck :)
Please do not take it as a financial advise. THIS IS NOT A BUY REQUEST. It is just my analysis,opinion and result of readings. So before investing in any Crypto currency, do your own research first. I will not be responsible for any losses
Thanks for reading...
If you like my post or interested in Crypto info, then you can follow me for more
And don't forget to upvote my post
Your Single Upvote-Comment-Resteem Can Make Me Smile :)