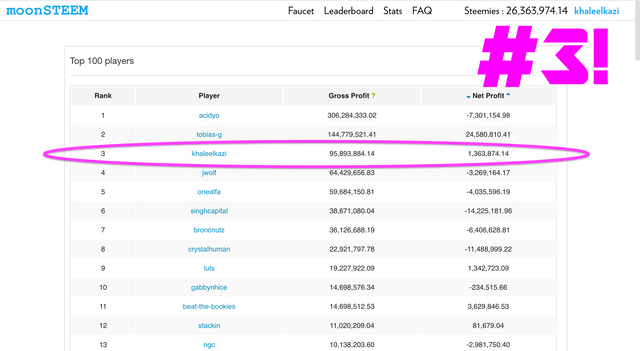 Moon Steem is a brand new crash game on the Steem blockchain.
It's the first ever crash game to hit this blockchain and I'm pretty excited about it!
This morning when I woke up and saw that they had officially launched, I bought in for the max amount they currently allow.
50 STEEM is the current max amount and that deposit will set you up with 50 million steemies - the "in-game currency".
The game itself is pretty simple --> you bet an amount of steemies and then you choose when you cash out by clicking the big button.
The longer you wait, the more you'll make. You never know when it's going to crash. If you wait too long, then you lose your bet!
There's far more to Moon Steem than that. There is an entire system setup for rewarding dividends to players, investors and delegators that is unlike any other system I've seen on Steem.
It's very interesting and I'm diving into it as we speak. The complete guide to Moon Steem will hit my website tonight or tomorrow morning!
I'm up a little over 1 Million Steemies right now!
Note: This is a gambling dapp. Deposit only what you are willing to lose!
---
Contest! Earn Rewards!!
For now, I thought I would do a fun little contest to get people into the game, having fun and earning some dividends.
1). Signup using my referral link:
2). Leave a comment down below with your first impressions of the game
3). Everyone who does will get a 100% upvote from me
4). I'll also do a random draw and delegate 50 SP to 2 winners for 30 days (50SP each)