Why I Switched to Busy.org and So Should You!! | #Steemiteducation
I joined Steemit last year and having come straight from the glittery world of Facebook, to be honest, Steemit website wasn't really fascinating. It was bland and that was one of the reasons I wouldn't spend much of my time (during my initial days here) but then one fine day @juliank mentioned #busy on her #photocontests account.
Since then, I have been a regular on Steemit and I use busy (except for sending SBD to @blocktrades)
So if you're a newbie, and are as confused as I was when I started out, here's my 'free advice' to you: Switch to Busy
Allow me to explain.
The development team claims that Busy is the next generation Social Media Platform that helps you get your value back.
An alternative interface to Steemit: we work on a different approach with a user-friendly interface and specific marketing for mass adoption aiming to remove all the blockchain and cryptocurrency friction, to make it easier to adopt by everyone and every possible niche.
And when they say user friendly interface, they actually mean it. First things first, How to Login: Simply go to Busy.Org and authorize the app to login using your Steemit Private Posting/Master Key.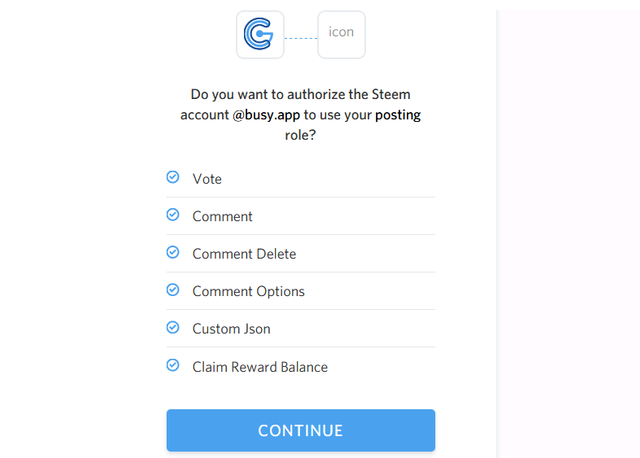 ---
Now I will list down Seven major advantages of switching to Busy from Steemit.
---
1. Here's Your Notifications Tab
Someone mentioned you in a comment or in the blog post and you really don't have any clue about that. Steemit didn't have notifications tab and that was a major letdown for a newbie like me. Because for a newcomer, it is important to interact with people. Imagine someone mentioning you in a blog post, say nominating you for a photchallenge and you wouldn't know until the last day arrives.
Busy notifies you whenever anyone replies/comments on your blog post. At the same time, it notifies you whenever someone mentions you.
Though that could be a problem for whales/dolphins who get truckloads of comments but for a beginner, all s/he needs is people commenting/replying to his posts/comments.
I am sure the Busy development team will help us filter which notifications to receive and which not in the future.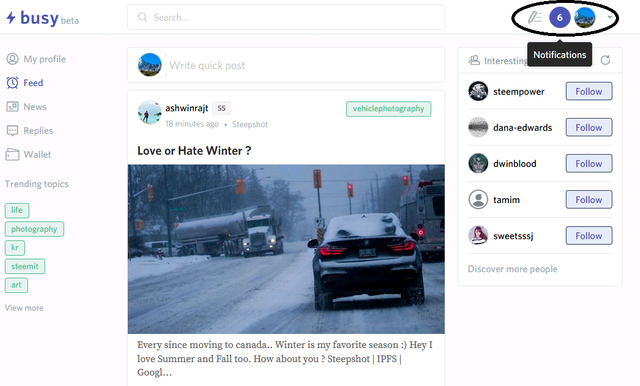 ---
2. Here's Your Own Self Vote Worth and Remaining Voting Percentage
As a newbie, people tend to do crazy things on Steemit and one of them is to vote like crazy. They vote as if there's no tomorrow and end up wasting all their voting power. Your voting power is what makes your worth on this platform and you should spend it judiciously.
And that's why one should keep a check on his/her voting power continuously. Under Discussion Tab, to your left you can see what your remaining vote percentage is and what your vote worth is. This is by far the second best feature of Busy.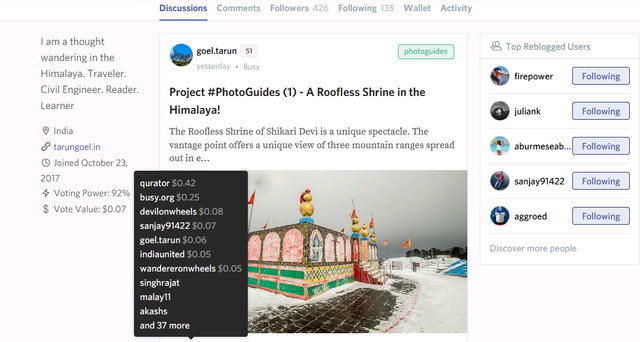 ---
3. Here's your Steem Market Price Live Feed
Steem live prices and 7 day price chart: All in One Place. And that's an awesome feature because you really don't have to switch tabs between CoinMarketCap and Steemit on your browser. Now that's time saving and gives you an idea about the pattern (if any) that Steem is following. Sometimes you power up and the moment you do that SBD shoots up and you end up with a big hole in your wallet and less Steem in your account.
This live feed does help in keeping a track on live prices of Steem, which I believe is a great feature.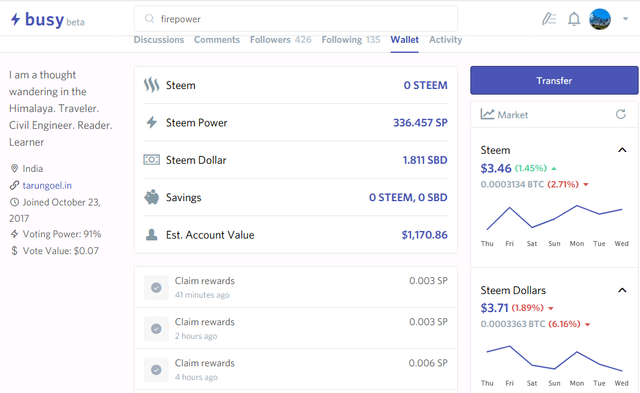 ---
4. Here's your Total Votes and Vote Worth Feature
Someone voted on your post and now you want to check how much did someone's vote fetch you? At what percentage did someone vote you? With Busy you don't have to go to Steemd.com and wait with baited breath for every comment or upvote request to hit the server.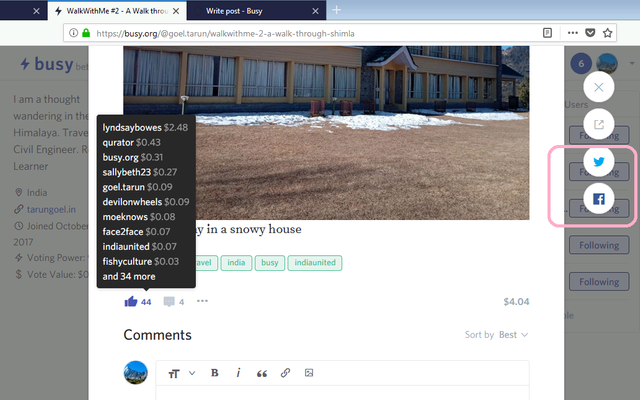 You can even have a quick Social Share on both Twitter and Facebook. Have a look to your Right.
---
At Busy, you can check all your votes and their worth at the post itself. And if you want to check details, you simply switch to Activity Tab and check any details you want to. You want to only see your upvoted comments or your just your Author Rewards, you can do that too with 14 Filter Options provided in the Activity Tab.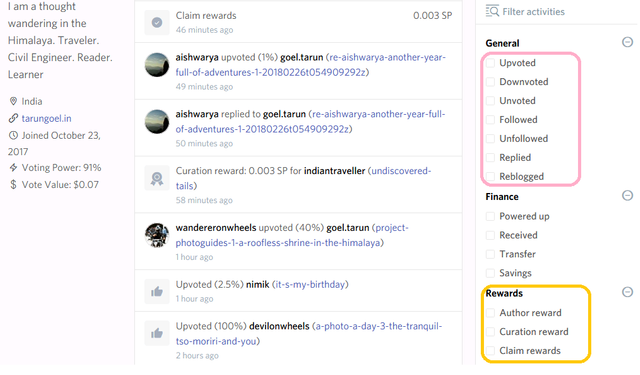 A Whole Lot of Activity Filters
---
5. Here's your Missing Draft Folders
All your drafts will appear under this tab.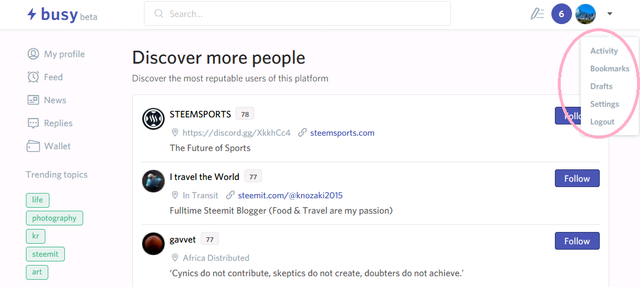 You can even find Interesting People to Follow based on your Steemit commenting/posting and upvoting history. Like minded people will surely attract each other.
---
6. Here's You Miscellaneous Posting and Interacting Features
1. Your followers are no more a text. You actually see their display image in the thumbnail. That gives you a confidence that you are not following ghosts but colorful personalities, some of them my be humans while some of them may turn up bots or ghosts :D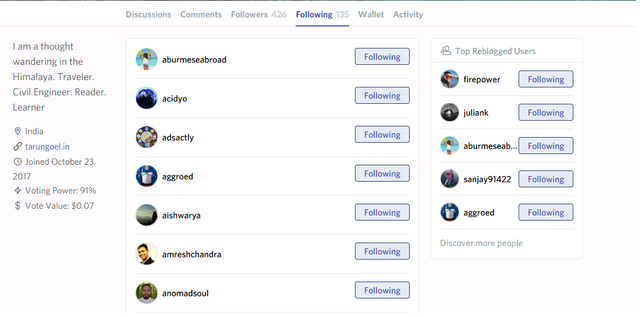 ---
2. You can check the Post Read Time and Word Counts in a Post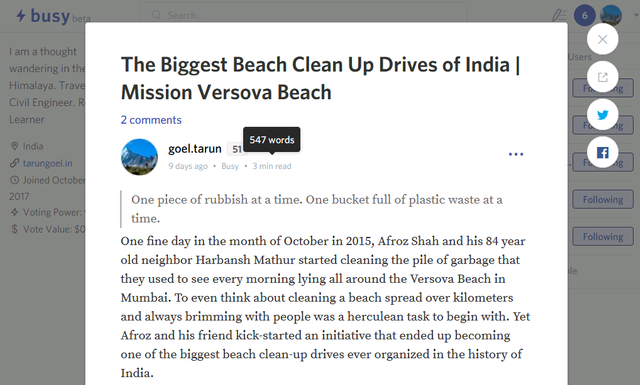 ---
7. And lastly, the most Important Feature of Busy: Vote Percentage Slider
Unlike Steemit, you do not have to be at a specific SP level to be able to control your vote percentage to be able to diversify your voting. At any time, you can control your voting percentage by simply clicking on the upvote button.