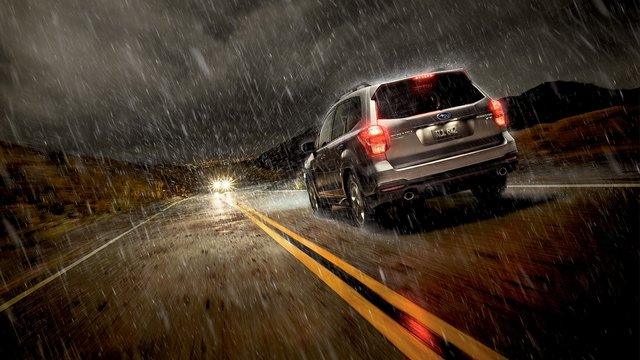 "This is the last time that I'm going to ask you two to behave!  The road has been difficult enough with the constant rain and the non-stop fighting isn't helping! Come on you guys, we are nearly there!" 
Peter struggled to focus on the road and the rain was pouring down.  
Cindy and Nadia looked at Peter with a surprised expression on their faces. They've been driving for eight hours straight and the road has been difficult. They were tired and hungry and they just wanted to get to the farm.   
The farm where Peter grew up.... 
Last week they received notice that their grandfather passed away.  The grandfather they had never met.  
Peter left for college nineteen years ago and has never been back to the farm. When he left, he swore that he would never set foot on the farm again while that bastard was alive. He hated his father and his father hated him.  He still has the scars on his back to show for it.  It's a wonder he turned out to be a half decent person.  
A decent man raised by a madman.... 
Now it was time to let go and pick up the pieces where he left off nineteen years ago.  
He was too young to help his mother out of the situation and he had always regretted that, but she made the choice to stay when he left.  Poor woman.  
He was excited to hear her voice after all these years.  She sounded tired but relieved. 
All she said was: "He is dead.  You can come home now." 
Peter immediately put in two weeks leave and notified the girl's school. He still had to arrange a few things, and two days later they left.  They were close now as Peter started to recognize the houses in town.  
When they passed the last house on the road, they took a right turn onto a gravel road.  They were very close now. The girls seemed excited when he told them, but the muscles in his chest tightened as if he wanted to strangle himself. 
He took the turn, and right in front of him, he saw the house where he grew up. Memories flashed through his head.  It still looked exactly the same.  For Cindy and Nadia it felt like they were part of the twilight zone.  
Peter knew that his mother was expecting them and when he stopped in the driveway it was only seconds before he saw the front door open. It stopped raining about ten minutes ago, but everything was still wet. When he got out of the car, his mother was waiting for him on the porch.  
He smiled at her and he had tears in his eyes when he hugged her for the first time in nineteen years.  It felt good to be back. For the first time in nineteen years he felt safe again.  Safe in the arms of his mother, and it was hard to imagine all the pain he had to endure during the first nineteen years of his life.  
"Come on kids, come and meet your grandmother....."
Cindy and Nadia just looked at each other.  They couldn't believe their eyes. 
They stood there in front of the old house, and there were absolutely no signs of life. Their father had gone crazy.
- The end-