Here is how I left California. It took three years.
I first got evicted from my place of 13 years in Coronado. By this time it was two years after I lost my weight and I was almost used to my new self. But when I lost my weight, I lost everything else. @bxlphabet hated me and was off in his own world as an adult. We couldn't talk to each other for longer than five minutes.
Coronado was a terrible place for me by this time and I was ready to leave long before I did. I kept trying to tell him, and he kept not hearing me.
And then the house was gone.
I left almost everything in that old place, and took what I could carry.
I moved to a place of vegans and all of their vegan-ness for 5 weeks to take care of the kids. I was still in Nado four blocks from where I had lived. I stayed in an unheated garage with rats and no place to even stand up barely. I took thousands of photos and couldn't think. Ghosts were everywhere and I needed to get out of that town so badly.
I moved to a cheap hotel in a place of gunshots and crime and homeless misery in Chula Vista for 5 weeks. I loved it in my big hotel parking lot, but it was too expensive, and more than a little scary, so I really could not stay.
A kid tried to mug me and started crying when he saw I was old enough to be his grandma. My butt looks young now, but my face is old. He said, "I'm sorry, Ma'am," when he ran off.
I moved in for three months with a family in a better part of Chula Vista and took care of their mom who was dying of cancer with hospice care. I made friends with their pit bull while on call or working 22 hours a day. They had bad food and I almost starved to death while lifting and turning the dead weight of their mom to avoid bed sores.
The mom was really dead an hour after I had just left her in the eleventh week. I heard her death rattle but did not recognize it until I sat with her silence waiting for the funeral home to come.
I moved in with a rich family for 5 weeks in a National City mansion, took care of their three kids, and did weight loss coaching. I ate a huge amount of gourmet organic food and got my strength back from the last place. I published a book and had to leave because they wanted someone who could speak Spanish for the kids.
I moved to a very cheap rented room in a place in North County called Rancho San Luis Rey, with one of the strangest ladies I have ever met. This was a double wide mobile home and she was renting out two rooms illegally.
The other room had a rotating cast of characters and every one of them asked how I could possibly stay there. She had a key to my room and burst in many times a day looking for things she thought I stole while I was actually sitting on the computer working.
She insisted I leave after the second week and told me the police would come get me to take me where ever I wanted to go. I said fine, and wondered how she could schedule the police to arrive and do her bidding. She asked me if I was really going to leave many times a day for a week. I said, "When the cops get here, I will leave."
This turned out to be an off duty policeman who was buying a used fridge from her. Since he was in regular clothes, I asked him if he was a cop when I got in his truck. I did not care who he was, I would have gotten in with anyone by this time.
He said yes he was a cop, and he did not really want the fridge, but he came to save me and expected me to be about 17 years old and trapped. We agreed she was the strangest lady ever.
"You can't believe the conversations I had with her on the phone," he said. "I've been so worried about you."
He took me to a cheap hotel on Oceanside Beach which was very nice.
From there, I got a room and board position for a thin wife truck driver and her morbidly obese husband in El Cajon. I was to do weight loss training with him. She was on the road most of the time in her long haul truck. Right from the start he was doing great and very accepting of my natural ideas. We got along well and he was a model client. He was gone at work all day and I worked on my own online stuff and played with the dogs.
After three weeks she called me one day to say she had left him forever and was never coming back and that I should let him know. Sigh.
A few nights later he went insane and started screaming at me to leave that very minute. I ran out the door and all the neighbors were already out there from the noise and they had already called the police. It turned out he is a felon for spousal abuse and so the cops said they would arrest him. But he did not touch me so I did not press charges. He left the house and now I was there alone. His sister came and told me to let her know when I left so he could come back.
I got an actual live-in job with rich people in North County Fallbrook and took care of their 82 year old mom for twelve weeks after her hip replacement. They paid me a lot of money and fed me gourmet food delivered to the cottage I stayed in on the compound. I had a pool with a waterfall all to myself in my few off hours.
I moved to a rental in Shelltown San Diego with a Filipino family for six months. @bxlphabet was living nearby and we were going to try to repair our relationship, which we did to some extent.
It was ok until the Grandma and kid left for the PI and then the daughter stopped cleaning and taking care of the four dogs who pooped and peed in the house Every. Single. Day. I left due to the health issues of trying to clean up after four dogs who were not even mine.
I moved to the next place in Shelltown for six months with the crazy landlord and his cast of invisible people tormenting him. He called the police to say I stole his pants. I called the police when he pushed me down the stairs. He ended up in jail 3 times in the last six weeks I was there.
I moved to a cheap hotel in a different bad place in Chula Vista for a week. One of @bxlphabet's friends said his mom had a room to rent in San Ysidro down near the Mexican border, so we moved there.
The first time I answered the door was on the second day I got there. Six cops were at the door and I thought they had followed me from the last place. But they were there for the mom's drunken boyfriend. The two of them made life a living hell until I left seven months later for Thailand.
I did not do any crying until I got on the plane and the seatbelt was so loose on me. This was the first time I had been on a plane since I lost "half my size." Before this on my many flights, I had always needed a seatbelt extender.
That flight was three years ago this week. I thank God for getting out of that place and over here to SE Asia. I only miss @bxlphabet every single minute of every single day.
Note: This freewrite might have taken a tad longer than five minutes to write. But this is an anniversary celebration, so I feel at peace.
All photos are mine and taken with whatever cheap point and shoot camera I had at the time they were taken. This is with the exception of the last one of me and @bxlphabet taken right before I left at San Diego Airport. I'm not crediting it, but I do not think I will get any trouble about it.
According to Google Maps this trip was 255 miles and should have only taken 5 hours, but I am slow. I had to cut some since they only allow for ten stops per trip.
My post is for the #freewrite daily challenge by @mariannewest. Freewrite is a great way to post on steemit when you do not think you have the time, or talent, or anything to say. It's a great way to start regular posting on steemit. I know you can do this too! Here is Marianne's freewrite prompt post for today. Give it a try and surprise yourself.

Even though I left, I am a proud member of @socalsteemit. We bring Southern California to you on the STEEM blockchain. If you have a connection to this area, please join us. We would love to have you!
= =
Minnow tips!
Here is my latest minnow tips post if you struggle here at steem.
These tips can help you even if you are not new.
Monday Minnow Tips for Everyone from @fitinfun
Contents of the Above Post
What should I do EACH DAY on STEEM with low power?
What to do with your STEEM
Are you shooting blanks with your votes?
Should you use an autovoter?
Join qurator
Do not post to nowhere
Why bother to comment?
How and Why to use kryptonia
How to get Upvotes
For Twitter Users
How and Why to lease delegated sp
Curation Trails
Using Discord
= =
dApp Reviews
All recommended!
And here is an update on @fitinfunfood. I just started this blog in Jan 2019, so you can find out what I am doing to grow my new baby here:
@fitinfunfood Update Post
And some more about using SBI. I am updating my minnow tips these days:
https://steemit.com/esteem/@fitinfun/my-steembasicincome-update-spoiler-i-love-sbi
Please Help Me Keep Helping at STEEM
Please follow my blogs:
@fitinfun
@fitinfunfood
@bxlphabet is my son's blog, and I am so grateful he has returned.
We all post on Busy most days, where their upvote for us is based on the collective SP of our followers. We all follow back, because we love you. This is the power of STEEM.
Put my blogs on your curation trail
@fitinfun
@fitinfunfood
@bxlphabet
If you delegate sp - you can go to @minnowbooster. One of the blogs always has an offer there at about 14% apr, and we are all very grateful if you delegate to us.
= =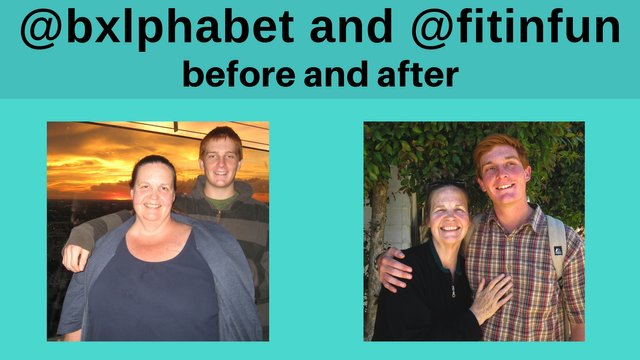 Statistics say that only 5% of people with health resolutions for the New Year will still be on track after Super Bowl Sunday. Is your fitness equipment still out handy, and are you still on a "diet?" Soon we will be in Bathing Suit Season. Are you ready?
I lost "Half My Size" eight years ago by using natural methods. I started on December 5th and did not give up. You can do it too!
This is Sharon @fitinfun. I am posting:
Healthy Food Ideas on @fitinfunfood

Motivation Minnow Tips and Everything Else on @fitinfun

@bxlphabet is posting Southern California, steemmonsters and dtube videos.
Please follow along or contact me directly if you would like some individual help with weight loss and health. Anyone can do this if I did.