The most harmful restaurant in the world.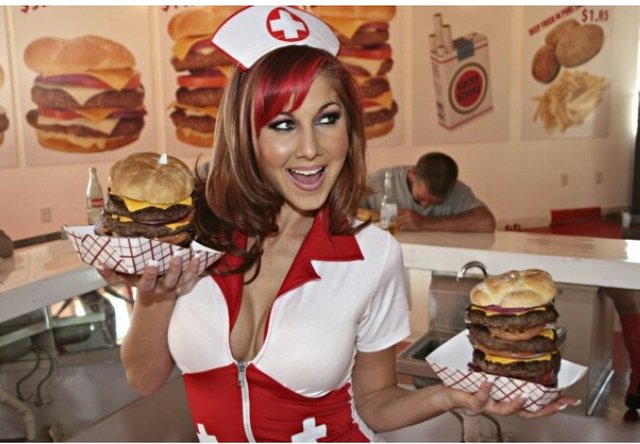 2005 yılında, Amerikan fitness antrenörü John Basso kendisi için hayal kırıklığı yaratan bir sonuç çıkardı: İnsanları sağlıklı bir yaşam tarzına yönlendirmeye ikna etmek anlamsız. Çok daha fazla gelir, kötü alışkanlıklara iş getirebilir. Ve sonra John aniden işinin yönünü değiştirdi.Eski fitness organizatörü, Chandler (Arizona) şehrinde dünyanın en zararlı restoranını açmaya karar verdi. Çok sevgiyle çağırdı - "Kalp krizi" ve kurumunu gerçek bir gluttoni krallığına dönüştürdü. Restoran sahibi, ziyaretçilere sadece çok miktarda kalori içeren zararlı ürünler sunmadığı gerçeğini saklamıyor.Şimdi, John Basso, diyetlerin sağlık için çok tehlikeli ve depresyona yol açtığını garanti ediyor. Bu nedenle "Kalp Saldırısı" nda bulunan bayat çanak, 900 gr pirzola, yarım soğan, bütün domates, 16 parça domuz pastırması ve 8 parça peynirden oluşan dev bir burgerdir. Sonuç - 9 980 kalori, zararlı yemekler dünyasında en zararlı yemeğin bir tür kaydıdır.Bu dev sandviçi yöneten, hemşire olarak giyinmiş bir garson, tekerlekli sandalyede arabaya binecek. Ve eğer müşterinin ağırlığı 350 kilodan fazla ise, bu da yaklaşık 160 kg'dır, o zaman kurumdan ek bir ücretsiz yemek alır.Menü, patates kızartmasının gerçek yağda pişirildiğini ve dünyadaki tüm yemeklerden daha fazla kolesterol içerdiğini açıkça belirtiyor. Bununla birlikte, restoranın tüm atmosferi bu gıdaların tehlikelerini hatırlatıyor. Garsonların hemşireleri canlandırdığı gerçeğine ek olarak, ziyaretçilere hastane pijamalarına benzeyen özel önlükler de verilir. Ve restoranın sloganı - "Öldürebileceğin tat" da hacimleri konuşur. Müşteriler burada hasta denir ve siparişler tarifler denir.Lokantadaki "Kalp Krizi" nin diğer fast food restoranlarından farklı olmadığı anlaşılıyor, çünkü fast food tehlikeleri uzun zamandır biliniyor. Ancak John Basso restoranının öne çıkan özelliği, ziyaretçilerin sağlığına yönelik tehlike ile ilgili bilgilerin tam anlamıyla duyurulmasıdır. Ve bütün büyük olasılıkla zararlı değil, ama aynı derecede lezzetli yemek erotik hemşirelik kostümleri genç gergin garsonlar tarafından yayılır.Restoran, reklam maliyetleriyle kendini bile yüklemiyor: sıradan müşterilere, bu sıra dışı kuruluşa arkadaşlarını ve tanıdıklarını getiriyor.Kalp krizi "düzenli beslenme savunucuları tarafından düzenli olarak eleştirilmektedir, ancak kapatma açıkça tehdit altında değildir. Müşterilerden hiç bir şey yok. Görünüşe göre John Basso haklıydı - kötü alışkanlıklar para kazanmak için harika bir yol. Restoranın web sitesi doğrudan herkesin kendinden sorumlu olduğunu ve bir sipariş verirken sonuçların farkına varması gerektiğini belirtir.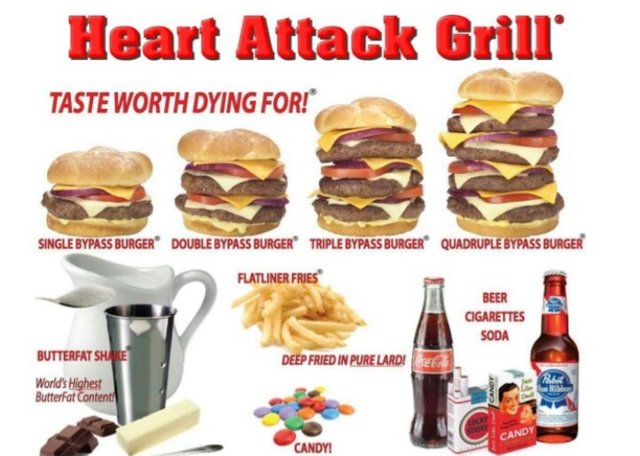 In 2005, American fitness trainer John Basso made a disappointing conclusion for himself: it is pointless to persuade people to lead a healthy lifestyle. Where more income can bring business on bad habits. And then John abruptly changed the direction of his business.The former promoter of fitness decided to open the most harmful restaurant in the city of Chandler (Arizona). He called it very eloquently - Heart Attack and turned his restaurant into a real kingdom of gluttony. The owner of the restaurant does not hide that visitors are offered only harmful products that have huge amount of calories.Now John Basso assures that diets are extremely dangerous for health and cause depression. Therefore, the signature dish in Heart Attack is a giant burger consisting of 900 g cutlets, half an onion, a whole tomato, 16 pieces of bacon and 8 pieces of cheese. the result is 9 980 calories, which is a kind of record for the most harmful dish in the world of the harmfulness of food.The one who masters this giant sandwich, a waitress dressed as a nurse, takes the car to a wheelchair. And if the client's weight is more than 350 pounds, which is almost 160 kg, then he receives an extra free dish from the restaurant.The menu explicitly states that french fries are cooked in real fat and contain cholesterol more than any other dish in the world. However, the whole restaurant's atmosphere reminds of the dangers of such food. In addition, the waitresses depict nurses, visitors are given special aprons resembling hospital pajamas. And the restaurant's motto, "Taste, for which you can die," also speaks volumes. Customers here are called patients, and orders are called recipes.It would seem that the Heart Attack restaurant is no different from other fast food establishments, because the dangers of fast food have been known for a long time. But the highlight of John Basso's restaurant is that the information about the danger to the health of visitors is literally advertised. not likely to be harmful, but equally delicious food is spread by young taut waitresses in erotic nursing costumes.The restaurant does not even burden itself with advertising costs: it has enough regular customers who, in turn, bring their friends and acquaintances to this unusual establishment.Heart attack "is regularly criticized by advocates of healthy eating, but the closure is clearly not threatened. There is no end to customers. It seems that John Basso was right - bad habits are an excellent way to make money. On the restaurant's website it's stated that everyone is responsible for himself, and, when ordering, must recognize the consequences.