Business that buys & sells collectible game cards with STEEM while using steemit.
Would love to combine my knowledge and passions of games and collectibles with business and crypto.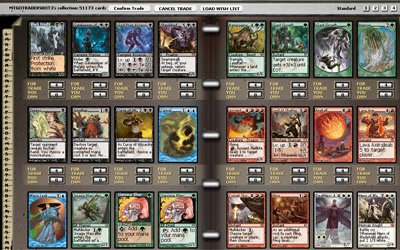 Source: darkmirage.com
The idea would be to start a business that users by up-voting and commenting could potentially get some stock in the company as a bonus when conducting business with this new model. Also a way for others to invest in the business if interested. Investors could get an investment bonus for their upvotes and/or comments as well.
Buying & selling Magic: the Gathering cards on and off for two decades along with other collectibles & games. Virtual currencies in different games and then in virtual worlds including Second Life for the past nine years. Investing in stocks, commodities, collectibles, and virtual companies, goods, and services.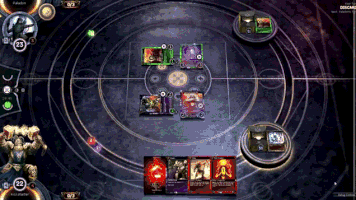 Source: giphy.com
Magic: the Gathering cards would be bought and sold for bitcoin, steem, and MTGO TIX. MTGO TIX are the units in the game platform that are used for $1 towards event entry costs. The Tickets (TIX) also serve as a base currency for users to trade with each other within the game. Cards may also be traded for other cards.
Having bought and sold items on consignment. Maybe could offer weekly / monthly consignment sales. Profits could be shared by card sales to sellers directly and also indirectly with part of all sales going to all other sellers.
Assets of Magic cards, TIX, bitcoin, and steem. Revenue of card sales and steem from posts and sales. Could lead to discounts for customers and also added profit sharing with customers and investors through steem with steem dollars. Accumulated Steem power could also be used in curating content as another value in the steemit community.
Below is a sample of potential buy & sell prices:
| Card | Set | Sell-usd | Sell-btc | Sell-sd | Buy-usd | Buy-btc | Buy-sd |
| --- | --- | --- | --- | --- | --- | --- | --- |
| Rishadan Port | Mercadian Masques | 239.01 | 0.3806 | 297.8728580286 | 214 | 0.3408 | 266.7034501406 |
| Liliana of the Veil | Innistrad | 108.76 | 0.1732 | 135.5451740061 | 97.96 | 0.1560 | 122.0853737186 |
| Black Lotus | Vintage Masters | 98.91 | 0.1575 | 123.2693376328 | 90.65 | 0.1443 | 112.9750829685 |
| Misdirection | Mercadian Masques | 85.35 | 0.1359 | 106.3698106052 | 75.77 | 0.1207 | 94.430469239 |
| Black Lotus | Promotional | 75 | 0.1194 | 93.4708353297 | 30 | 0.0478 | 37.3883341319 |
| Rishadan Port | Promotional | 75 | 0.1194 | 93.4708353297 | 31.25 | 0.0498 | 38.9461813874 |
| Wasteland | Promotional | 67.04 | 0.1068 | 83.5504640067 | 39.94 | 0.0636 | 49.7763355076 |
| Mox Sapphire | Vintage Masters | 54.26 | 0.0864 | 67.6230336665 | 49.47 | 0.0788 | 61.6533629834 |
| Commander: Nature of the Beast | Commander (2013 Edition) | 53.51 | 0.0852 | 66.6883253132 | 44.81 | 0.0714 | 55.845708415 |
| Tarmogoyf | Future Sight | 53.3 | 0.0849 | 66.4266069743 | 47.6 | 0.0758 | 59.3228234892 |
| Tangle Wire | Nemesis | 53.1 | 0.0846 | 66.1773514134 | 46.94 | 0.0747 | 58.5002801383 |
| Commander: Power Hungry | Commander (2013 Edition) | 51.35 | 0.0818 | 63.9963652557 | 41.84 | 0.0666 | 52.1442633359 |
| Show and Tell | Urzas Saga | 50.41 | 0.0803 | 62.8248641196 | 44.57 | 0.0710 | 55.5466017419 |
| Tarmogoyf | Modern Masters | 49.97 | 0.0796 | 62.2765018856 | 44.17 | 0.0703 | 55.0480906201 |
| Show and Tell | Promotional | 49.31 | 0.0785 | 61.4539585347 | 43.6 | 0.0694 | 54.3377122716 |
| Engineered Explosives | Modern Masters | 48.27 | 0.0769 | 60.1578296182 | 42.68 | 0.0680 | 53.1911366916 |
| Engineered Explosives | Fifth Dawn | 47.94 | 0.0763 | 59.7465579427 | 42.4 | 0.0675 | 52.8421789064 |
| Tarmogoyf | Modern Masters 2 | 47.46 | 0.0756 | 59.1483445966 | 41.97 | 0.0668 | 52.3062794505 |
| Exploration | Urzas Saga | 46.9 | 0.0747 | 58.4504290261 | 41.48 | 0.0661 | 51.6956033263 |
| Commander: Evasive Maneuvers | Commander (2013 Edition) | 46.58 | 0.0742 | 58.0516201287 | 40.41 | 0.0643 | 50.3620860756 |
| Cavern of Souls | Avacyn Restored | 45.5 | 0.0725 | 56.7056401 | 40.68 | 0.0648 | 50.6985810828 |
| Gaea's Cradle | Urzas Saga | 44.58 | 0.0710 | 55.55906452 | 39.1 | 0.0623 | 48.7294621519 |
| Voice of Resurgence | Dragon's Maze | 44.28 | 0.0705 | 55.1851811786 | 39.6 | 0.0631 | 49.3526010541 |
| From the Vault: Relics | Relics | 44.18 | 0.0704 | 55.0605533982 | 39.12 | 0.0623 | 48.754387708 |
| Infernal Tutor | Dissension | 43.59 | 0.0694 | 54.3252494936 | 38.62 | 0.0615 | 48.1312488058 |
| Liliana of the Veil | Promotional | 42.71 | 0.0680 | 53.2285250257 | 37.85 | 0.0603 | 47.1716148964 |
| Commander Deck: Heavenly Inferno | Commander (2011 Edition) | 41.07 | 0.0654 | 51.1846294265 | 36.45 | 0.0580 | 45.4268259702 |
| Food Chain | Mercadian Masques | 40.84 | 0.0650 | 50.8979855315 | 36.25 | 0.0577 | 45.1775704093 |
| Commander: Mind Seize | Commander (2013 Edition) | 39.42 | 0.0628 | 49.1282710493 | 35.05 | 0.0558 | 43.6820370441 |
| Wasteland | Tempest | 39.26 | 0.0625 | 48.9288666006 | 34.67 | 0.0552 | 43.2084514784 |
| Commander: Eternal Bargain | Commander (2013 Edition) | 39.23 | 0.0625 | 48.8914782664 | 34.89 | 0.0556 | 43.4826325954 |
| Containment Priest | Commander (2014 Edition) | 39.15 | 0.0623 | 48.7917760421 | 32.35 | 0.0515 | 40.3170869722 |
| From the Vault: Dragons | Dragons | 39.07 | 0.0622 | 48.6920738177 | 34.75 | 0.0553 | 43.3081537027 |
| Gaea's Cradle | Promotional | 38.96 | 0.0620 | 48.5549832592 | 34.67 | 0.0552 | 43.2084514784 |
| Wasteland | Eternal Masters | 38.12 | 0.0607 | 47.5081099036 | 34.93 | 0.0556 | 43.5324837075 |
| Wasteland | Tempest Remastered | 38.06 | 0.0606 | 47.4333332353 | 33.9 | 0.0540 | 42.248817569 |
| Ancestral Recall | Promotional | 37.52 | 0.0597 | 46.7603432209 | 33.57 | 0.0535 | 41.8375458936 |
| Time Walk | Promotional | 37.52 | 0.0597 | 46.7603432209 | 33.57 | 0.0535 | 41.8375458936 |
| Commander: Forged in Stone | Commander (2014 Edition) | 37.48 | 0.0597 | 46.7104921087 | 33.42 | 0.0532 | 41.6506042229 |
| Commander: Peer Through Time | Commander (2014 Edition) | 37.16 | 0.0592 | 46.3116832113 | 33.15 | 0.0528 | 41.3141092157 |
| Ancestral Recall | Vintage Masters | 36.89 | 0.0587 | 45.9751882042 | 33.85 | 0.0539 | 42.1865036788 |
| Force of Will | Masters Edition | 36.51 | 0.0581 | 45.5016026385 | 32.61 | 0.0519 | 40.6411192013 |
| Volcanic Island | Masters Edition III | 36.48 | 0.0581 | 45.4642143043 | 32.59 | 0.0519 | 40.6161936452 |
| Grove of the Burnwillows | Future Sight | 36.06 | 0.0574 | 44.9407776265 | 30 | 0.0478 | 37.3883341319 |
| City of Traitors | Exodus | 35.62 | 0.0567 | 44.3924153926 | 31.88 | 0.0508 | 39.7313364041 |
| Celestial Colonnade | Promotional | 35.56 | 0.0566 | 44.3176387243 | 31.83 | 0.0507 | 39.6690225139 |
| Commander: Built from Scratch | Commander (2014 Edition) | 35.42 | 0.0564 | 44.1431598317 | 31.71 | 0.0505 | 39.5194691774 |
| Containment Priest | Legendary Cube (Prize Packs) | 35.34 | 0.0563 | 44.0434576073 | 31.64 | 0.0504 | 39.4322297311 |
| Unmask | Mercadian Masques | 35.25 | 0.0561 | 43.9312926049 | 31.56 | 0.0503 | 39.3325275067 |
| Blood Moon | Modern Masters | 35.17 | 0.0560 | 43.8315903806 | 31.5 | 0.0502 | 39.2577508385 |
Follow / Visit @ virtualgrowth