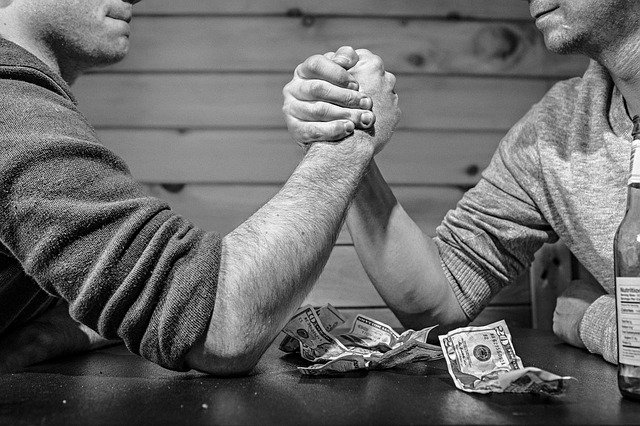 For decades now there has been the outright cry of a shrinking middle class in the United States. That, coupled with a larger concentration of wealth among the one percent has been to the chagrin of the American public for some time.
However, most don't know what the actual income and wage numbers look like. I recently stumbled across this info in an awesome article on Vox.

Where'd My Money Go?!?
In 1989 this was the income breakdown per every $100 USD among the different wage classes.
As you can see the top 20% got a large chunk of that income, but it was less than half of the total.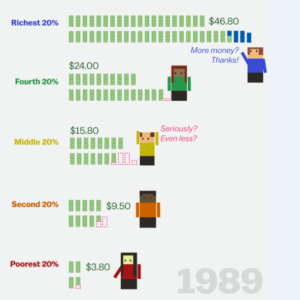 The Rich Get Richer
Over the next 25 years a clear direction had been traveled. One where the share of each $100 USD grew for the top 20% and shrunk for every other income class.
Come 2014 this is how that $100 USD was distributed.
It really is happening
Apparently the rich are indeed getting richer while the middle class has seen income shrink.
During the period between 1989 and 2014 we have seen both political parties; democrats and republicans in control of the white house, the senate and/or the house of representatives.
Who knows if this is something that economic policy can fix, but obviously neither party has been able to reverse the trend.
A flat tax rate for all citizens regardless of income could possibly do it as everyone would then pay their "fair share" of the income they make. Thus, less income would be kept from various tax loopholes on investments and more would be kept by the average wage earner.
Just my random opinion, either way let's do our best to get in that top 20% if this is the structure we are forced to work within.
---
Published by ScaredyCatGuide
on

with SteemPress
https://mentormarket.io/scaredycatguide/the-rich-get-richer-this-infographic-says-it-all/
---