How To Grow A Company In The Sexist Muck Of The Business World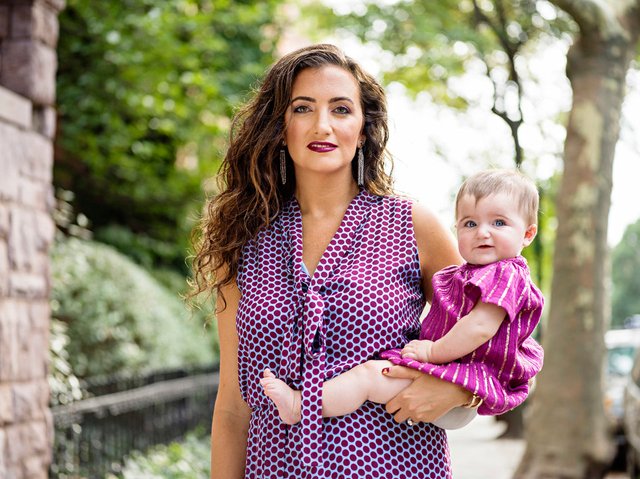 On a September morning in Cobble Hill, Jennifer Hyman, the 37-year-old CEO and co-founder of Rent the Runway, was sitting criss-cross applesauce on her couch, her long legs clad in stretchy black pants. Newly married and recently back from her honeymoon in Italy, Hyman held her 6-month-old daughter, Aurora, on her lap.
Before running wild with assumptions, this is not a story about a "female entrepreneur" or a "girl boss" or a "She-EO," degrading terms that reinforce the notion that a real leader is a guy. There will be no revelations about "how she does it" or "juggles" it all.
Please. This couch, that baby. It's Hyman's power pose. This is a story about a natural-born leader and startup founder, worthy of inclusion on any list of genius tech CEOs. Hyman, who nearly a decade ago came up with the idea of an online business renting expensive designer dresses to women who need them for special events, is a straight-up entrepreneur. No qualifiers necessary.
Hyman has raised $190 million from venture capitalists, who are notoriously less than generous to women, and her company, founded in 2009, is now closing in on so-called unicorn status, a term ascribed to outfits worth $1 billion or more. On Monday, Rent the Runway rolled out a revamped subscription service and a national advertising campaign on TV, a first for the digital service.
But to get to that couch in that tony neighborhood in Brooklyn, Hyman had to run uphill through the sexist muck of the business world. She said she'd been called the C-word by a male colleague twice her age, dismissed as a "girl into dresses," sexually propositioned by an investor and told she needed to "shut-up" and act more ladylike. She has also navigated her way through the subtle biases female entrepreneurs face every day. Some may never even notice them. Hyman does.
Being a woman trying to start a business is a "tale of a million paper cuts," Hyman said during a conversation over a salad in the company's downtown New York office in August. "The repetition of little slights over time that lead to women being in situations that are just slightly more difficult for them."
Perhaps one of the more hurtful moments for Hyman came in 2015 after five former employees accused her of running a majority-female company with a "mean girl" culture, anonymously lodging their complaints in a Fortune article published after five top executives left the firm ― some not voluntarily.
Then and now, Hyman said the departures were part of the natural order, the hard choices a leader makes when scaling a company up from two people to hundreds. That year she made some high-profile hires. Maureen Sullivan, a former AOL executive who'd also spent time at Google, came on as chief operating officer. Scarlett O'Sullivan left her perch as COO at Softbank to serve as chief financial officer. They're still with the firm. The company's former COO, Beth Kaplan, is still on its board. At the time, she told Fortune that the only mistake Hyman may have made back then was waiting too long to make staffing decisions.
Still, the story, which contained no specific examples of what that culture was like, did its damage. It certainly made recruiting more difficult, Jennifer Fleiss, who co-founded the company with Hyman, told HuffPost.
"It was almost worse than if the company had gone bankrupt," said Fleiss, who left the company in 2017 for a position at Walmart but remains on the board. "The phrase 'mean girls culture' feels sexist. Is there a 'mean boys culture'? I don't think anyone talks about that."
source:- http://www.huffingtonpost.in/entry/jennifer-hyman-rent-the-runway-business-sexism_us_59e13603e4b0a52aca181ab9