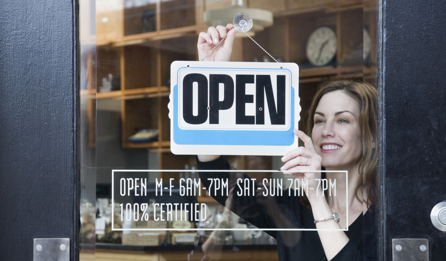 If you have the soul of an entrepreneur but lack the funding necessary to get started, Platinum Rapid Funding Group can help. Platinum Rapid Funding has been helping small to medium-sized businesses access the capital they need to pursue growth since 2012, accruing valuable experience that allows them to meet the needs of virtually any client.
Part of Platinum Rapid Funding's winning formula is an expert team of financial professionals. They treat every prospective client with respect, working with each on an individualized basis to help them get a financial package tailored to their specific needs. Top notch customer service will be available to you at every step of the process, so any questions that arise will be handled in an efficient manner. Platinum Rapid Funding Group's winning formula was recently featured in a post on Money Inc.
Platinum Rapid Funding Group also offers a fast, transparent application process. You can apply online in a matter of minutes, and most applications are reviewed within 24 hours. Same day funding is available, allowing you to capitalize on every opportunity for growth as it presents itself.
Your Options With Platinum Rapid Funding 
Many of Platinum Rapid Funding Group's deals are structured as Merchant Cash Advances. You know that you will earn revenue in the future, but this fact is of little use when you need money now.  Merchant Cash Advances are when a third party purchases a percentage of a merchant's future receivables over a specified term. Platinum Rapid Funding Group offers lump sums ranging from $5,000 to $5 million with payment terms between 21 and 250 days. This allows small businesses to use tomorrow's money to secure funding today, a powerful tool that helps small businesses thrive. 
These receivables are generally delivered in one of two ways: ACH Funding or credit card splits. ACH Funding means that the payment is delivered via an electronic debit on a daily or weekly basis for the term specified in your funding agreement. Credit card splits break every sale over the term specified into two transactions, with one transaction's proceeds covering your obligation to Platinum Rapid Funding. The payment process is automated either way, so you won't have to worry about having an extra bill to pay. 
Who Can Platinum Rapid Funding Help? 
Platinum Rapid Funding Group has assisted countless businesses in numerous industries, including restaurants, nightclubs, small retailers, car dealerships, and construction agencies. The company can probably help you even if you are in a different field than those above, as they take pride in working with clients to create a funding package ideally suited to their needs. If traditional banks are denying you the capital your business needs to grow and thrive, Platinum Rapid Funding Group is the financing solution you have been looking for. 
What Past Clients Say About Platinum Rapid Funding Group 
If you are skeptical that a funding service this powerful exists, check out the Better Business Bureau's profile on the company. The reviews are positive, with the professionalism of the Platinum Rapid Funding team and expediency with which applications are handled standing out as particular highlights. Past customers also appreciate the different options Platinum Rapid Funding offers to every client, ensuring that they make the decision that is best for their business.
The net result of these favorable reviews is a coveted A+ rating from the BBB. Companies cannot pay for undeserved favor from the BBB, so any company that they recommend is a company worth doing business with. 
Contacting Platinum Rapid Funding Group 
If you are ready to grow your business using capital from Platinum Rapid Funding, you can apply online today at PlatinumRapidFunding.com. You can also follow the company on Twitter and Facebook if you have any further inquiries on the services they offer.