Punch, or the London Charivari, Volume 101, September 12, 1891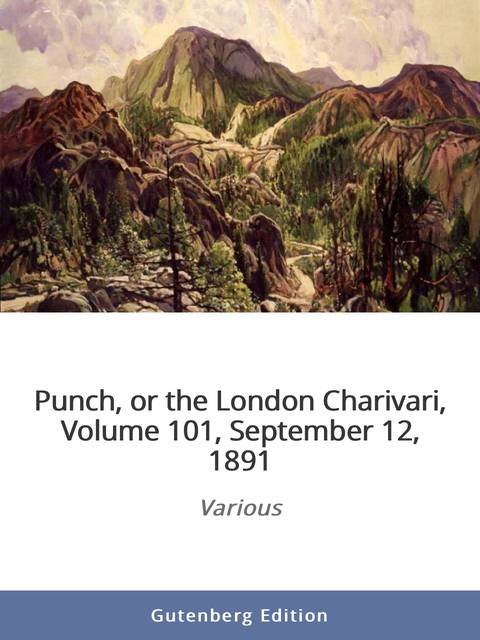 Various
---
목차
 
    PUNCH, OR THE LONDON CHARIVARI.
    Vol. 101.
    September 12, 1891.
    SOME CIRCULAR NOTES.
    CHAPTER IV.
    Reims—Solemnity—Relief—En voiture—Politeness—Calling—Calves—Caves—Starting—Cocher—Duet.
    THE TWO WINDS.
    (A Fairy Story for the Season of 1891. Imitated—at a distance—from Hans Andersen's celebrated Tale of "The Four Winds.")
    SIGNS OF BREEDING.
    MORE MESSAGES FROM THE MAHATMA.
    THE TRAVELLING COMPANIONS.
    No. VI.
    A "KNOT"ICAL STORY OF DRURY LANE.
    (Told by our aged Salt, with a taste for the Dibdin Drama.)
    CRICKETANA. YOUNG LADIES V. BOYS.
    "NOTHING BUT THE TRUTH."
    A Scene very freely adapted from "The Critic."
    MANY HAPPY RETURNS!
    (Punch to Madame La République.)
    "NOTHING BUT THE TRUTH."
    ROBERT'S ROMANCE.
    THE MYSTERY OF MAY FARE.
    (BY ONE BEHIND THE SEENS.)
    CHAPTER I.—Despare!
    CHAPTER II.—The Helopemeant!
    CHAPTER III.—The Dewell.
    CHAPTER IV.—The End.
    WHERE ARE OUR DAIRYMAIDS?
    A SONG OF VANISHED SUMMER.
    AIR—"The Dutchman's Little Dog."
    MR. PUNCH ON TOUR. HE ARRIVES AT KINGSTOWN BY THE IRISH MAIL.
    THE GUZZLING CURE.
    ANNALS OF A WATERING-PLACE
    THAT "HAS SEEN ITS DAY."
    IGNORANT BLISS.
    STORICULES.
    III.—THE DEAR OLD LADY.
    TO A TOO-ENGAGING MAIDEN.
@bukdb 가 게시하는 포스팅은 북이오에서 스트리밍으로 제공하는 전자책들의 정보페이지입니다. 스팀잇 사용자들이 북이오 플랫폼에서 구입한 전자책에서 링크를 통해 인용을 할 경우 이를 보팅을 통해 보상하기 위해 자동으로 생성됩니다. 북이오가 스팀잇 블록체인을 통해 하고자 하는 일들을 가입인사 글에서 확인하실 수 있습니다.