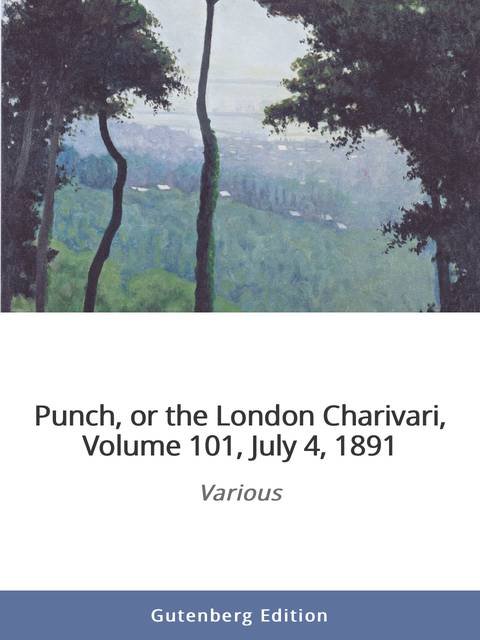 Various
---
목차
 
    PUNCH, OR THE LONDON CHARIVARI.
    Vol. 101.
    July 4, 1891.
    URBI ET ORBI.
    THE CHANTREY BEQUEST À LA MODE DE LISLE.
    "MANNING THE (BACK-)YARDS."
    MR. PUNCH EXPLAINS.
    The New Crusaders.
    SHAKSPEARE AND NORTH, NOT CHRISTOPHER.
    MR. PUNCH'S QUOTATION BOOK.
    I.—FOR INFERIOR CHAMPAGNE.
    II.—FOR MR. GLADSTONE.
    III.—FOR THE NEW BISHOP OF LICHFIELD.
    IV.—FOR A TENNIS-PLAYER, IMPRISONED BY BAD WEATHER.
    OFF TO MASHERLAND.
    (FIRST LETTER—A.)
    REASONS FOR THE JOURNEY.
    THE COMPOSITION OF THE PARTY.
    ALL ABROAD.
    WHERE ARE WE NOW?
    "ONCE MORE ABOARD THE LUGGER!"
    QUITE A TROPICAL SONG!
    CAPERING.
    THE ODD TREK.
    LEAVES FROM A CANDIDATE'S DIARY.
    MODERN TYPES.
    No. XXVI.—THE LADY SHOPKEEPER.
    ROBERT ON THE HEMPERER'S VISIT TO THE CITY.
    GENTLE SATIRE.
    "THE DILEMMA."
    "NOTHING SUCCEEDS LIKE"— SUCCESSION?
    "THE DILEMMA."
    VOCES POPULI.
    DILATORY DINNERS.
    PARLIAMENTARY NIGHT-BIRDS.
    MEDICINAL MUSIC.
    AT A SMOKING CONCERT.
    ESSENCE OF PARLIAMENT.
    EXTRACTED FROM THE DIARY OF TOBY, M.P.
    MISS NOMER.
    THE PURCHASE-OFFICERS' GUIDE TO THE ARMY.
    THE "WHETHER" AND THE PARKS.
@bukdb 가 게시하는 포스팅은 북이오에서 스트리밍으로 제공하는 전자책들의 정보페이지입니다. 스팀잇 사용자들이 북이오 플랫폼에서 구입한 전자책에서 링크를 통해 인용을 할 경우 이를 보팅을 통해 보상하기 위해 자동으로 생성됩니다. 북이오가 스팀잇 블록체인을 통해 하고자 하는 일들을 가입인사 글에서 확인하실 수 있습니다.