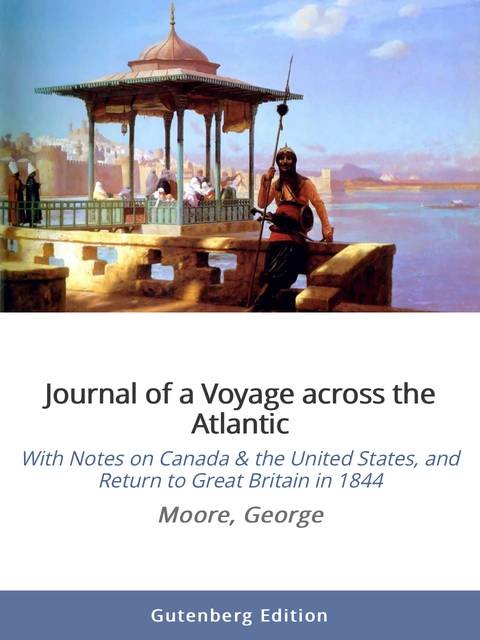 Moore, George
---
목차
 
    JOURNAL OF A VOYAGE ACROSS THE ATLANTIC:
    WITH NOTES ON CANADA & THE UNITED STATES; AND RETURN TO GREAT BRITAIN, IN 1844
    LONDON: PRINTED FOR PRIVATE CIRCULATION 1845.
    TO ELIZA MOORE THIS LITTLE VOLUME IS MOST AFFECTIONATELY DEDICATED BY THE AUTHOR.
    CONTENTS.
    PREFACE.
    LOG, &c.
    MY JOURNEY SOUTH.
    THE CAPITOL.
    VISIT TO THE CANADAS; NIAGARA; RETURN TO NEW YORK & BOSTON; AND VOYAGE HOME.
    THE FALLS.
    PASSAGE HOME PER ACADIA.
    APPENDICES.
    I.
    BIOGRAPHY OF LAURA BRIDGMAN.
    II.
    MEMORANDA.
    III.
    POPULATION OF THE STATES.
    IV.
    CERTIFICATE OF NATURALIZATION.
@bukdb 가 게시하는 포스팅은 북이오에서 스트리밍으로 제공하는 전자책들의 정보페이지입니다. 스팀잇 사용자들이 북이오 플랫폼에서 구입한 전자책에서 링크를 통해 인용을 할 경우 이를 보팅을 통해 보상하기 위해 자동으로 생성됩니다. 북이오가 스팀잇 블록체인을 통해 하고자 하는 일들을 가입인사 글에서 확인하실 수 있습니다.