I want to live a mnimalistic kind of a life. Whatever things that I could make simple, I would try and do it.
So if you're on a budget and looking to have a cheap and minimal personal computer/tablet, here's what I can share. :D
As it is minimal, there are only a couple of things that you can do with this computer setup
Surf the web. Browse Steemit.com, write posts. Other web-related stuff.
Watch videos and listen to music. I have a Kindle Fire 8 HD tablet, which makes watching videos and Youtube in HD palatable.
A couple of Amazon games such as Angry Birds and probably other games. I haven't tried yet and might experiment in the future, especially regards connecting of joystick-stuff on my Kindle.
Messenger. Facebook Messenger is up-to-date in the Kindle market. However, Viber and Whatsapp are outdated.
Emails.
Read e-books. Kindles are a specialty for e-books. This Fire 8, however, is not as great to the eyes as the other Kindles, which are specifically built for reading (Paperwhite, E-reader). It's got the Blue Shade function though - dims the screen and reduces the "blue light".
Create documents, slideshows, and spreadsheets. It's got a native minimalistic Docs; however, you can just access your Google Drive if you want a more sophisticated functioning of these.
Alexa. Just like Siri, tell Alexa to do what you wish to do.
There are other things that you can do with the Fire 8 that I haven't listed here. If you want a more detailed description of this awesome tablet, you can always Google it. :D
Unfortunately, as it is minimalistic, you can't do a whole bunch of heavy stuff that otherwise you can in high performing computers -- obviously. You can't play PC games here, of course. Not sure with the programming of web stuff, but I'm pretty sure the more sophisticated ones you can't do here. So if you are into those kinds of things, budget up and buy a proper computer.
Perks
It is a tablet, so it's lightweight and handy. You can bring it anywhere.
You can set it up on your desk, or bring with you in your bed. Bring in your kitchen. Bring at work or school.
It doesn't lag, especially if you're really just into web browsing and creating docs.
You can connect a bluetooth keyboard to it! Which makes it easier for you to write. You can also set up a wireless mouse, which for me is unnecessary as I am accustomed to using keyboard shortcuts (eg. alt + tab to switch applications)
Helps concentrate on the task at hand.
Other benefits which Amazon offers exclusively for Fire users (can always Google it).
How to setup a minimalistic computer/tablet
Here's what you need:
Kindle Fire 8 HD ($106) - functions as tablet/computer or laptop
Bluetooth keyboard ($20 for the TechGear Slim)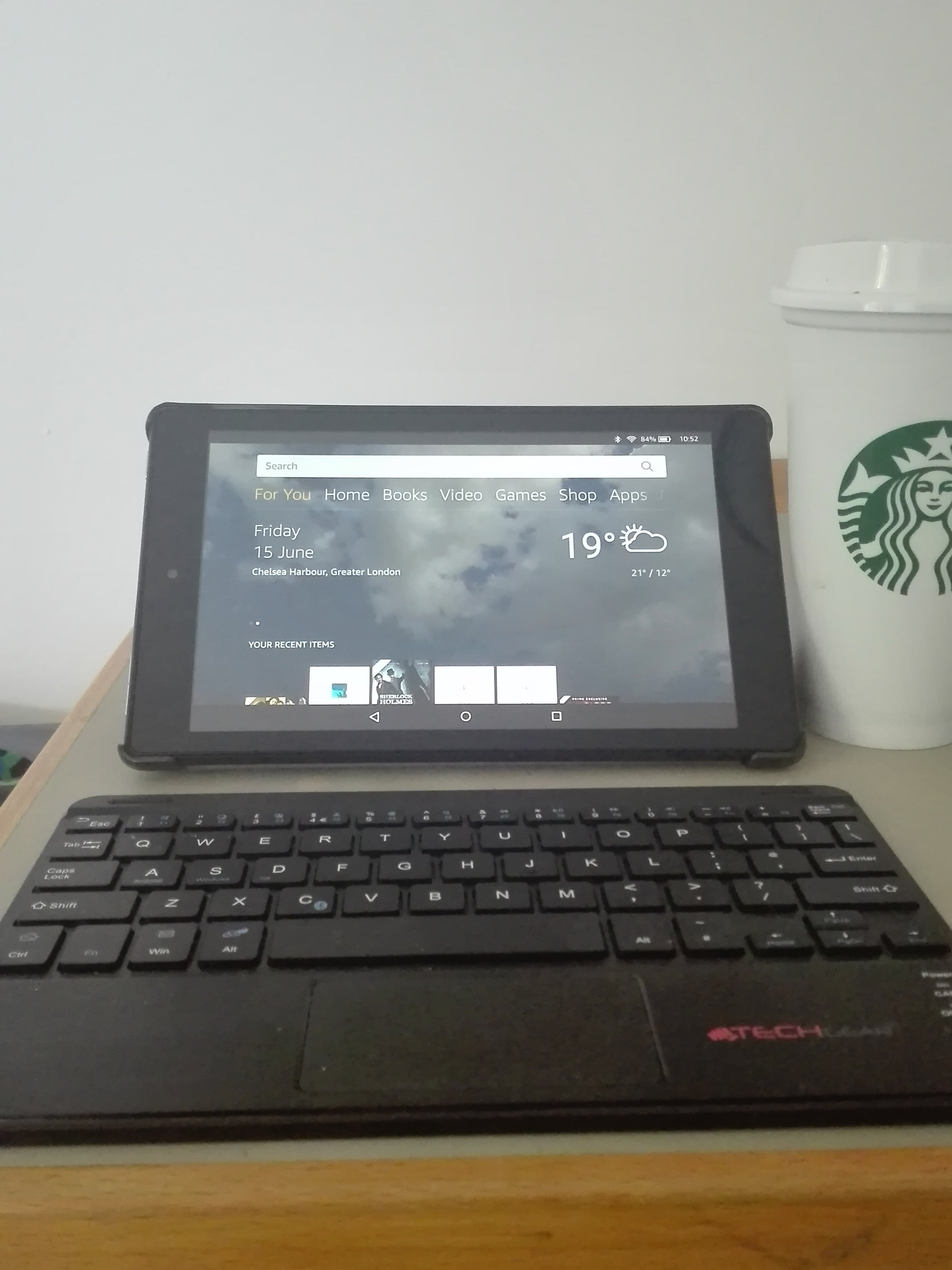 Disclaimer:
Brands included here are for demo purposes and just a personal choice of mine. Not paid to promote them; however, I will not turn down an offer if anyone would pay me to do so :p
Thank you for reading and have a nice day!