Interesting observation today. That is the beauty of Elliott Wave Theory...
There are some setups, which have an incredibly high probability of happening, and there are also some counts that are just invalid/impossible.
Here is the important part of this chart: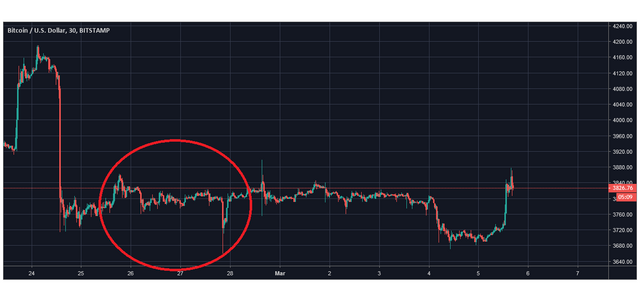 This is very very likely a wxy pattern (blue). It doesn't get much clearer than this one.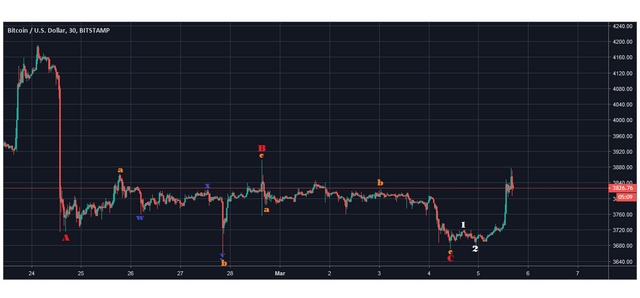 If this is correctly identified as blue wxy, there is a very high chance that BTC has bottomed. The only problem is, that blue wave y happened within just 3 minutes... so you can't see any subdivision. Why is this bad? Well, without any subdivision, I cannot eliminate the possibility, that this move was 5 waves where I see only 3 waves.
If there were subwaves visible, I could say with 99% certainty that this is wxy, but like this I cannot say that.
But it is still likely wxy, so I am expecting BTC to move towards 5200$ within the next few months. First slowly, but suddenly picking up momentum.
tl;dr: I am bullish. If it is blue wxy, then this alternate count is impossible by the ruleset of Elliott:



If you think this to be useful information:




Feel free to use and share my charts, but please mention me, @ew-and-patterns as the author. Otherwise it is considered plagiarism and I will flag you and advise my friends to do the same.




Please consider leaving a comment, like or resteem, if this post entertained you or helped you see things differently...
Have a nice day :-)


#bitcoin #btc #crypto #cryptocurrency #cryptocurrencies #steem #sbd #ethereum #eth #ripple #xrp #bitcoincash #bch #eos #litecoin #ltc #stellar #lumen #xlm #digibyte #dgb #cardano #ada #iota #tether #neo #tron #trx #omg #verge #xvg #bitshares #bts #nano #monero #xmr #dash #ethereumclassic #nem #binance #binancecoin #vechain #tezos #omisego #steemit #money #life #altcoin #altcoins #trading #investing #investment #investments #forex #forextrading #market #finance #gold #silver #commodity #commodities #stock #stocktrading #stockmarket #facebook #fb #apple #aapl #spx #xau #xag #usdjpy #usd #amazon #amzn