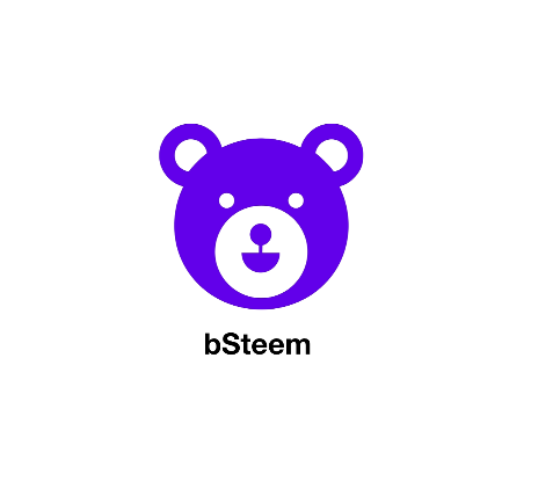 There's great news on Steemit today. A week ago @jm90mm launched bSteem for IOS and Android with the goal to ensure the best user experience on the Steem blockchain. When I first started in Steemit, this is something I was really looking for – a mobile app where I can access my Steemit account securely and easily since I am always on the go. In fact, according to statista.com, there are actually 4.93 Billion mobile users worldwide. Surely, this kind of app is really needed for the Steem Blockchain. Fortunately, @jm90mm designed and already released this amazing bSteem app for Steemit users. I immediately downloaded it so I can try to experience and learn what's in it for us in using this app.
Here's a walkthrough for the app.
First download the app through the following links:
IOS: https://itunes.apple.com/us/app/bsteem/id1354894604
Android: https://play.google.com/store/apps/details?id=com.bsteem.bsteemapp
Downloading the app was easy and fast. You then login using SteemConnect, including all authentications. bSteem will never ask you for your password/private keys.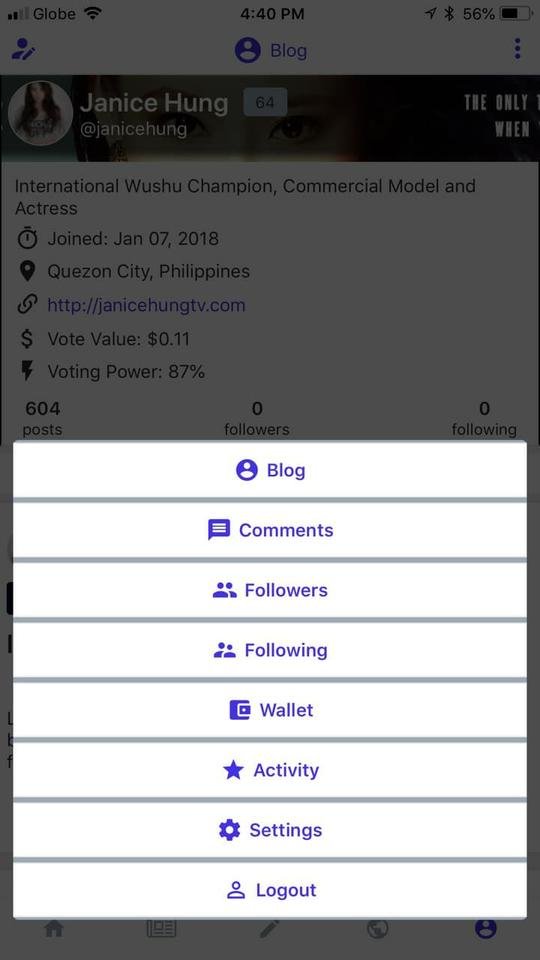 My first impression, bSteem looks remarkable and very promising already. For busy users like yours truly, particularly those who don't have the time to login on your laptop or desktop, this app is perfect for you since it allows you to create and post content, make a comment, upvote posts/comments, and even resteem on your mobile phone. You can do similar actions done on steemit.com or busy.org.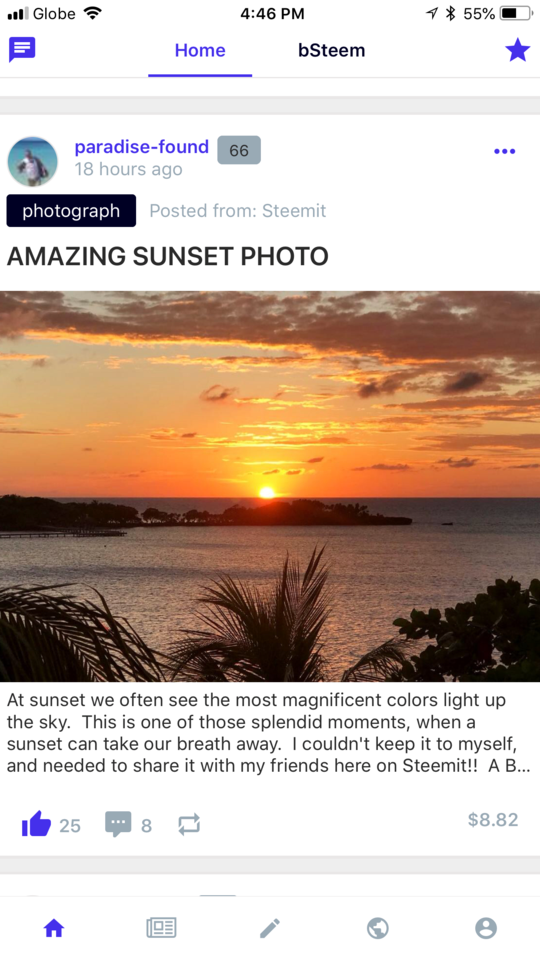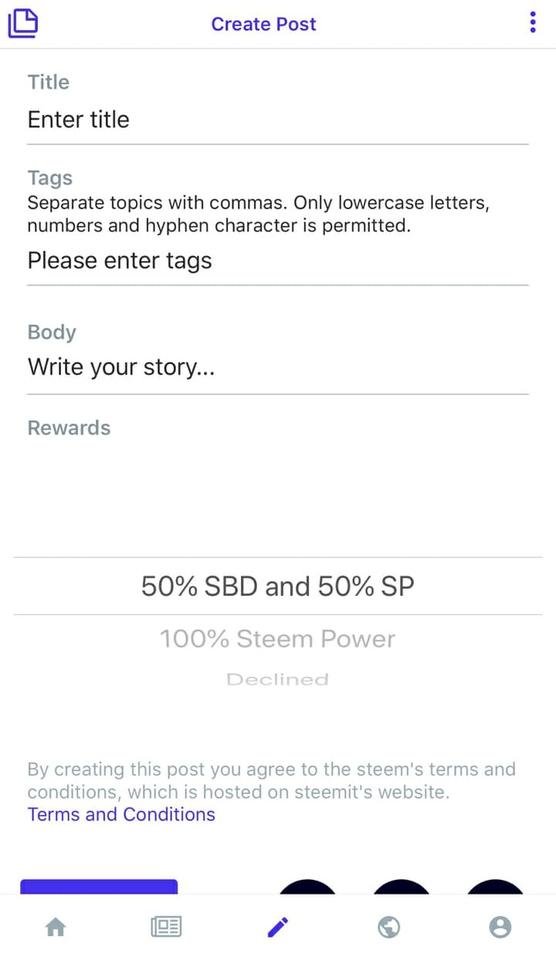 In creating a post, you can easily see post preview and save draft of your post. You can even customize the rewards as well to 50% SBD and 50% SP, 100% Steem Power, or Declined. A main advantage of the app is that it makes curation a lot easier as well.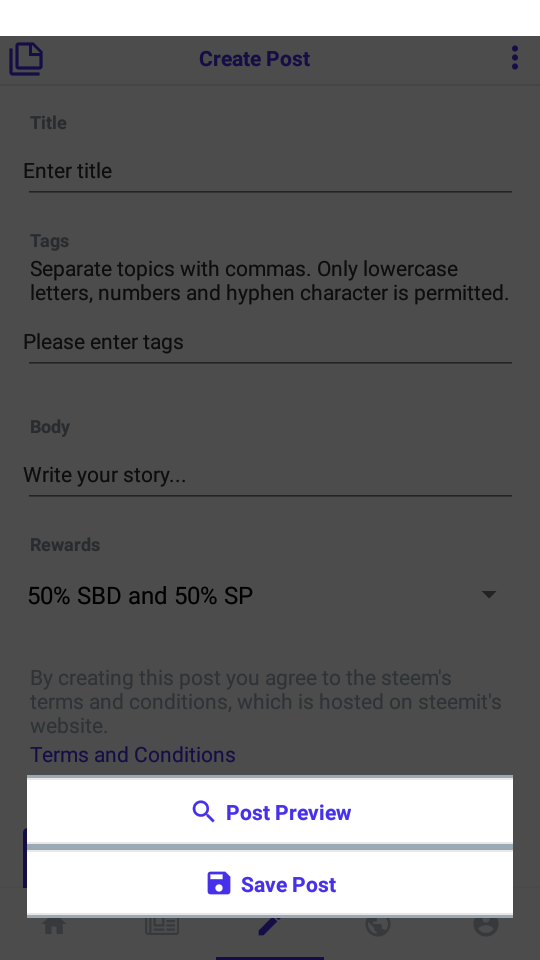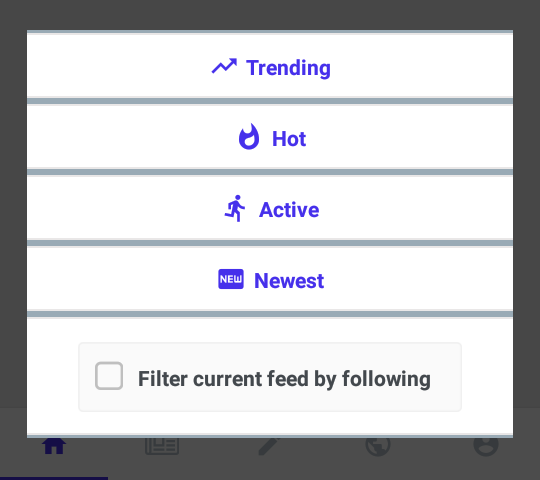 Viewing other posts is also very easy since the app supports the sorting of posts by trending, hot, active, and newest. It is easy to press a tag to take you to its respective feed and to sort it. You can also save a tag and create a customized bSteem feed.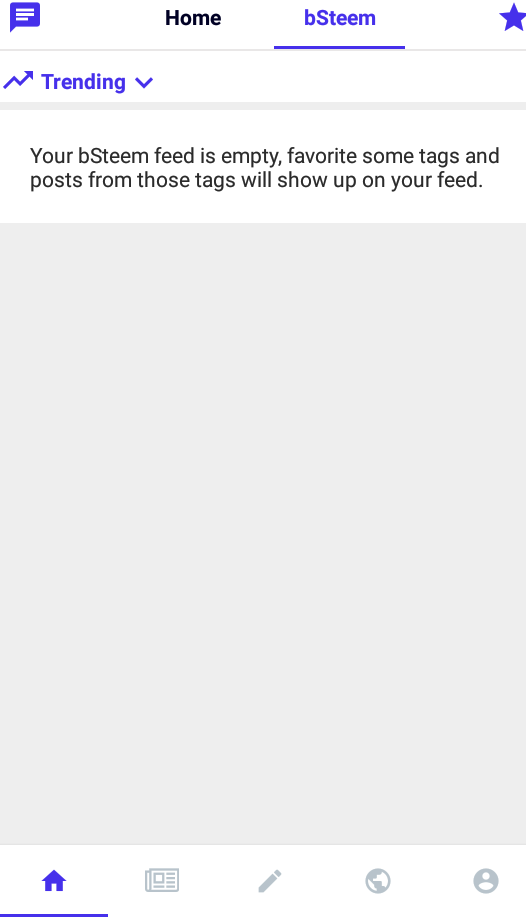 You can customize your feed with your favorite tag, post, or user's profile, by clicking on the star icon. The saved content screen can be seen by clicking the star icon on the top right of the home screen.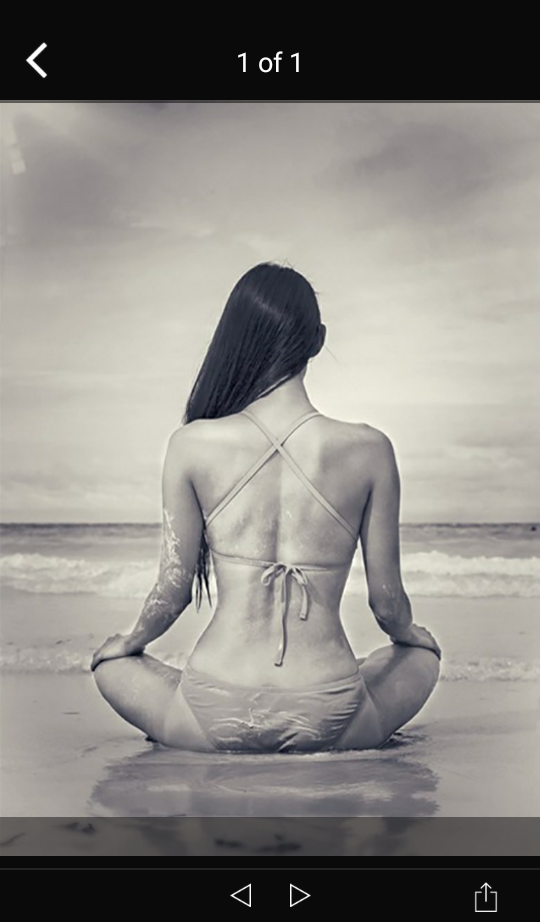 Searching content and viewing images is also easy. If a post has an or multiple images, clicking on it will bring you to the image gallery where you can view the images only or share the image within Steemit or through your other social media apps. You can also share your post to other apps by merely clicking on the share button or copying the post URL through the post menu.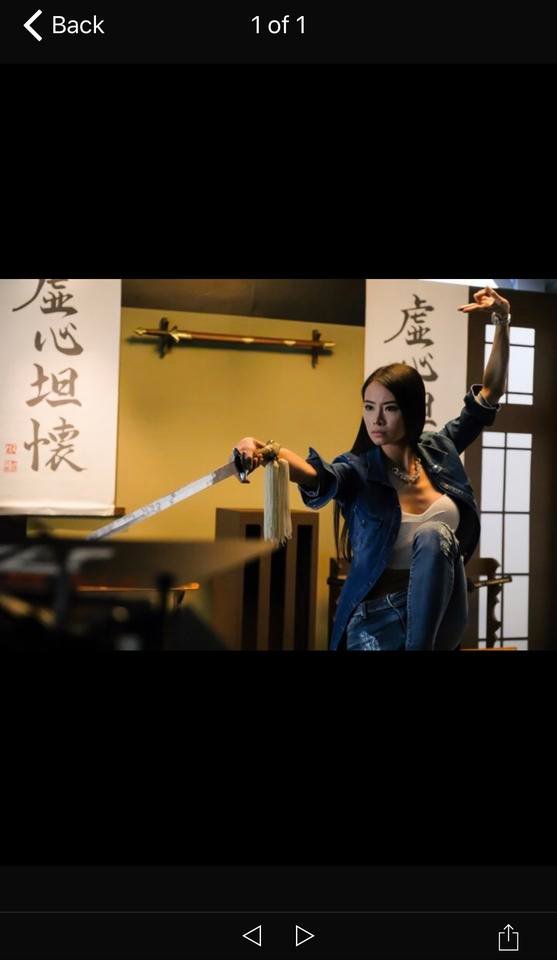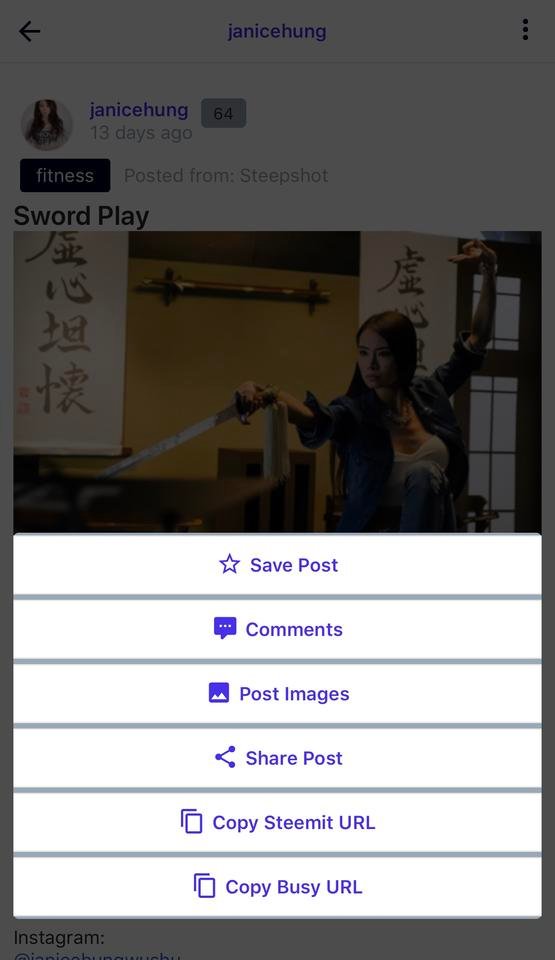 Another impressive feature from recent upgrade is you can customize bSteem as you like it. The app runs a user-friendly design for a richer user experience as you can choose between dark theme (for night viewing) or light theme and many other themes. If you are bored with the current color settings, you can choose from a list of preset themes or create your own theme by picking out and adjusting the different color settings. It makes using the app a more pleasant experience.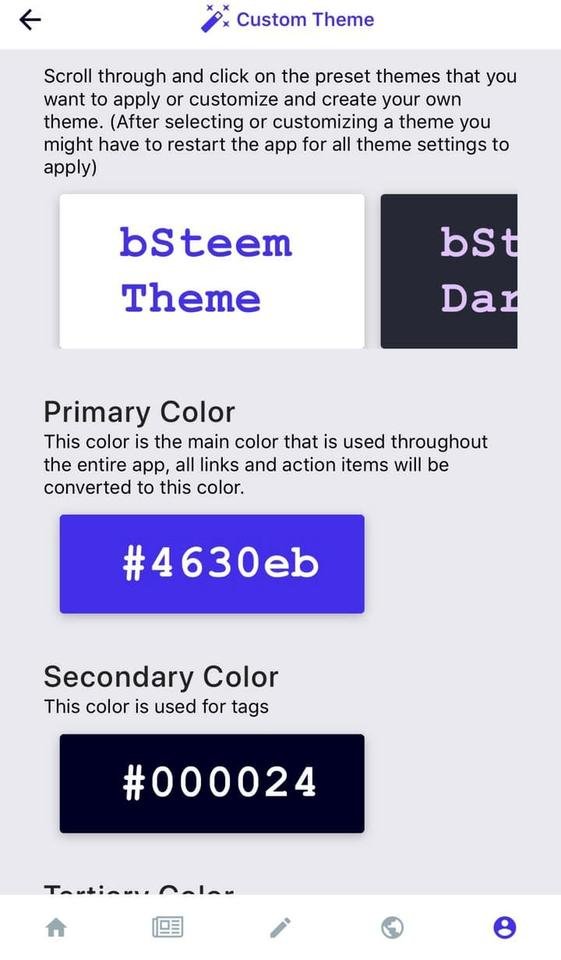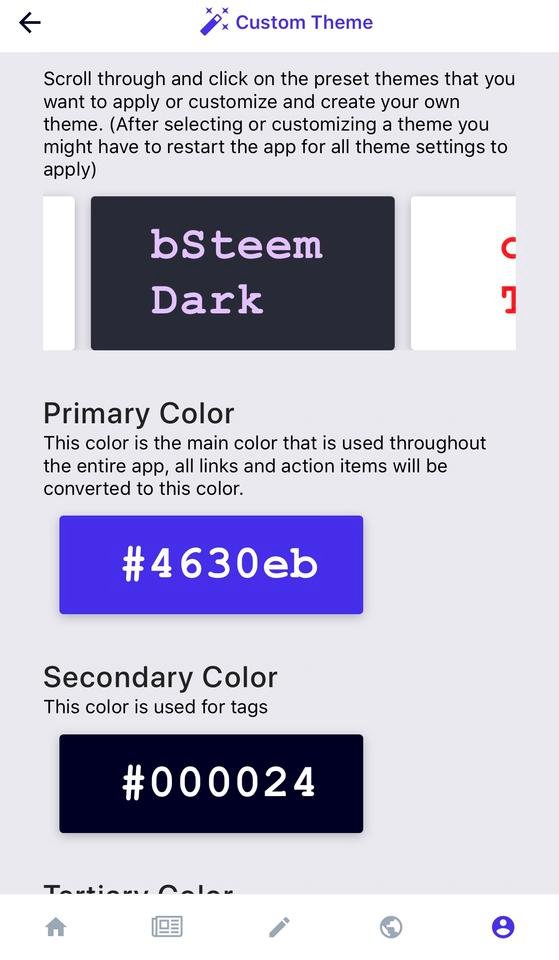 You can also enable NSFW posts, compact view, voting slider, and default vote percentage in the settings. In compact mode of posts, you can only see the title and preview body of the post.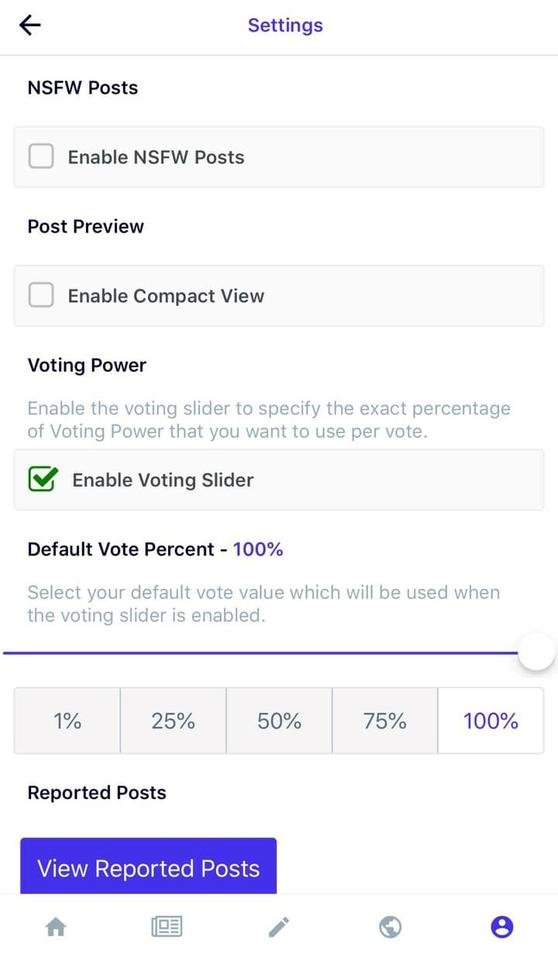 You can also easily see your upvotes from the long list of voters on a post. There is an option to sort the list by Vote Value, Reputation, Username or Time in just one click.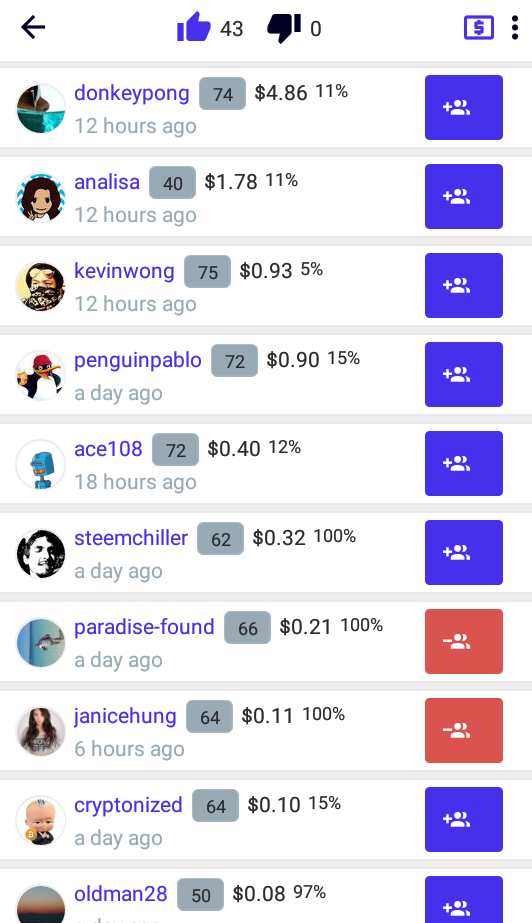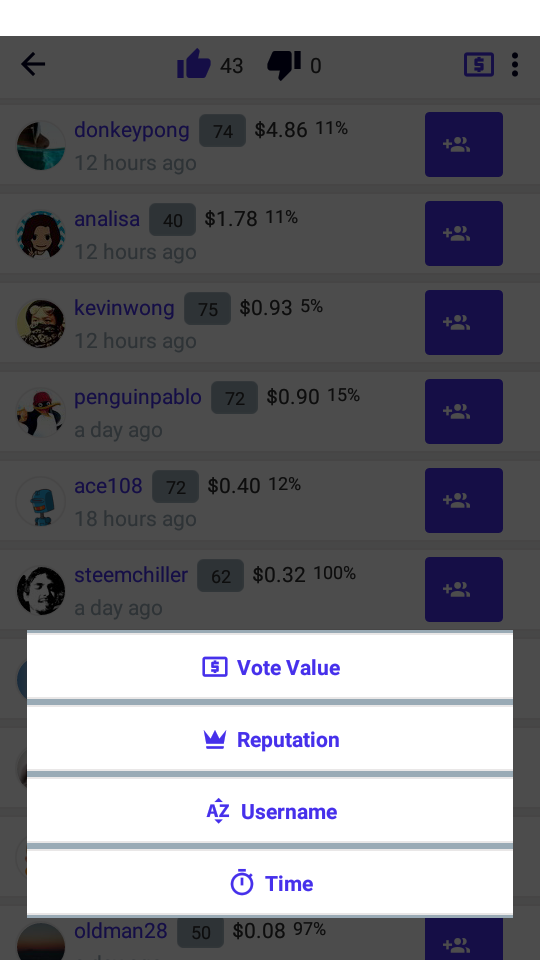 Another interesting feature of the app is there is the personal messaging feature integrated with it. You can easily send messages to any user with one click of the "Send Message" on a user's profile. This is very useful for better communication and interaction within the Steemit community without needing to go to other messaging apps like Discord, Viber, WhatsApp or the like.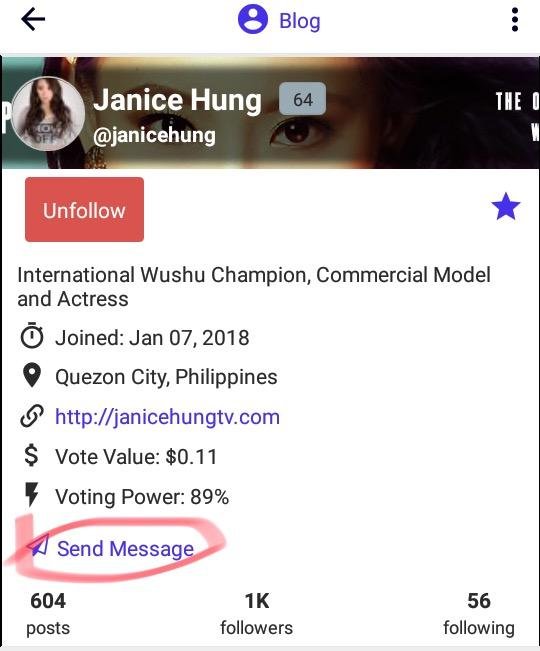 Most impressive for this app is that unlike other apps, bSteem is absolutely FREE! Whenever you create a post on bSteem, no rewards are taken from its users or from the reward pool. It is said that bSteem is made with its users in mind and focuses on pushing technology advancement forward rather than seeking profit. With the goal of bSteem to be the best mobile app on Steem, all feedback and feature requests are welcome and the app is constantly upgraded with new exciting features. Some exciting future features are push notifications, video uploads, photo editor and a lot more!
With this kind of app, I can see Steemit being easily propelled into mass adoption. Because of the user-friendly interface and interesting features, it makes the navigation of Steemit easier to the newbie or even for the advanced Steemit user.
I am truly grateful that JM Myers @jm90mm personally contacted me regarding his release of the bSteem app. In case you're wondering, he is also presently working on busy.org.
For any questions / inquiries and any other feature requests for the app you can easily email the developer at [email protected]
Since the app is relatively new, in case there are bugs or any issues with the app, you may submit here: https://github.com/bsteemapp/bsteem-issues
You can also join the bSteem discord here: https://discord.gg/TRhbd9Z
Go ahead and try bSteem yourself there's nothing to lose.
Let's also support @jm90mm for his great initiative for the steemit community we need more people like him that would really push steemit to another level.
Enjoy!

Connect with me:

Steemit: @janicehung
Instagram: @janicehungwushu
Youtube: Janice Hung
Facebook: JaniceHungTV
Join me in discord : https://discord.gg/XhEBP4p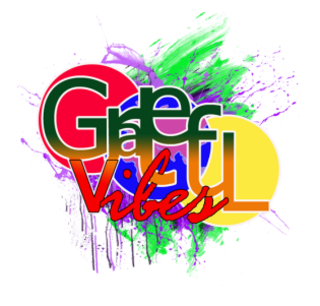 I'm a member of the #gratefulvibes community
Click the logo above to join