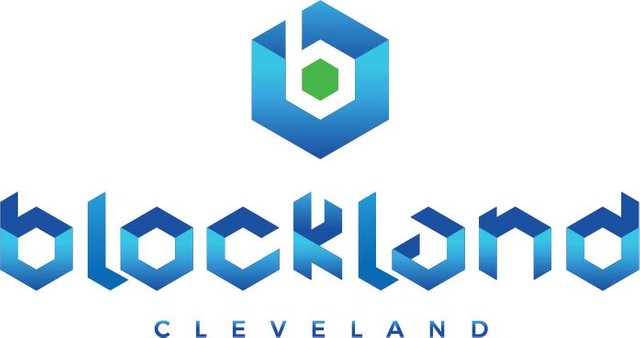 I am looking forward to and will be attending this conference. I am also publishing this to
@steemit
so they can be aware of this very unique Blockchain conference in Cleveland this December. I would welcome to meetup with any steemian that would be interested in this conference. I am also looking to possibly facilitate a learning block at the conference on the pwer of the Steem Blockchain so, Stay Tuned!
FOR IMMEDIATE RELEASE
REGISTRATION NOW OPEN FOR BLOCKLAND SOLUTIONS CONFERENCE
Early Bird Pricing and Exclusive Pre-/Main Conference Combination Rate for Developers Are Available
Registration Fees Payable in Cryptocurrency as well as U.S. Dollars
CLEVELAND, OHIO, Sept. 6, 2018 – Blockland, a community-wide movement to establish a blockchain ecosystem and put the region at the forefront of blockchain thought leadership, today announced that registration is open for its inaugural Blockland Solutions Conference, which is scheduled to take place at the Huntington Convention Center of Cleveland from Dec. 1-4, 2018 (pre-conference workshops on Dec. 1 and 2).
In addition to offering an early bird rate of $595 for the main conference through Sept. 28, a developer-exclusive $395 rate for both the pre-conference workshops and the main conference is available for the first 150 developers to register (Note: to access the main conference, attendees purchasing at the $395 rate must attend the pre-conference workshops). Government ($495), student ($100) and single-day ($500) rates are also offered. Registration fees can be paid in cryptocurrency (Bitcoin, Bitcoin Cash, Ethereum, and Litecoin) as well as U.S. dollars.
"The pre-conference workshops are specifically designed for developers, and as part of our commitment to make both the workshops and conference accessible for individuals that work independently or in start-up/small business environments, we're offering a reduced combination rate," said Steven Santamaria, co-chair of the Blockland Thought Leadership node and CEO of Folio Photonics.
Coding workshops on Saturday, Dec. 1 and Sunday, Dec. 2 will give attendees hands-on experience with blockchain that identifies the pieces, parts and flow of creating, modifying and hosting a blockchain application. A Sunday evening keynote address and VIP reception will officially welcome the more than 1,000 expected attendees to Cleveland's inaugural event and launch two days of experiential learning and networking.
The conference content will include daily keynote presentations as well as interactive, industry-specific case study discussions to illustrate how blockchain technology solves real-world business problems. Concurrent tracks in various verticals including banking, finance, insurance, healthcare, government, legal, manufacturing, supply chain logistics, emerging technologies and venture capital will also be offered.
"We're honored to have a speaker lineup that differentiates the Blockland Solutions Conference and illustrates that Cleveland is serious about creating a blockchain ecosystem in which companies will want to build their businesses," said Santamaria. "In just three weeks, our conference planning team secured eight nationally and internationally recognized speakers who are respected thought leaders in blockchain technology. These keynote presenters combined with the speakers in the more than 50 case study and learning sessions over just two days will ensure that attendees walk away with a clear understanding of how blockchain technology can solve problems for organizations and government entities, as well as have a positive effect on the everyday lives of citizens."
As previously announced, the conference keynote speakers will be:
Nick Szabo, Cryptocurrency and Blockchain Innovator
Jerry Cuomo, IBM Fellow, Vice President, Blockchain Technology, IBM
Joseph Lubin, Founder of Consensus Systems (ConsenSys) and Co-founder of Ethereum
Larry Sanger, Co-Founder of Wikipedia
Jeremy Gutsche, New York Times Bestselling Author
Will McDonough, Founder & CEO of iCash
Jason Kelley, General Manager, Blockchain Solutions, IBM
Alex Tapscott, Author, Blockchain Revolution and Co-founder of Blockchain Research Institute
Destination Cleveland, the destination marketing and management organization for Cuyahoga County, is managing the Blockland Solutions Conference. Sponsors of the Blockland Solutions Conference include Destination Cleveland, Cuyahoga County and Ownum.
Cleveland is quickly emerging as a sought-after meetings and conventions destination as hundreds of organizations consider the city to host their events each year," said David Gilbert, president and CEO of Destination Cleveland. "This conference and the business community's support for the event will enhance that standing and add to the city's reputation as a hub for technology innovation and entrepreneurship.
Blockland Media Contact: Emily Lauer Destination Cleveland media@blocklandcleveland.com 216.875.6628
---
Posted from my blog with SteemPress : http://g1nbc.com/cleveland-oh/press-release-registration-now-open-for-blockland-solutions-conference/
---