Introducing: Vertex The Decentralized Eco-system For Investors And Ico's.
The blockchain space is indeed a large space, we need more and more new projects that will help resolve the crypto space with their unique ideas, services and products, but yet again we need someone, something or maybe just a platform that will help manage this new ico projects. We need a reliable platform that we can trust for real new projects and not scam projects.
Talking about scam projects, Ico's exit scam is one of the most popular types of scam in the crypto space. As at December 2017, the PlexCoin ICO was halted by the US Securities and Exchange Commission (SEC) in response to an official complaint that founder Dominic Lacroix was defrauding American and Canadian investor.
This is where Vertex comes to play, on the Vertex eco-system ico projects will go through an extremely thorough vetting process before they get listed, this is a benefit to investors however investors are advised to do due diligence.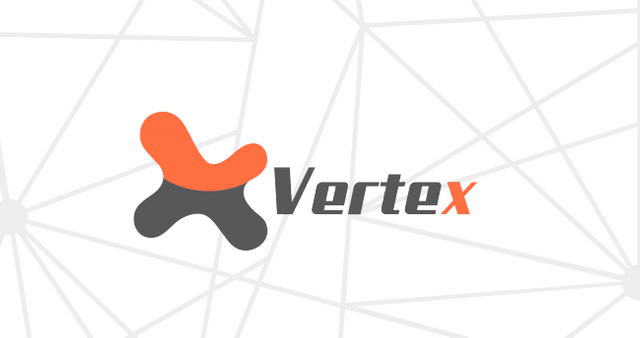 Vertex is an ecosystem for ico's and investors, this new project will be creating something unique that other platforms of its kind haven't done before :). Vertex is creating the worlds first ICO aftermarket.
THE VERTEX ECO-SYSTEM EXPLAINED:
What is Vertex aftermarket? it's a platform where investors can buy high rated ico's tokens after their crowd sale at a fixed rate, though it's not an exchange, this is of benefit to investors as they will no longer miss out on projects with potentials before they hit the exchange.
The Vertex eco-system will have the funtions below:
Ico rating and listing.

Evaluation

Buy in function, with this function investors can buy ico tokens directly to their wallet.

Purchase of Vertex tokens to invest in other ico.
HOW THE VERTEX ECO-SYSTEM WORKS:
The Vertex eco-system will be a decentralized platform where users can keep their tokens in their own wallet, the platform will offer its users the benefit of participating in vetted Ico's which have great potentials even after their crowd sales, users/investors on the Vertex platform will benefit a discount price on these tokens. However, users can only buy these tokens with the Vertex token VTEX which is the default token on the eco-system, the ico's tokens will be sold at a fixed price but with good discounts on the aftermarket.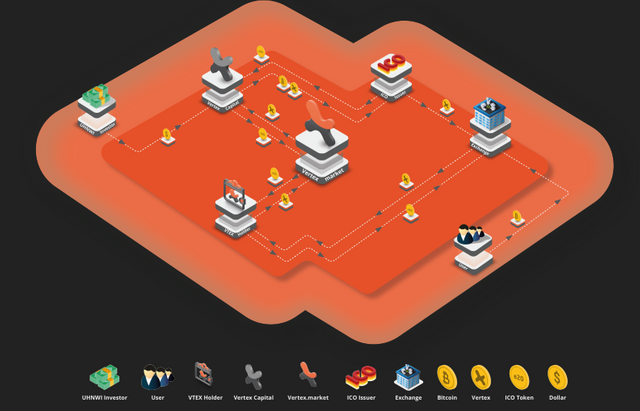 The first 50% of the ico tokens will be sold at 10% discount, after 25% with no additional cost, then the final 25% will be sold with an extra fee of 10%.
See detailed example below as explained on the whitepaper
If the ico tokens were sold for 0.01ETH per token, on the Vertex platform it will be available as shown below:
0.009ETH for the first 50% of the ico token on Vertex platform

0.01ETH for the following 25% of the ico token on Vertex platform

0.011ETH for the last 25% of the ico token on Vertex platform
Investors/users will have to go through a one time process of kyc (know your customer) before they can purchase ico tokens on the Vertex market. The platform is secured, it will be decentralized, users will be able to keep their assets in their own wallet, ico tokens that are up for sale on the platform will be held in cold storage and multi-sig wallet. Accounts and data on the platform will also be secured cryptographically, users also have the option of using a 2fa autehtication on their accounts.
THE TOKEN:
The Vertex token will be used to purchase other tokens on the ico aftermarket.
Token symbol: VETX
Total supply: 300,000,000
You can make use of the useful links below to read more on Vertex:
WEBSITE: https://vertex.market/
WHITEPAPER: https://vertex.market/static/whitepaper/vertex_whitepaper.pdf
Autor bounty0x username: timt360