"Read a Damn Book – 004: The Gashlycrumb Tinies"
Hey Fellow Steemians! Here is my 4th review from my Read a Damn Book Project. This one is for a lovely, creepy little book by one of my favorite artists (and writers! Not many folks out there who could do both, but Mr. Gorey was one of the best!)
"Read a Damn Book – 004: The Gashlycrumb Tinies"
[Originally posted on February 28, 2017, by richardfyates]
A decade or two ago (I'm bad with time), I ran across the name Edward Gorey while reading a comic book by Jay Stephens. Stephens had cited Gorey as a massive influence, along with other names, like Maurice Sendak, who is one of my ALL-TIME FAVORITE artists, so if he was anything like Master Sendak, I was going to need to check this Gorey dude out. What I discovered was pure genius.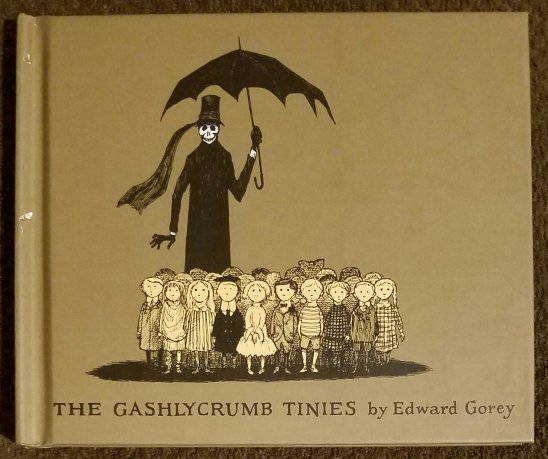 [This is a photograph that I took of the actual book that I read. The image is included for review purposes only!]
Edward Gorey – The Gashlycrumb Tinies (1963/1991)
Gorey writes and draws strange, quirky, often very creepy, very unsettling little books, which can easily be mistaken for childrens' literature, if one isn't careful. They LOOK almost cute, at first glance, but do pay attention to the WORDS before giving a book like this to little Sally or Billy. Here are the first two lines of this particular ABC book:
"A is for Amy who fell down the stairs. / B is for Basil assaulted by bears."
That's right—this is an ABC book chronicling the different ways that children can die, and with Gorey's beautiful, detailed, sweet, and very dark art style, some of the depictions actually look quite gruesome. I absolutely love this dark, chilling, and freaky book, primarily for the art, and it ended up being a gateway for me into a new, exciting world of murder, mayhem, madness, and weird little monsters. Gorey became an obsession for me (although, being POOR, I couldn't afford to obsess much.) I was eventually able to buy a book of his interviews, two biographies, and several collections of his works (which I will reread and post as READ A DAMN BOOK reviews pretty soon.) If you haven't read anything by Edward Gorey, but your tastes lean towards the eerie and the macabre, then RUN, right now, to a book store and grab anything you can find by him. I guarantee, he will not disappoint!
---Richard F. Yates
(Primitive Thoughtician and Supreme Bunny Lord of The P.E.W.)
SUPPORT INDEPENDENT FOLKS WHO ARE JUST MAKING STUFF BECAUSE THEY LOVE IT!!!
https://steemit.com/@richardfyates
https://primitiveentertainment.wordpress.com/read-a-damn-book-list/
https://makersplace.com/store/richardyates/