Greetings Steem Folk! As I mentioned in my Status Report post from a few days ago, I'm in the process of winding down my old web site, which has experienced some major malfunctions after I took it from a paid "Premium" plan back to the free "Basic" plan, but I don't want all of that content (which I put my cold-ass-heart and blackened-soul into for the last six years) to rot on the vine, so I'm going to be bringing some of my favorite pieces over to the Steem Blockchain for archival purposes and so that these works can be seen by some new eyes.
One of the things that I'm most proud of is my READ A DAMN BOOK Project, in which I try to get folks to stop rushing about and make the time to read a book every now and then by suggesting works that they might enjoy. I read a LOT, (as a writer and artist, I think it's important to constantly be INPUTTING new material, for both learning and inspirational purposes,) and I love to share the works that I've experienced with other people. Maybe this will inspire folks to read more themselves, or maybe it will even lead to a conversation or two with people who are also interested in the topics that I like to read about. Either way, I enjoy writing the reviews. (I wrote a post about two weeks ago that explained why I like to write book reviews a bit more thoroughly. Give it a look, if you are so inclined!) Anyway, regardless of the reason, this was my first full book review for the READ A DAMN BOOK Project. The rest will come---in time...and, the reviews did get better as I covered more books and got more practice! (Meanwhile, I am currently working feverishly to fix all the broken links on the main RADB page, so my apologies if you've visited there and found it dysfunctional. Apocalypses can be very unpleasant---especially the cleanup!)
"Read a Damn Book – 001: Scientific Progress Goes 'Boink'"
[Originally posted on February 19, 2017 by richardfyates]
New feature here at the P.E.W., and like most changes, this one was born from tragedy. As long-time readers know, I had a series of reading lists that I used to post on this site covering the materials I'd been reading over the course of the previous months, but sadly, I LOST the list containing my last four months worth of reading materials in a reformatting accident on my Kindle. To pick up and move on, I've decided to start a new series where I write about each piece I've read as I finish it (instead of just writing down WHAT I've been reading, without much review, and then posting a list of everything I've consumed sometime later. Reviewing each book as I finish it, and talking about what I liked and didn't like about the experience, is also more fun!) Here's the first review: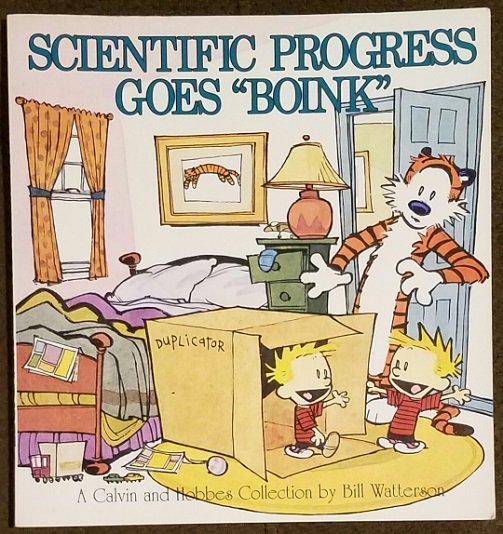 [This is a photograph that I took of the actual book that I read. The image is included for review purposes only!]
Bill Watterson – Scientific Progress Goes 'Boink' (1991)
For anyone who doesn't know Calvin & Hobbes, Watterson's classic comic strip was about a hyper-imaginative kid and his stuffed tiger (that he treats as a real tiger) and the adventures that they have together. They travel through space and time, terrorize the babysitter, find creative methods for avoiding homework, and try to manipulate Calvin's parents. Calvin himself is a wicked, hyperactive, insubordinate, beast of a child, who Watterson makes feel VERY real and, somehow, endearing. You root for Calvin and often get caught up in the magic spells woven by his sugar-fueled imagination.
I've been a fan of Watterson's comic for decades, and I've read this particular collection several times, but I needed something fun to help me through some rough circumstances, and it proved to be just the ticket! If you've never read Watterson, you should give him a try, (all of his collections are entertaining), and even if you have read him before, then it just might be time to read him again!
—Richard F. Yates
(Primitive Thoughtician and Supreme Bunny Lord of The P.E.W.)
SUPPORT INDEPENDENT FOLKS WHO ARE JUST MAKING STUFF BECAUSE THEY LOVE IT!!!
https://steemit.com/@richardfyates
https://primitiveentertainment.wordpress.com/read-a-damn-book-list/
https://makersplace.com/store/richardyates/