So, I spent all yesterday reading "Me Before You" by Jojo Moyes.
I've felt a little lost the last few days, however I was quite succesfully seeing the good side of things in my life.
As I was wandering on the Internet, looking for something new to read, I found that book on a site.
The subject had my eyes glued to the screen for a full day - work neglected, eyes sore, my morale barely afloat. The end sunk me fast, it opened my abyss and I went free falling.
My day ended with a nasty migraine, me lost in depression and so fucking angry it took me hours to fall asleep.
I suppose some of you have seen the movie. Honestly, I don't think I could bear watching it - movies usually don't keep up with the books, in terms of quality.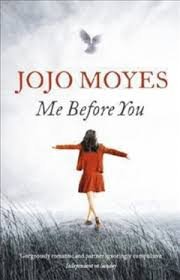 Today, my words are stuck in my throat. I am reading "After You" (Jojo Moyes/Anna Acton) mostly on auto-pilot. I feel numb. It doesn't look like this book is as good as the first one, but............
It may seem irrational to react so strongly to a book - after all, it's fiction, right? However, it hit an "emotional pocket" in my subconscious that I was unaware of. It burst to surface so strongly that I felt powerless for a long while.
This book made me thinking again about free will and how we react to life's ups and downs.
It got me angry because Will chose to quit - and this goes against everything that I am. And I know there's a world of opinions that could be voiced - after all, what the f... do I know about being completely unable to move and be dependent on others all the time.
The only way I can picture it is ... an endless prison.
And I'd also have to say, the lesson Will should have learnt was about humility and acceptance. Very hard and bitter pill to swallow when you've had the world at you feet.
"Me Before You" also made me sad because I can understand his choice, as poor as it is. It made me feel pain because so many times I wished I could give up, end things......... but I know it's not a solution, it's just a selfish, stupid choice with very poor consequences.
I'm sorry, this blog is completely stupid. Depression tore into me - I lost all my words.
I just wanted to let you know (those who haven't read it yet) - in my own, weird way - it's a good book, worth reading.
I have to pull myself together again. Fuck.
(image source: dymocks.com.au)