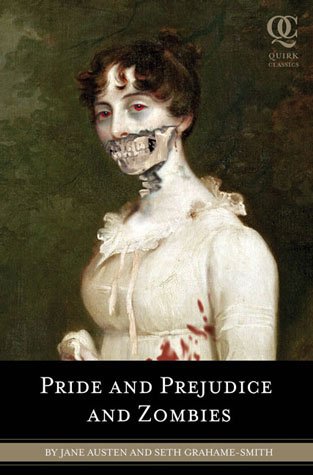 Genre: Fiction
Sub Genre: Horror, Zombies
Rating: 5 out of 5 Stars
Back Cover of Actual Book: "It is a truth universally acknowledged that a zombie in possession of brains must be in want of more brains." So begins Pride and Prejudice and Zombies, an expanded edition of the beloved Jane Austen novel featuring all-new scenes of bone-crunching zombie mayhem. As our story opens, a mysterious plague has fallen upon the quiet English village of Meryton – and the dead are returning to life! Feisty heroine Elizabeth Bennet is determined to wipe out the zombie menace, but she's soon distracted by the arrival of the haughty and arrogant Mr. Darcy. What ensues is a delightful comedy of manners with plenty of civilized sparring between the two young lovers – and even more violent sparring on the blood-socked battlefield. Can Elizabeth vanquish the spawn of Satan? And overcome the social prejudices of the class-conscious landed gentry? Complete with romance, heartbreak, swordfights, cannibalism, and thousands of rotting corpses, Pride and Prejudice and Zombies transforms a masterpiece of world literature into something you'd actually want to read.
What happens when you take Jane Austen's Pride and Prejudice and add Zombies? You find one of the best books ever. There are no changes in the language from the original story. Most people know the story of Elizabeth Bennet and Mr. Darcy. It is one of those books that even though your required to read it in high school, it's still a book you would read. When I first picked this up I wasn't sure how this would work as I love the original story. But once I started the book all doubts where gone. It takes the classic story and puts a great twist on it. It's one of those books that I could read many times over. What's great is that there is a prequel, Dawn of the Dreadfuls. As well as a sequel, Dreadfully Ever After.
Publisher: Quirk Books
ISBN: 1594743347
Pages: 320
Series: Pride and Prejudice and Zombies Saga
Volume: 1