I bought a Up² (http://up-shop.org/up-boards/97-up-squared-pentium-quad-core-8gb-memory64gb-emmc.html)
On that machine the BOINC Manager in Version 7.6.22 loses the connection to the client whenever it tries to get data from the internet (connecting to an existing account works, but not downloading data from a project).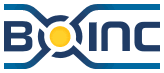 And if the contact to the client is stable for half a minute, browser etc. say there is no internet connection.
If there is no way to connect to the internet (Wifi+cable disconnected) the connection between Manager and client is stable.
Happened on both Win10 home and Win10 Pro.
The Manager V. 7.4.42 works without problems. (Also the current WCG version)
Problem exists on both Wifi (tried 2 USB sticks) and LAN cable.
Problem is persistent and reproduceable on that piece of hardware. (I tried several re-installing with folder search-and-delete + restart, downloading installer again etc. before testing old versions.)
Just installing 7.4.42 above the 7.6.22 version solved it.
Only other report I found about that is here (German): http://www.planet3dnow.de/vbulletin/threads/425402-Boinc-Probleme