Buenas Noches, sean bienvenido un dia mas mis queridos visitantes y seguidores que leen mis publicaciones dia a día, quiero comentare cual es el cierre del mercado de criptomonedas para el dia de hoy.

El día de hoy mercado en su tercer dia presenta una caida de "1.76% hasta este momento a nivel global tambien esta en negativa la semana apenas llevamos 3 dias por lo que es muy probable que se recupere en los ultimos dias.


Graph
El gráfico del día de hoy mercado durante toda la mañana decidió optar por disminuir donde desafortunadamente durante la a pesar que logra reducir la perdida la noche deseo ser nuestro enemigo y nuevamente disminuye el avance obtenido durante la tarde, algo que me gusta es que mercado a pesar de estar subiendo y bajando los ultimos dias ver a BTC por encima de los $9000 para mi es bueno porque si mantiene la misma secuencia de subir, corregir y seguidamente aumentar se ira incrementando no a un ritmo rápido pero se observa mejora en el mismo valor, ya otra cosa que también me gusta es que volumen BAKKT esta muy arriba de lo que promediaba al inicio "50 a 150 de volumen" el dia de hoy cerro con (635) y esto significa que esta ingresando dinero en los contratos.

Hoy es un dia negativo 👎 entre 97 a 98% mercado hoy ha cerrado con perdida solo espero mañana sea un dia de incrementos.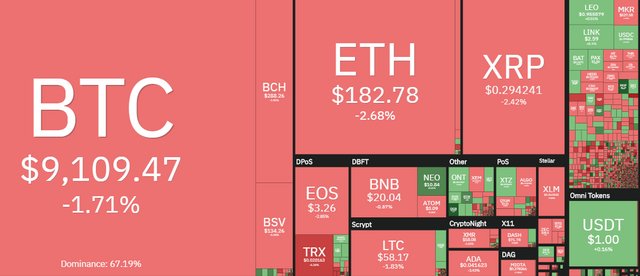 Colors of the Market

El fracaso es una gran oportunidad para empezar otra vez con más inteligencia. Henry Ford.


Design Made to: sevillaespino