Buenas Noches, sean bienvenido un dia mas mis queridos visitantes y seguidores que leen mis publicaciones dia a día, quiero comentare cual es el cierre del mercado de criptomonedas para el dia de hoy.

El dia de hoy mercado el mercado ha cerrado con una perdida muy baja correspondiente a "0.60%" era de esperarse luego de 5 dias positivos, eso si lo consideraria como un dia de equilibrio esta caida.


Graph
El gráfico de hoy el mercado inicia con un fallido intento de aumento debido a que esta ha sido la rutina hasta horas del desayuno, manteniendo un par de horas una estabilidad el mercado ya desde el almuerzo hasta horas de la tarde logro un buen aumento pero lamentablemente la noche hoy no estuvo a nuestro favor debido a que redujo ese avance a la mitad muy probable hubiera cerrado mercado con un porcentaje similar al de ayer, pero debemos ver el lado bueno de este dia, dond esta siendo una correccion de rango minimo me atreveria a decir que mañana muy probable sea nuevamente de aumentos "espero no estar equivocado recuerden que no soy profesional es mi forma de pensar lo que escribo" de acertar significaria que estariamos entrando en un etapa de aumentos + pequeñas correcciones y seria muy bueno para el mundo de criptomonedas.

Hoy es un dia negativo 👎 donde la mayoria de monedas ha perdido un minimo porcentaje, posible señal de correccion para continuar con aumentos.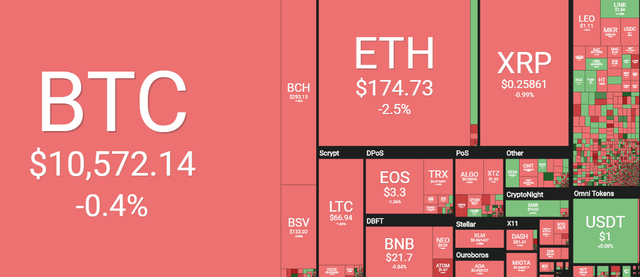 Colors of the Market

No trates de ser original, sólo trata de ser bueno. Paul Rand.


Design Made to: sevillaespino