November and December has been such a nice month to be in Florence. Moving on from the vineyards and grape harvest to chestnut, truffle, and olive season. Every weekend there has been one or more olive oil festivals with delicious taste testing. They have much more than just olive oil and are so hard to leave empty handed! Recently, I've been spending most of my time trying to soak up as much of Florence as I can. I've been going on a lot of walks and since I last blogged I have visited the Palazzo Vecchio, the Pitti Palace, and the Salvatore Ferragamo (Shoe!) museum. Oh, and I saw the David two more times lol I am obsessed. I would recommend all of these places! My roommates and I also went to see AC Milan vs Fiorentina at Florence's home stadium last week. It was an exciting game but I wish we would have gone when it was warmer! And I also wish someone would have scored because I really wanted to see the celebration of a goal lol ...they tied 0-0.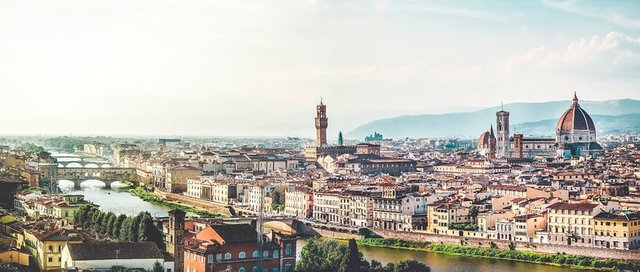 source
The only times I have left Florence recently was a day trip to Lucca and a weekend in Barcelona. Lucca was a really cute medieval-looking city surrounded by big old walls. I think I loved it most because there were so many beautiful trees changing colors.. I took the prettiest pictures. Overall, it was really nice to get out of Florence for the day and explore a new city. My trip to Barcelona has definitely been one of my favorite. I loved everything about it: the group I was with, the hostel we stayed in, the weather we had, and above all - the city. This big, busy city had a mix of both old and modern architecture and then you take the metro or an air tram to one side of the city and you find the most beautiful beaches. Barcelona really had the best of all worlds. I would love to go back someday and even explore the rest of Spain. I heard such great
things about the country from other travelers I met at our hostel.
Since then, I've been in Florence and have been having such a great time. Last week was an exceptionally fun week - every day and night. The highlights were of course Thanksgiving Eve and Thanksgiving Day. The night before Thanksgiving, my friends and I made a scavenger hunt for around Florence. We had four teams with captains and a list of about 30 things that took about 2 hours to complete. It turned out great. It was so strange to have class the next day, but it was still one of the best Thanksgivings I have ever had. We cooked in separate apartments and combined around 6:30 to make a group of 18 people. We had appetizers, two turkeys, an array of deserts, and of course, wine. It was so much fun. I feel truly blessed to have made such amazing friends here.
This weekend most of us are going to Interlaken, Switzerland. It's our final trip before we spend our next and last weekend in Florence. I was really excited to ski the Alps but I've heard that they are having trouble keeping snow on them due to the mild temperatures during the day. I'm a little disappointed but there are plenty of other activities to do and I know I'll have a great time just because of the people I am going with. I'll definitely update when I get back!