Just a highly self-indulgent (what isn't!) post outlining what I blog about across various different platforms. For anyone thinking about getting into blogging full time, this is what I think is necessary to sustain a decent level of output and income:
A simplified weekly blogging schedule

What I blog about, and where I post it….
1. A-level sociology blogs…. W.P.COM and ORG.

These are my 'main posts' – summarising aspects of the A-level sociology syllabus including revision notes, mind maps, exam practice and so on, on WP .COM
I'm also going to develop a more teacher focussed, lesson by lesson blog on WP.org – this will be a future project, probably launching in October.
2. 'In the News/ on T.V. posts…. W.P.COM AND steemit.

These are my favourite to write – just sociological observations about what's occurring in the News, or on T.V.
3. Book summaries and Podcast/ TED talk summaries/ analysis. W.P.COM and steemit.

I'm planning on spending more time on these than anything. I do love to read. There's more to summarising that you might think: re-organising, adding in vizuals for example.
4. Critical posts and alternatives… steeemit.

I think a lot of what most of us regard as normal is crazy, these are my posts explaining why… and a look at some alternatives. These take a long time to write: there's a lot of thinking/ reading involved.
5. Self Tracking… steemit.
Three main types of post here:
Self-tracking sociological theory (yes, there is such a thing!)
Financial tracking posts (monthly)
Running/ walking posts (weekly.
The first type are going to be quite lengthy, the later short form.
6. Posts about steemit…… on steemit.

Generally two types of post here (gonna try and get this going) – one a week summarising 'what's occurring on the blockchain and then a second offering some deeper thoughts on some aspect of steem/ or a review of something going on steem.
Short, 'standard' and long form posts…

I've come up with this simple idea of a 'standard' blog post being 300-800 words in length, which takes me from between 30 mins to 2 hours to produce. This includes the background research and formatting the pictures and meta data behind the posts.
Most of what I write falls into this 'standard' length category… it just feels natural for me. Whether I've modified my writing style over the years to fit this, I couldn't say, but ATM this works.
'Longer form' material – typically book summaries, visual posts and my 'critical posts' take longer than 2 hours to write, mainly due to the depth of reading that needs to go into them…
Short form posts are really just the self-tracking weekly updates – everyone needs a few short-forms!
A more detailed posting schedule...

my plan is to deal with the daily posting mainly in two a.m. sessions, leaving a p.m. (third) session to read. Later on I might devote this to getting my second W.P.org blog going, or whatever project needs the most attention.
If anyone's interested, here's the really OCD version of my schedule: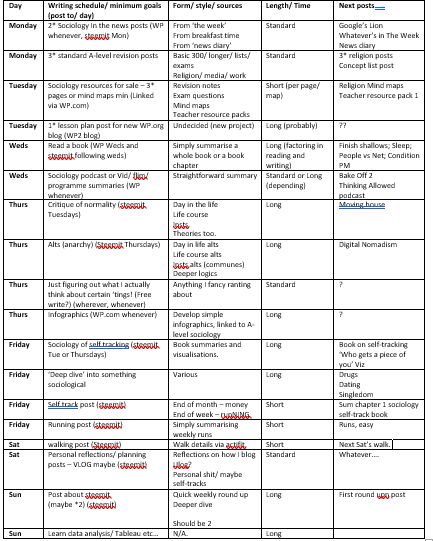 Closing thoughts

I may not stick to this, but I like the look of it going forwards!