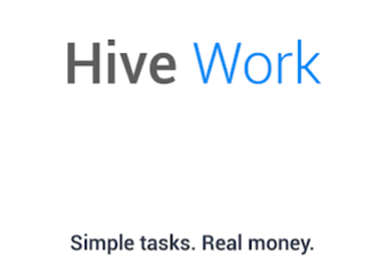 Hey there my dear readers! This time I bring something different to what I usually publish, this time I want to tell you a little about a page called Hive Work that allows us to generate paypal dollars without the need to invest money, that is, only doing tasks that really are very simple.

Note: it is not a guide or tutorial, it is a brief description :).

In the web there are many of this type, but as we know, not all pay; Of course I'm not an expert in this area really, in fact it's just that I'm starting in this and I was encouraged after a friend recommended it a thousand times since she has a good time working on it and doing well.
Depending on the type of task will be the amount they will pay, I mean, there are tasks that go from 0.85 $ for 1000 tasks and others of $ 3 for 1000 tasks, and maybe you'll say: 1000 tasks? That is too much! And the truth I thought the same at the beginning but honestly they are very simple and depending on how fast you are, you will logically make the taks faster.
The type of tasks is varied, ranging from making bounding boxs to timestamps in videos, among others, I personally do the above mentioned because it is where I am a little better and it makes me more comfortable.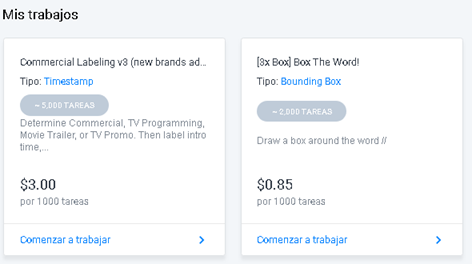 In order to access to the taks you must first perform some qualification tests which will explain step by step the correct way to accomplish each task, and if you need more help on YouTube there are a lot of tutorial videos xD.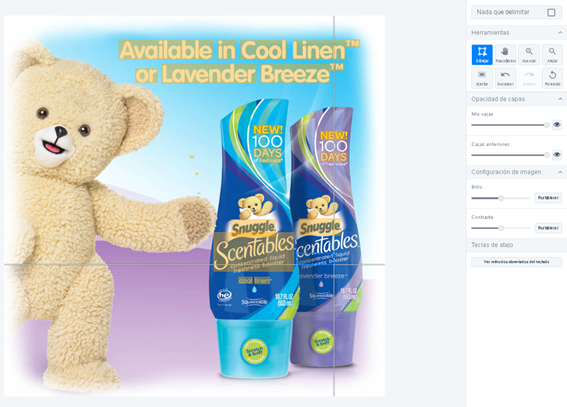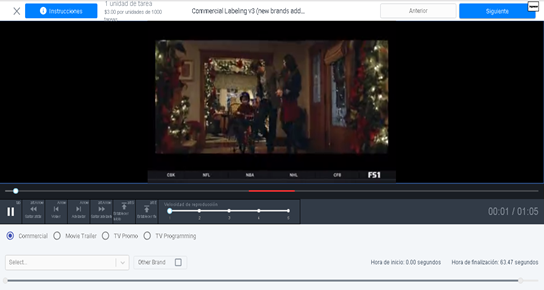 What I like most about this page compared to others such as Spare5 is that here they are not so demanding with tasks, in fact to be banned in some means that you did very badly, but if you do it regular you'll be okay, and the best thing is that ALWAYS or almost always there are tasks available, seriously, I did some task and literally was like 2 hours (interspersed with small distractions) doing tasks and they never finished and that is a huge advantage because if you have a lot free time so they are more dollars that you can produce, in fact I was looking at the table of classifications of the people who work the page and there are those who make up to $ 20 in a day.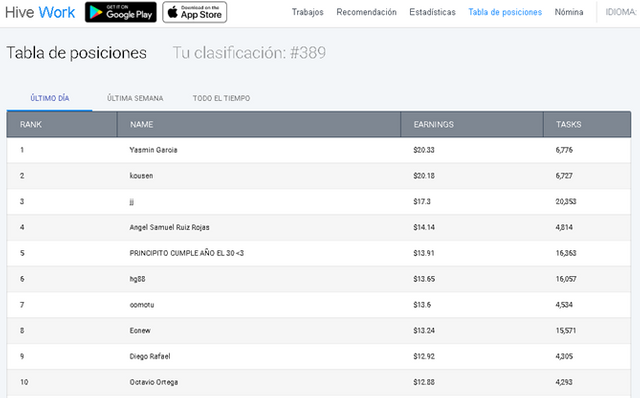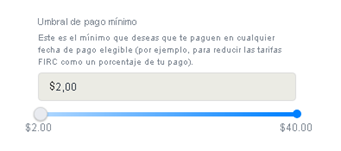 Payments are made weekly on Tuesdays to your paypal account, and you can set the minimum threshold to be charged. The page is usually very friendly and is in both English and Spanish which I think is a very big advantage for Spanish speakers.
One very important detail that caught my attention quickly is that to produce the desired dollars you do not need referrals to earn money as such, but your profit will be directly proportional to the time you spend on the page doing tasks. What you can earn is a recommendation bonus which does not fall badly.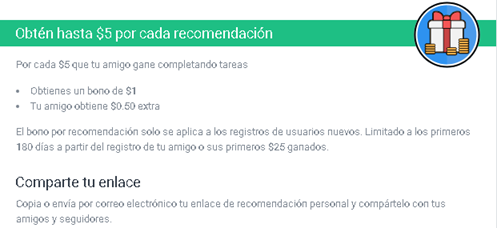 Here my link recommendation in case you are encouraged to know and work the page, any questions you have can leave me in the comments.

We are reading us!





All images are screenshots taken directly from the page.