I got reminded how much centralized social media can suck - my Instagram got deleted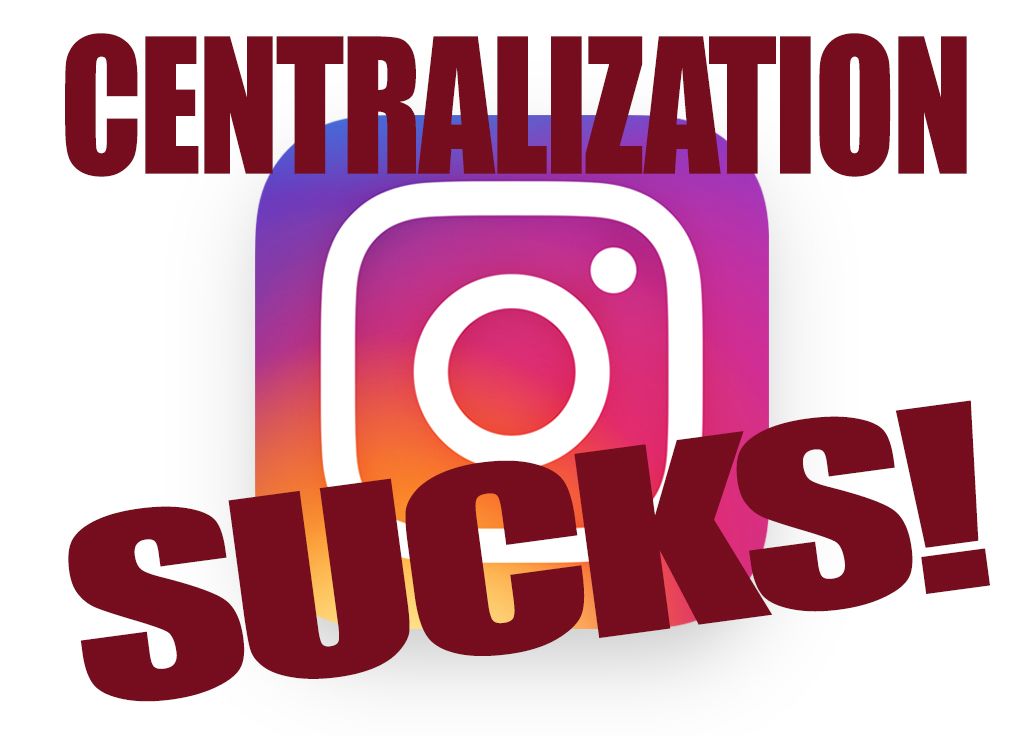 Yesterday morning I woke up to the realization that I don't have an Instagram account anymore. My profile was gone. No user with this username, no user with this email and worst of all no explanation.
I've never broken any of Instagram's precious rules, community guidelines and other BS and all I ever uploaded there were photos of flowers and nature and the occasional portrait - all of it my original work. I got no email from them, no warning, no explanation, no way to appeal and no way to get in touch. Somebody there flipped a switch and flushed everything I had built there down the drain. I'm furious!
While I didn't have a huge following there, the account was actually important to me as this was my main creative outlet in the past 2 or 3 years (I'm not even sure and there is no way to check now). Through Instagram I could reach a much wider audience than I'm reaching on places like Steemit or 500px and that meant something to me. Additionally, by losing the account I'm losing a ton of friendships, contacts, people I follow and admire and photographs.
I'm really happy that something like this cannot happen to me on Steemit, but I really wish I could recover my Instagram account as well.
I researched the topic and it seems that the only people who manage to get their accounts back are people who can reach an Instagram or a Facebook employee who could solve the problem from the inside. If anybody can help or knows a person who can help with that, I'm willing to pay for the service as long as I can get my account back.
Centralization does suck!
This is yet another example of how bad centralization can actually be. When you have a profile on a centralized platform like Facebook, Instagram or Twitter, you are left at the mercy of the owner and they can abuse you in whatever ways they like and there is nothing to do about it. Justice or fairness is by no means something they care about. To them we are just a product to sell to advertisers and even the simple thing of providing us a way to get in touch and ask for help or explanation is simply an unwarranted expense.
What's really infuriating is that you can still find my photos on their platform despite the fact that my account is gone. When somebody steals your intellectual property there, it's pretty much impossible to take it down and I still see people using my photo as an avatar there despite me having reported them. There are people with hundreds of thousands of followers there who are asking their followers to report abusers and intellectual property thieves who fail to take their photos down from the fake accounts. But my small account full of flowers and bokeh was for some reason deemed offensive and destroyed without an explanation or even a route to appeal.
When they control everything, they have the power to destroy whatever they want. I will not be surprised to learn that this was done by AI, not by a human (as a human would have never banned my account). In the recent days I was regularly getting crazy engagement (at least for my modest standards) and that might have ticked off their algorithms. And since they have so many users, they really don't mind sacrificing a ton of decent people and their accounts to supposedly get rid of abusers.
Well, at least I now have an account that cannot be taken away and cannot be muted or deleted here on Steemit. Hopefully someday, there will be as wide of an audience for me here as there was on Instagram. I would love to see Mark Zuckerberg and his cronies fail! Decentralization is the future.
---