Having just watched a stefan molyneux you tube about post modernism, I was going to write my own take on it..but I just couldn't....His presentation is here...
Why not?
I refuse to indulge my own sanity into their insanity trip any more than I have to
. And post modernistic thinking, is insanity...
BUT... I still wanted to write a post about the bullshit that is postmodernism...
mmmm...a conundrum...
So in my usual no BS, way, I came up with this!
AND I DEFY ANY POSTMODERNIST TO RISE TO THE CHALLENGE...
I CALL OUT ALL OF THEM . THEY ARE NOTHING BUT TOTAL AND UTTER 100% BULLSHITTERS.
Don't talk to the insane, call them out on it instead. (see below for instructions on how to do this..)
You never know, you might solve the problem of ridding post modernism as a philosophy, and win the argument at the same time!!

"There are no hard distinctions between what is real and what is unreal, nor between what is true and what is false. A thing is not necessarily either true or false; it can be both true and false."
― Harold Pinter (a confirmed tit)
Wanna bet, harold?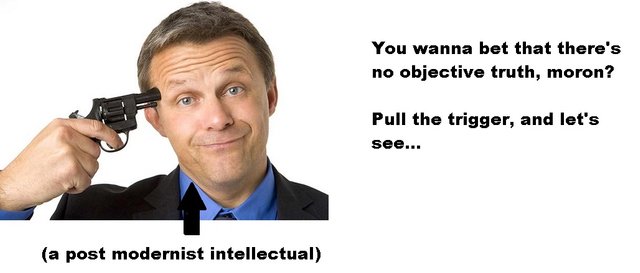 ....and if they won't show their philosophy to be real to them, well, you can then call BS on them.
And give them the respect they truly deserve...(zero)
(oh, and offer them another chance to give the experiment a go...pleeeeease).