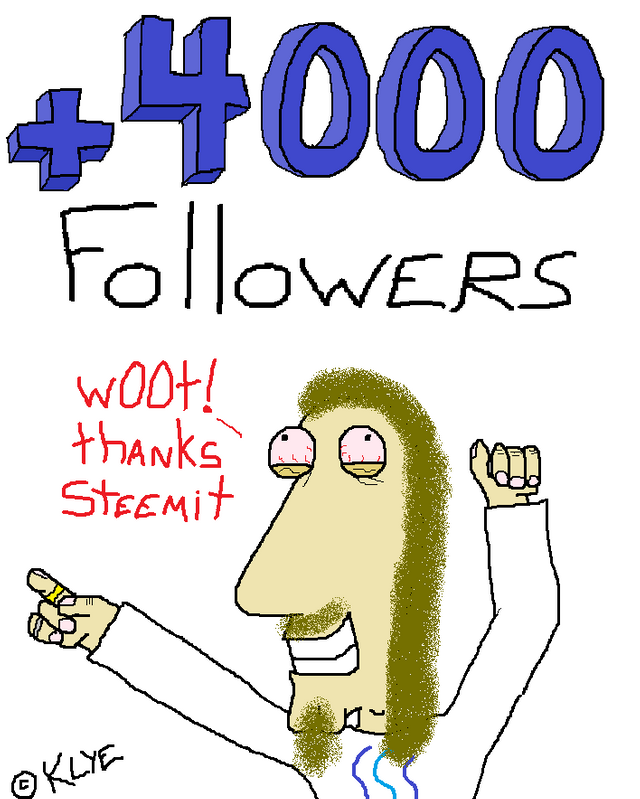 WOW. I've Now Got +4000 Followers Here!
I've been on Steemit.com and it's underlying STEM network around 20 months now, for lack of prettier wording this network has COMPLETELY changed my life. When I started out well over a year ago now I'd not have fathomed the extent that this site and STEEM would have in my day to day. It basically took over my waking hours at one point to be honest, possibly cost me a girlfriend and rekindled my love for programming and fine MS-paint art.
Totally worth it!
THe future of STEEM, Steemit.com and it's alternate blockchain explorers seems bright. It's been a hell of a ride and while at times it's been overwhelmingly exciting and terrifying I'm in it for the long haul. STEEM is my bread and butter and while the past month of life I've not been able to put the dedication or hours I'd have liked to into the network, posting and the various coding en-devours I've got cooking the plan is to hunker down here over December and get shit flowing better again.
Between moving into the new house and my PC melting down it's been a bit of a stressful and gongshow month, but NOTHING compared to the month of October which saw me revisiting my hobo roots. With winter well underway here in the butthole province of Canada known Manitoba it's a great time to get focused and back in the runnings.
Thank You to Every Follower I've Got!
You, my faithful followers, readers and voters are what make STEEM my dream outlet for creativity, applying my skills and ultimately having a place to socialize and interact with people. Without you I'd just be some insane dick drawing canuck with poor language and grammar ranting to myself. Seemingly I'm crude and unrefined compared to many on here, that's part of the charm I think.. Will try to keep up my standard for degenerate debauchery through blogging!
Thanks guys, gals and whichever else you identify as for helping make me what I am now!
---