The true value of a cryptocurrency and any asset.


We have realized how volatile the cryptocurrency markets can be. However, the real value of a cryptocurrency can help us in the long run to have clues and identify better business opportunities. The market got used to a good time to simply watch the news that manipulate the market and not really see what was being played behind. The technical analysis failed to be moving in the trend of "The Lord of Bitcoins", which on another occasion we will talk more in detail. That is why today we offer you a basic but powerful formula, about market values.

In the past, we were thinking that the value of cryptocurrencies was related to the technology behind, but it turns out that in a speculative market this becomes rumors among rumors. So the professionals did not follow this, but they have a formula to distinguish the real value of something.
GOOD OPPORTUNITIES FOR PURCHASING OR SELLING ABOVE OR BELOW YOUR REAL VALUE WILL LAST LITTLE!
We will use the LiteCoin cryptocurrency in this example:

Litecoin año 2016...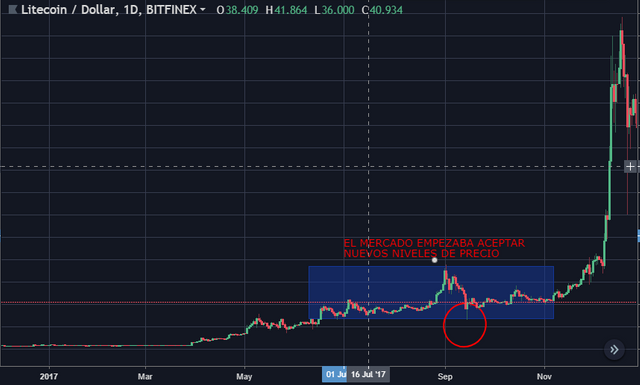 From June 2017 Litecoin experienced a balance zone where the market accepted a new price level that had not changed since the whole of 2016. To accept the new value of LiteCoin, the market experienced lateralization from June to November , the market did not accept a strong drop, nor a strong rise (what is currently experienced with BitCoin) until the price of Litecoin remained from $ 40 to $ 60.
but, what happened next?
In a speculative market this formula is just a reference, however what we call today FOMO (fear of being left out of the opportunity) began to occur at the beginning of December. It was here, where the news impacted the market to the upside, leading people to buy at the price that the news said and not to what the market said. The $ 370 was not the value of LiteCoin, however it was bought for the amount of euphoria that injected this news.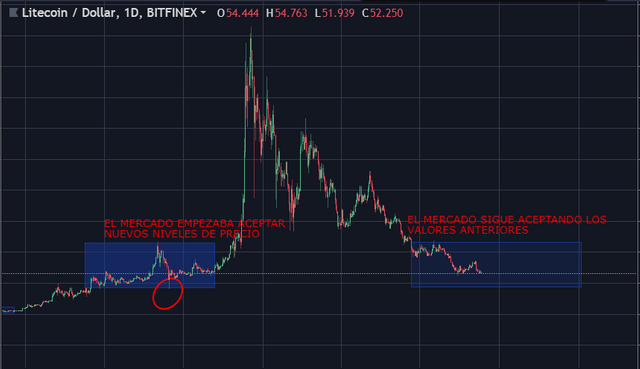 As of today, the value of LiteCoin is still accepted by the market for a year now, due to the amount of time that this currency fluctuated at those levels. As this formula is just a reference on which professional investors rely to enter the market, it is important to bear in mind that a lateralization helps to define new values ​​in the market, even in the short term we can realize this when the currency starts to get its old support levels.
It is very easy to base yourself on something that has already happened, of that there is no doubt. However, if we analyze the prices of the most important currencies we will see that their levels are approaching their area of ​​consolidated value months and years ago.

---
Publicado en el blog de Cryptofera
---