Hello dear blog reader,
already in December 2018, the Social Network Google+ announced to end the service for private accounts and to delete all profiles by April.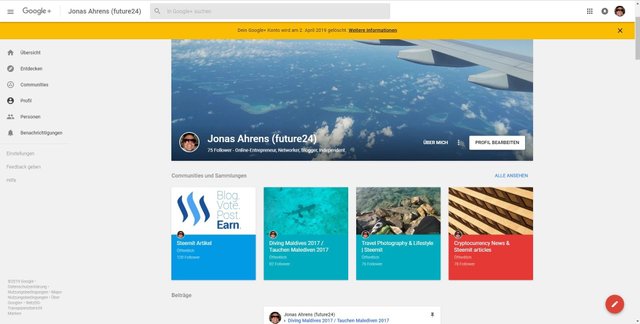 Starting today, it will no longer be possible to create contributions and by April, all private accounts will be deleted.
More info can be found here: https://support.google.com/plus/answer/9195133?hl=en&authuser=1
Just a few years ago, that would have been bad news for me, as Google+ was a good free source of traffic for me as an internet marketer, but since my former profile with nearly 1 million views and thousands of followers was eventually deleted for no reason, Im not really using Google+ for over 2 years now anyway.
Back then, I even tried to get the profile back with a lawyer, but they just responded that the page belongs to Google and it's up to Google+ to delete a profile.
Once again a good reason why decentralized networks like Steemit.com are the future, because a Google+, or e.g. YouTube account, does not really belong to one. It can be taken away at any time and who is now, for example, For years, has built up a large Google + profile, certainly annoying very much that all accounts will be deleted soon ...
This can not happen with Steemit, because an account really belongs to you and nobody has access to it without the private key.
Info: Of course there is a way because of legal reasons for the company Steemit Inc. to remove illegal content, as it has recently occurred in a profile.
Information here: https://coinjournal.net/banned-from-twitter-reddit-dark-overlord-disappears-from-steemit/
All posts on the Steemit.com platform are stored on the STEEM Blockchain and can still be displayed on other interfaces even if Steemit.com were no longer there. (Which I do not expect, however, since reasonable measures have already been taken to minimize server costs and there are many opportunities for other sources of income for Steemit, such as advertising ads ...)
There are already many alternative interfaces linked to the STEEM Blockchain that are independent of Steemit.com, such as busy.org, Esteem, Partiko, DTube and many others.
Decentralized social media platforms such as Steemit thus have enormous advantages over the centralized platforms and this is one of the reasons why since 2016 I use almost only Steemit and the numerous Dapps (decentralized apps) on the Steem Blockchain. However, due to the high usage figures of Instagram, YouTube, Facebook and Co., these platforms are of course still relevant and especially marketers are still dependent on it.
I am curious how the social media market will develop in the future and whether, or how quickly decentralized social networks will prevail in the mass.
It remains interesting as always!
Best regards
Jonas - @future24
---
Sponsored ( Powered by dclick )