Spring has once again come to my little corner of the world, bringing with it bright mornings and cool, but sunny days that are warm enough that you can walk between buildings in just your shirt but cool enough to remind you that the best is yet to come. Here on these parts, spring has its own well-known harbingers, such as the snowdrop and the eranthis, but I think that most people agree that there is no floral symbol of the coming of spring as profound and as iconic as that of the sakura, the Japanese flower blossom.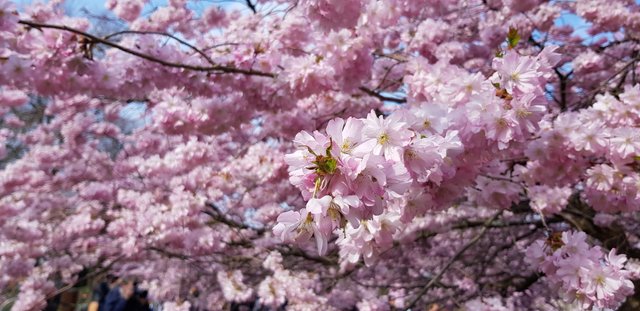 As a person with a strong affinity for Japan and her culture, I have really taken a liking to this particular season, and has once some years ago had the privilege of experiencing Japan during this particular time of year. Unfortunately for me, that particular spring was quite a rainy one and work engagements (as well as some pretty steep ticket prices) have prevented me from enjoying the Japanese spring ever since.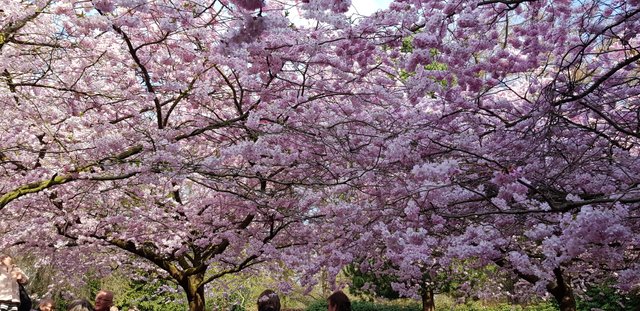 However, to my luck, the fondness of the cherry blossoms seem to have caught on in my home country as well during the last couple of years, a cemetery close to my home has come to be known as a especially great cherry blossom watching spot, so when this Sunday proved to be a beautiful spring day despite a dubious weather forecast, I went there to do a little hanami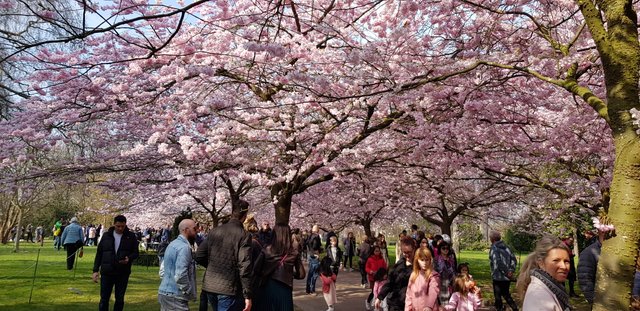 I was not the only one enjoying the flowers and the sunshine
In the cultures of East Asia, the sakura flowers with their light pink hue are a symbol of femininity and female beauty that is often seen depicted in art, but in Japanese culture, the the cherry blossoms hold deeper meaning. The explosion of colour and life of the full bloom, the mankai, is an intoxicating celebration of life, love and rebirth after the cold and barren winter that makes Japanese families congregate in crowded parks to celebrate under the blossoming trees. However, after only a week or so, the winds and the rain of the season take its toll on the fragile flowers, whose petals can now be seen covering the sidewalks or floating in the rivers like dotted blankets of pink and white reminding us of the transience of life and the significance of being able to live and enjoy life now rather than later.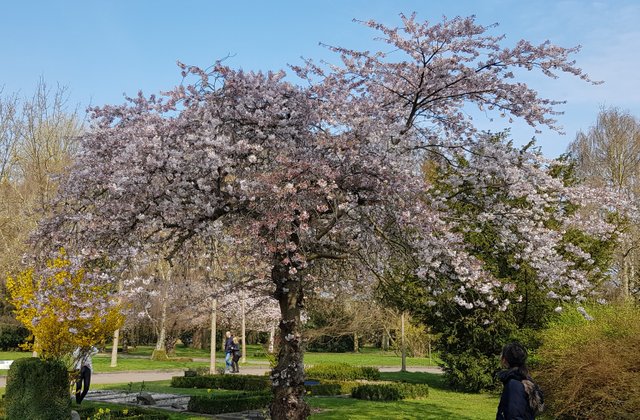 There were a few trees with white flowers too
As such, Japanese media is rife with depictions of sakura and due to its connections with both spring, life and feminine beauty, sakura is an often used as a metaphor for romantic love in both its wild, intoxicating forms as well as its subtle, longing ones. One of my favourite examples of this is the song Sakura sakura from the now sadly defunct Japanese pop group Rin'
Not only is the arrangement that blends classical Japanese instruments with a modern arrangement superb, but the lyrics convey the tristesse of longing love interspersed with the imagery of the Japanese spring during the full bloom in a way that is only possible in the Japanese language:

(...)
待ち続けた あの公园で
Waiting for you for so long in that garden,
手を振る影 探すけど
I searched the shadows for your waving hand
いつかの风 ほほに触れて
But when the wind touched my cheek,
春を伝えるでしょう
It reminded me that spring would come


青く光る 桜并木
Looking at the bright cherry trees
花明かり 柔らかい
and their blossoms in mellow light
君と离れ 君を辿る
Separated from each other,
あの日见た月を探して
you searched that day for a glimpse of the moon
(...)


Lyrics from LyricsTranslate

Spring is almost universally a symbol of rejuvenation and rebirth after the harshness of winter, but I find its Japanese manifestation a particularly beautiful and profound one, and while I do not hope that it is the last time that I have been in Japan for the time of sakura I am truly grateful that I am able to experience the beautiful flowers and be filled with the same sense of uplifting by traveling just stone's throw from my front door. What's more, on a more personal level, these trees are of special significance to me, as it was around this time about a year ago I made my first real Steem post about these very trees in bloom!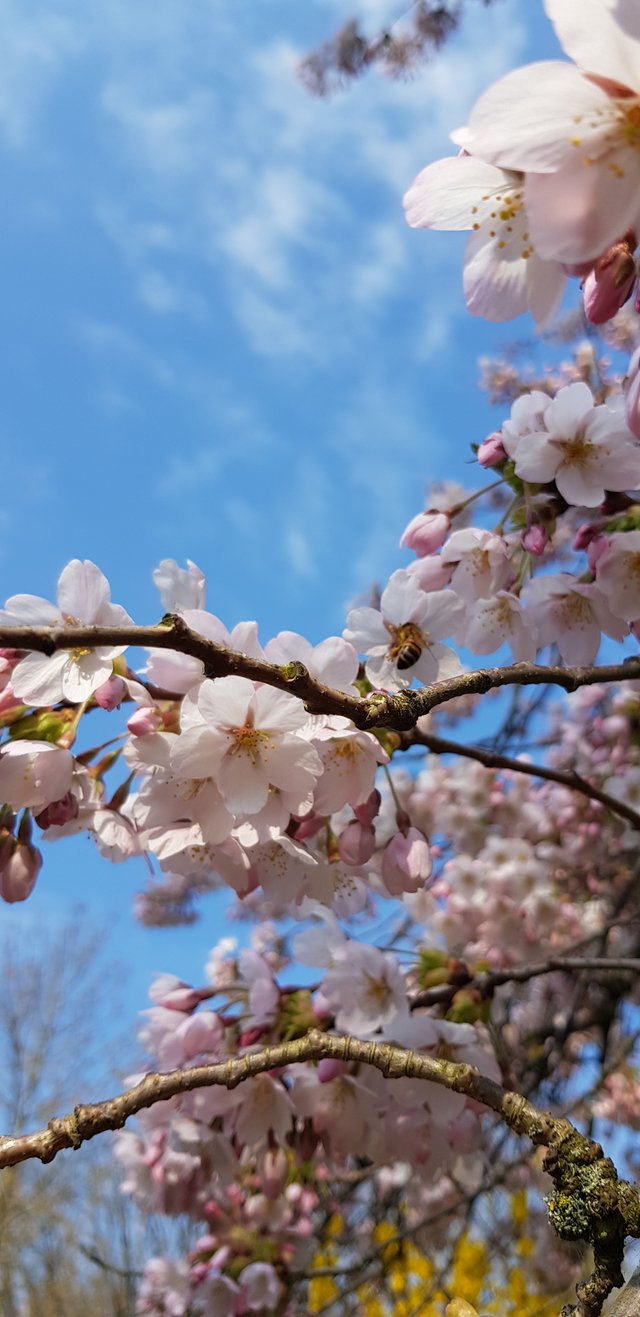 The busy bee, another harbinger of spring
Be it in Japan, under these trees or even somewhere else entirely, I will be looking forward to next year's sakura, where I can yet again celebrate the coming of spring with the beautiful contrast of pink flowers on a blue sky backdrop.
---
Thank you for reading! If you enjoyed this post, please leave a like and a comment and feel free to check out my other content as well.