Group E
BRAZIL 2 - 0 COSTA RICA
English
The black and white of this group is Brazil and Costa Rica, the former with an exquisite gamestyle, big players, player options on every position and well directed, the latter with a simple and flawed gamestyle. It seems that Costa Rica and Panama came to the world cup for holidays and not to compete because this CR is not even the 10% of the one we saw in the 2014 world cup who used to dominate their oponents with an aggressive style and had a winning mentality. This is how important is to have a good head coach, big difference between 2014 and 2018 Costa Rican team.
---
Coutinho and Neymar scored for Brazil in the last 10 minutes, but this was a game that could have ended in a complete wipe out where Brazil got tired of missing clear shots. They had opportunities in both sidelanes, up in the air, down in the ground, corners... if Neymar had come out in a good day this game could´ve easily ended p being a 6 - 0 in favor of the Brazilians.
Español
Los dos extremos de este grupo E son Brasil y Costa Rica, uno con un fútbol exquisito, grandes jugadores, variantes en todas sus lineas y muy bien dirigidos, pero del otro lado vemos a un Costa Rica que junto a Panamá asistieron a esta copa del mundo a visitar Russia y disfrutar de sus mujeres, este Costa Rica no es ni el 10 por ciento del Costa Rica de Brasil 2014 que dominaba un estilo de juego y tenia una mentalidad vencedora. Aquí resalta lo importante de un buen director técnico, esa es la diferencia entre el Costa Rica de 2014 y el de 2018.
Coutinho y Neymar en los últimos 10 minutos fueron los anotadores de este partido, un partido que pudo haber terminado en goliza en donde Brasil se canso de intentar anotar gol por todos los medios, por las dos bandas, por arriba y por abajo, y que si Neymar hubiera salido con buen tino este partido terminaba 6 - 0 a favor de los amazónicos.
Deutsch
Das Schwarz-Weiß dieser Gruppe ist Brasilien und Costa Rica, das ehemalige mit einem exquisiten Spielstil, großen Spieler, vielen Spieleroptionen auf jeder Position aber zuletzt einfachen und fehlerhaft auftrat. Es scheint, dass Costa Rica und Panama nur zum Urlaub hier sind und nicht ernsthaft an den Wettkämpfen teilnehmen, denn diese Mannschaft spielt nicht einmal annähernd wie das Team, das wir in der WM 2014 gesehen haben, wo sie ihre Gegner mit einem aggressiven Stil dominierten und einen Gewinnermentalität hatten. Da sieht man mal wie wichtig es ist den richtigen Trainer zu haben, was einen großen Unterschied zwischen dem costa-ricanischen Team von 2014 bis 2018 ausmacht.
Coutinho und Neymar trafen erst in den letzten zehn Minuten für Brasilien, doch dieses Spiel hätte auch eine komplette Klatsche für Costa Rica sein können. Brasilien hatte in beiden Hälften Chancen, hohe Bälle, tief gespielte Bälle, von den Flanken... an einem guten Tag hätte Neymar dieses Spiel leicht mit einem 6:0 für Brasilien beenden können.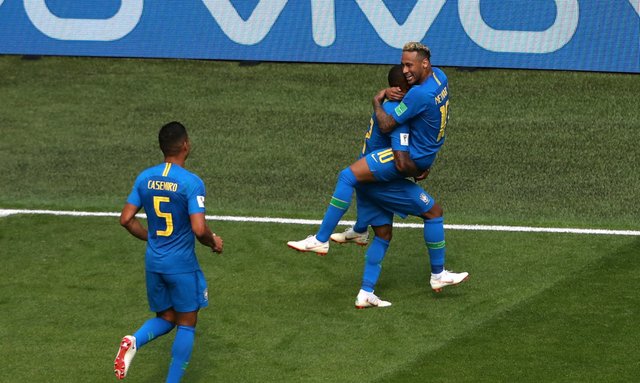 Source
Source
SERBIA 1 - 2 SWITZERLAND
English
Serbia went ahead in the score board very quickly, it was only five minutes in and a header from Aleksandar Mitrovic put the 1 - 0, but right after that goal that seemed to make the Swiss loose focus, the Serbians startes to loose ground and control of the match, allowing the Swiss to dominate their rival and start attacking with a vertical style that put Serbia in serious trouble.
At 52 minutes, Granit Xhaka scored one of the top 5 goals scored so far in this world cup with a shot outside the are that crossed from side to side to the upper angle of Stojkovic´s goal. From that moment until the end, it was only a matter of time for the Swiss to score again, they asserted their dominance on every side of the field and on minute 90 after a dull offensive play from the Serbians, Xherdan Shaqiri would score in fast a counter strike.
Both Swiss scorers were sanctioned with a 9,000 euro fee because of their goal celebrations, making references to political issues between Serbia and Albania (country from which both players come from).
Español
Serbia se fue rapidamente adelante en el marcador al minuto 5 con un gol de cabeza de Aleksandar Mitrovic, aunque despues de ese gol que parecia desordenar el esquema de los suizos, Serbia poco a poco fue perdiendo terreno y los Suizos se hicieron del dominio del partido con llegadas muy verticales que ponian en peligro el cuadro de la seleccion de Serbia.
Al minuto 52 Granit Xhaka metería uno de los 5 mejores goles hasta el momento en esta copa del mundo con un tiro desde afuera del área de primera intención que cruzo de lado a lado la portería de Stojkovic. Los minutos siguientes hasta el final del encuentro fueron de dominio suizo y al minuto 90 después de un flojo ataque de los serbios , Xherdan Shaqiri anotaría en un contragolpe a gran velocidad sacando al portero serbio y cruzando el balón por el piso.
Ambos anotadores suizos fueron sancionados con mas de 9 mil euros por celebrar con señas políticas aludiendo al problema regional entre serbia y Albania (país de donde ambos tienen ascendencia)
Deutsch
Serbien ging sehr schnell in Führung, nach nur fünf Minuten brachte ein Kopfball von Aleksandar Mitrovic das 1 - 0. Aber nach diesem Tor, das die Schweizer in Schieflage zu bringen schien, begannen die Serben nachzulassen und die Kontrolle zu verlieren. Die Schweizer dominierten ihren Rivalen und begannen mit einem vertikalen Angriff, der Serbien in ernsthafte Schwierigkeiten brachte.
In der 52. Minute erzielte Granit Xhaka eins der schönsten Tore dieser Weltmeisterschaft. Ein Querschläger von ausserhalb der Strafraumgrenze passte genau in den Winkel von Stojkovics Tor. Von diesem Moment bis zum Ende war es für die Schweizer nur eine Frage der Zeit bis wieder zu punkten, sie behaupteten ihre Dominanz auf jedem Zentimeter des Feldes und in der 90 Minute nutzte Xherdan Shaqiri nach einem dumpfen Offensivspiel der Serben um sie auszukontern und zum Gegenschlag auszuholen.
Beide Schweizer Torschützen wurden mit einer 9.000 Euro Sanktion bestraft da sie bei ihrem Torjubel politische Andeutungen der Probleme zwischen Serbien und Albanien (Land, aus dem beide Spieler kommen) andeuteten.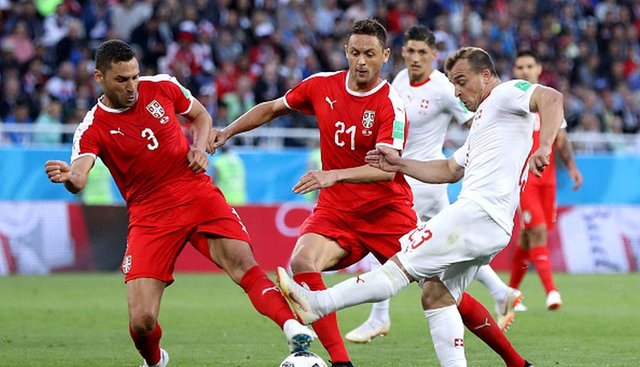 Source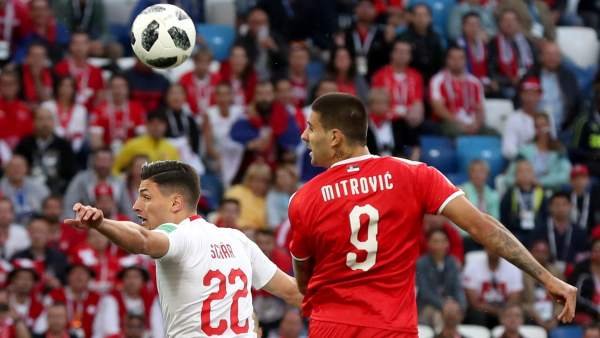 Source
Group F
SOUTH KOREA 1 - 2 MEXICO
English
México got their second victory of the tournament against an unorganized South Korea that came to the field searching for counterstrike options but just couldn´t score, yet a hand inside the Korean area changed all their strategy after Carlos Vela´s score, and noe they were striving for the tie. It was at minute 66 that Javier "chicharito" hernandez with a superb definition scored Mexico´s second goal, practically sealing Mexico´s victory.
Korea doubled their efforts but it wasn´t enough to beat Guillermo Ochoa. It would be only until minute 90+3 that Son Heung Ming, Tottenham star player, would score for the Koreans with an astounding kick out of the area where the Mexican goalkeeper couldn´t do anything to stop it. With this result Mexico is practically in the knockout stage while Korea is almost mathematically out of the tournament.
Español
México consiguió su segunda victoria del torneo frente a una ordenada Corea del Sur que salio buscando opciones de gol al contragolpe por medio de la velocidad de sus delanteros, sin embargo una mano dentro del área en el 1er tiempo cambio totalmente la estrategia de los Asiáticos que debieron buscar el empate a como de lugar tras el gol de penal de Carlos Vela. Sin embargo al minuto 66 Javier Hernandez ampliaría la victoria parcial para los mexicanos con una gran definición dentro del área, situación que ponía el partido casi definido
Corea redoblo esfuerzos pero no fue suficiente para abatir la portería mexicana, sin embargo al minuto 90+3 Son Heung Ming estrella del Tottenham de los Coreanos marco un gran gol desde afuera del área para recortar el marcador, y donde el portero mexicano nada pudo hacer para detener el tiro esquinado. Con este resultado México esta prácticamente clasificado, mientras que Corea esta matemáticamente eliminado del torneo.
Deutsch
Mexiko fuhr den zweiten Sieg des Turniers gegen ein unorganisiertes Südkorea, ein das auf der Suche nach Konter optionen auf das Feld kam, aber einfach nicht punkten konnte. Doch ein Handspiel im koreanischen Raum änderte nach dem Treffer von Carlos Vela ihre gesamte Strategie und von da an versuchten sie nur noch auszugleichen. In der 66. Minute erzielte Javier Hernandez alias "chicharito" mit einer exzellenten Aktion das zweite Tor und sicherte damit Mexikos Sieg.
Korea verdoppelte seine Bemühungen, aber es reichte nicht, um Guillermo Ochoa zu schlagen. Es dauerte bis zur 90 + 3 Minute, dass Son Heung Ming, Tottenhams Starspieler, für die Koreaner mit einem erstaunlichen Kick punkten würde, der für den mexikanischen Torhüter unhaltbar war. Mit diesem Ergebnis steht Mexiko praktisch im Achtelfinale, während so gut wie aus dem Turnier ausgeschieden ist.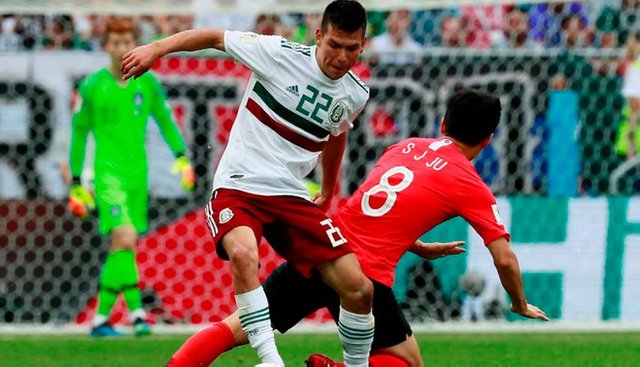 Source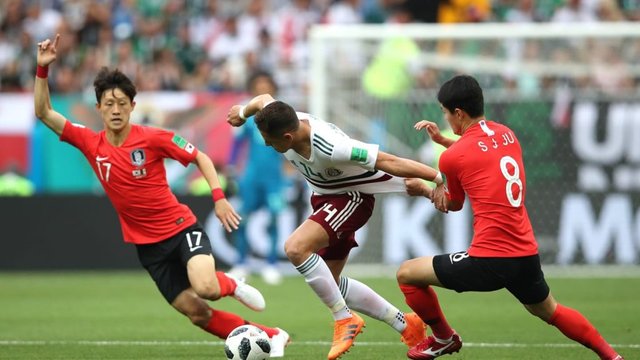 Source
GERMANY 2 - 1 SWEDEN
English
Germany complicated the game for themselves again, and even though they won this game in the last minute, they were very close to being practically eliminated from the tournament. Ola Toivonen opened the score for the Swedish at minute 32 in a play that surprised and silenced every German fan in the stadium, but Germany quickly reacted in the second half by the hand of Marco Reus.
The game turned into an up and down match with a lot of physical challenges, situation that helped the Swedish team, but it was up until minute 90+4 with a free kick from Toni Kross that crossed all the way from the left to the goal, that Germany exhaled in calm. Thanks to this last minute goal, Germany has on their hands the next round classification and they just need to win the next one against Korea to be in the next round.
Español
Alemania se volvió a complicar la existencia en este mundial y aunque logro sacar la victoria a ultimo minuto, poco falto para que se las vieran negras para clasificar a la siguiente ronda. Ola Toivonen abrió el marcador para los Suecos al minuto 32 en una jugada que sorprendió y silencio a todos los alemanes en el estadio, sin embargo Alemania rápidamente empato el marcador al inicio del segundo tiempo con gol de Marco Reus.
El partido se volvió de ida y vuelta con mucho juego físico, situación que beneficiaba a los suecos, pero fue al minuto 90+4 en un tiro libre donde Toni Kross cruzo el balón al angulo derecho de la portería Sueca para darle la victoria de ultimo minuto a Alemania, que gracias a este marcador tiene en sus manos la clasificación a la siguiente ronda, pues de ganar su partido contra Corea del Sur estaría en octavos de final.
Deutsch
Deutschland stand sich mal wieder selbst im Weg und verkomplizierte das Spiel. Obwohl sie dieses Spiel in letzter Minute gewonnen haben, waren sie kurz davor, praktisch aus dem Turnier ausgeschieden zu sein. Ola Toivonen schoss das erste Tor für Schweden in der 32. Minute, in einem Spiel, das jeden deutschen Fan im Stadion überraschte und zum Schweigen brachte, aber Deutschland reagierte in der zweiten Halbzeit schnell mit dem Ausgleich von Marco Reus.
Das Spiel wurde zu einer emotionalen Achterbahn mit vielen körperlichen Herausforderungen, was den Schweden in die Karten spielte. Es dauerte bis zur allerletzten Spielminute 90 + 4 das Deutschland nach einem Freistoß von Toni Kross, erleichtert aufatmen konnte. Dank dieses letzten Treffers bleibt Deutschland im Turnier und muss nun nur noch gegen Korea gewinnen, um in das Achtelfinale einzuziehen.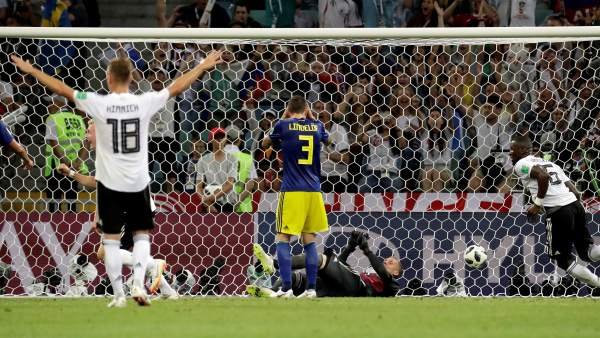 Source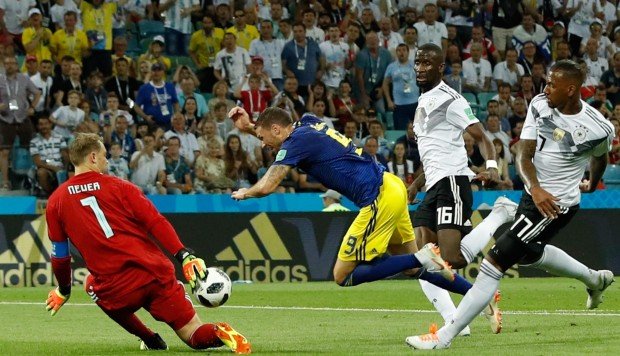 Source
If you would like to include a translation to your language, contact @anomadsoul on discord :)
This is a @blocktrades sponsored contest, if you like what he is doing, vote for @blocktrades as witness here
This is an @anomadsoul & @acidyo organized contest, if you like what we are doing, vote for @ocd-witness as witness here
Translations kindly provided by:
Spanish: @zlatan-spielberg
Deutsch: @lizanomadsoul