90 Day Steem Power delegations available from BlockTrades
We now have an inventory of just under 400K SP available for sale as 90-day Steem Power delegations. Because our supply remains limited, only 90 day delegations are available for purchase.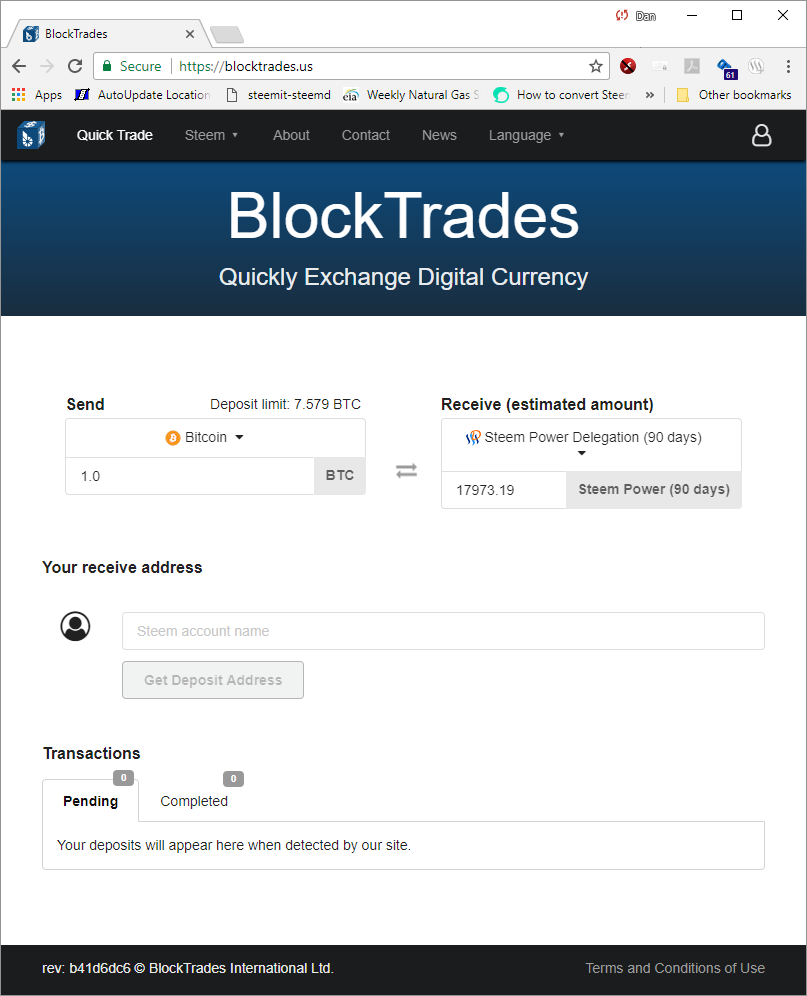 Login before buying Steem Power delegation
To enable better management of Steem delegations purchased through BlockTrades, we strongly recommend you create an account on BlockTrades and login before getting a deposit address to buy your delegations. This will also make it easier for our service to inform you when your delegation is about to expire (we send out an email to the delegation holder approximately 2 days before the delegation expires).
More benefits for account holders
If you create an account on BlockTrades and sign in before you get your deposit addresses, our system can keep a history of all the transactions made to those deposit addresses. This can be very useful for accounting purposes.
Also, in the future, we plan to offer additional benefits to account holders based on the volume of business that has been done with our site, so there are many reasons to create an account.
Edit: More info about Steem Power delegations available from BlockTrades
Since I've already seen several questions from new Steemians about what a delegation is, I wanted to repeat some old info that's probably known by most of our customers:
What is a Steem Power delegation?
It is a temporary lease of Steem Power (SP). You can buy a delegation to temporarily increase the strength of your votes and also give your account more bandwidth for posting/voting/following/etc.
Terms and Conditions for Steem Power Delegations
While BlockTrades does not directly oversee usage of the delegated Steem, we will investigate complaints of abuse by the community. BlockTrades reserves the right to terminate a user's delegated Steem Power without refund if the user uses the delegation in a manner it considers harmful to the Steem community. The most common forms of abuse in this context would be: frequent upvoting of nearly contentless posts and/or plagiarism posts, targeted downvoting attacks on non-abusive community members, or phishing attacks aimed at defrauding other Steem users. We have in the past terminated several delegations WITHOUT refund for abuse of this type.
On the other hand, BlockTrades does not consider it abuse to upvote your own posts as long as they consist of original material that can be argued to have some meaningful content (even if it's just an original joke).