Deposit memo errors are #1 mistake made by our Steem customers
As many of our Steem customers know, the most error-prone part of sending Steem or Steem Dollars to BlockTrades is to include the deposit memo when you're transferring the funds from your Steem wallet. It's very easy to forget it entirely or to paste in the wrong information (one common error made even by experienced customers is to put in their desired destination address instead of the deposit memo). It's a particularly difficult step for new users, because they need to navigate away from the BlockTrades web site to their Steem wallet and make the actual payment there.
New SteemConnect payment method doesn't require entry of deposit memo
We're very happy to announce that we've added the option to make purchases using SteemConnect (https://v2.steemconnect.com/). SteemConnect is a simple, secure way to authorize your Steem transactions (in this case, transactions for sending Steem and Steem Dollars) .
If you're sending Steem from your Steem account and you elect to use SteemConnect to make your purchase, you no longer need to deal with the deposit memo. Our site will open up a SteemConnect web page with all the information needed to make your purchase (the amount to send and the deposit memo) and you just need to login and confirm the purchase.
If you store your Steem login credentials in your browser, you only need two mouse clicks on the SteemConnect web site to make your purchase after your initial login there.
SteemConnect payment method helps avoid "input too small" errors
Another benefit of using the SteemConnect payment method is that it auto-checks to be sure you're sending at least the minimum amount required to pay for the transfer of the purchased coins, which is probably the second most common error made by new users. So we anticipate that this new payment method will eliminate about 95% of the errors made by customers sending us Steem and Steem Dollars!
Using the SteemConnect payment method
When you select Steem or Steem Dollars as the coin you're sending to BlockTrades, you begin as normal by entering your receive address, then pressing the Get Deposit Address button on our web site. Next, you will be presented with a tabbed view that allows you to send either via SteemConnect or via a Manual Transfer (old payment method):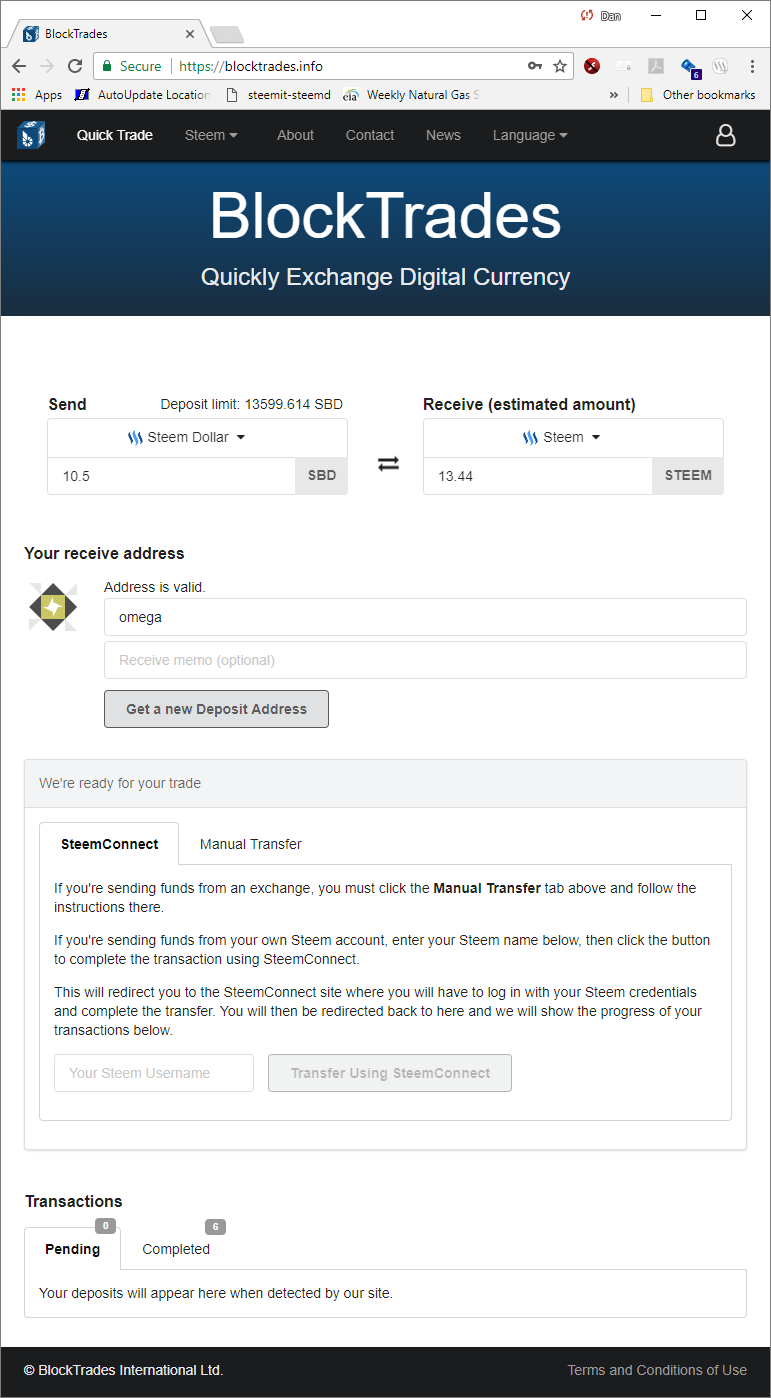 To use the SteemConnect payment method:
Enter the amount you want to send in the Send amount field of the Price Estimator at the top of the Quick Trade page (in the image above, I'm sending 10.5 SBD)
Enter the Steem account name you are sending from into the SteemConnect tab window.
Press the "Transfer Using SteemConnect" button.
At this point you will be temporarily redirected to the SteemConnect web site where you can confirm the purchase, after which you will be brought back to our web site.
Steem sent from an exchange must still use Manual Transfer payment method
We still have our older Manual Transfer interface for making purchases using a deposit memo. If you're sending Steem or Steem Dollars from an exchange, you must still use the Manual Transfer payment method, because SteemConnect requires that you control the Steem account that is sending funds. Unlike Steem held in your own wallet, Steem sent from an exchange is held in the exchange's Steem account (which you don't control, unless you are the owner of the exchange).
So we haven't totally eliminated the need for deposit memos for all our Steem customers, but we can declare a day of celebration for most of them!