Bitcoin Cash was most requested coin on BlockTrades
We're celebrating the new year by adding support for the coin most requested by our customers: Bitcoin Cash (BCH). Note that some exchanges use BCC as the symbol instead of BCH.
In addition to supporting regular buying and selling of BCH, customers will also be able to purchase Steem accounts with BCH.
Why the wait and why now?
We waited a long time before rolling out support for Bitcoin Cash because the address formats used by Bitcoin and Bitcoin Cash are the same, which means it's easy for a customer to accidentally send Bitcoin to a Bitcoin Cash address and vice-versa, which causes a headache for both us and our customers.
But today is "Change the Address" day for Bitcoin Cash. The latest wallets for Bitcoin Cash support a new address format that is specific to Bitcoin Cash to avoid confusing Bitcoin Cash and Bitcoin addresses. Here's an example of what a BCH-specific address looks like:
bitcoincash:qpm2qsznhks23z7629mms6s4cwef74vcwvy22gdx6a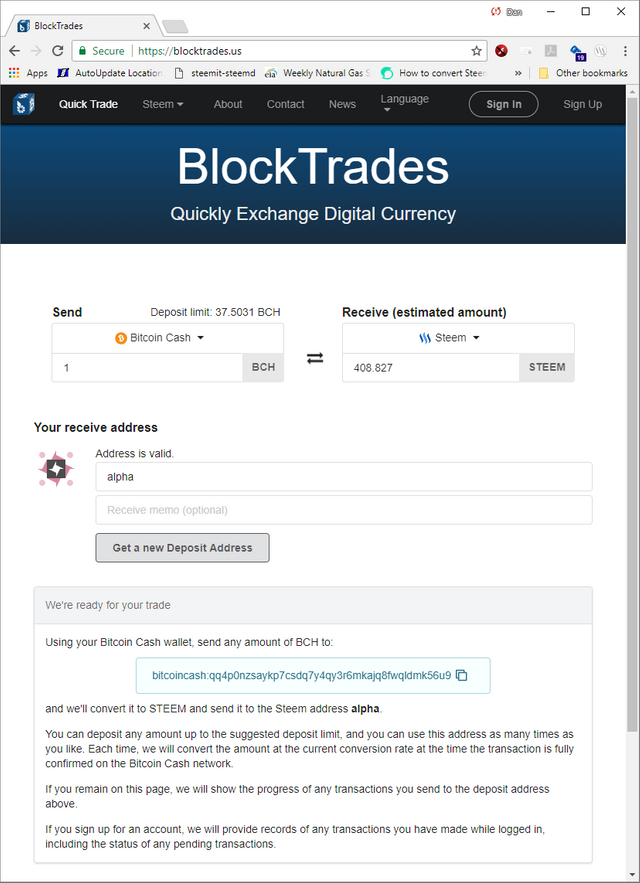 Usage of new Bitcoin Cash addresses
BlockTrades will allow BCH to be sent using both the new BCH-specific addresses or the old-style addresses, but the deposit addresses generated for users paying us with BCH will only be generated in the new format. If you need to send BCH to us from an exchange that doesn't support the new format, you can use this conversion tool:
https://cashaddr.bitcoincash.org/
Cheaper transaction fees than Bitcoin
One useful aspect of Bitcoin Cash is that transaction fees are cheap relative to Bitcoin, and Bitcoin Cash is supported at many exchanges that support Bitcoin, making it a useful intermediate coin (like Litecoin, Ethereum, and Doge) for going to and from fiat currencies.
More Info on Bitcoin Cash
For more information about Bitcoin Cash, including how to obtain a BCH wallet, check out the community home page here: https://www.bitcoincash.org/
The wikipedia page for Bitcoin Cash also has some useful information about it (I like to include a less biased source of info when possible): https://en.wikipedia.org/wiki/Bitcoin_Cash
Also, please feel free to share your own thoughts about Bitcoin Cash with our other customers in the comments section of this post!
P.S. All delegations pre-orders filled this morning
As per our last announcement, today we've filled all outstanding pre-orders for Steem Power delegations. Please do not email us asking when we will resume offering new delegations: we will make a public announcement when they are available again (when we ourselves know).