-----------------------------------------------******-------------------------------------------------
Readers Note: Blockchain.io's Crowd Sale is going on at the moment and will soon close. There is information provided on how to get a 5% contribution bonus and 5% referral bonus. Ensure you read till the end.
-----------------------------------------------******-------------------------------------------------

Introduction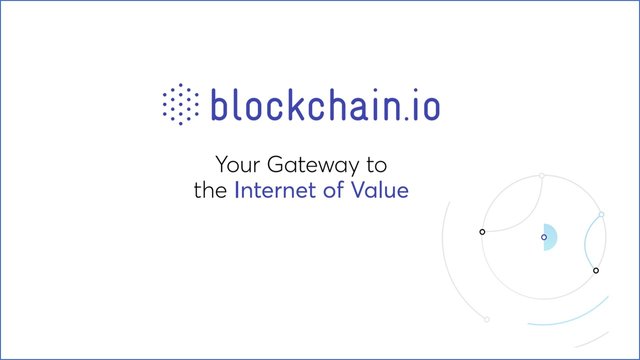 The introduction of Bitcoin as a crypto – concept led to the dawn of the blockchain era and the world has not looked back ever since. Without a doubt, blockchain has been a revolutionary idea which came to the fore but the pace at which adoption followed is mind-boggling. Not only is crypto-currency making some serious money for investors but it is also providing some robust solutions for individuals and enterprise. The very fact that Bitcoin today is traded with US dollars and other major FIAT currencies is a testimony to the fact that cryptocurrencies have well and truly arrived! The crypto world today has a representation of 1500+ cryptocurrencies and the whole crypto market is estimated to be USD 220 billion. From the introduction of Bitcoin in 2008 to a billion dollar market by 2018 must be one of the fastest growth of an idea from a concept to earning big bucks!
The crypto growth story doesn't end there. In 2017, the largest number of ICOs had been witnessed and the first half of 2018 itself matched the ICO launches of 2017. This rapid crypto launches are expected to run for another half a decade, at least, before they start tapering down. This brings in other challenges with it. 
Investors are at the mercy of the exchanges to trade in the crypto-currencies of their choice. Not to mention the spread of exchanges is skewed across the globe. Add to this mix those exchanges which have a dodgy reputation and the picture doesn't seem right. Now those who understand cryptocurrencies know that these are one of the strongest solutions which prevents hack and hence a hacker will inevitably levitate towards the exchanges to find a loophole. In other words, exchanges are the weakest link in a chain to hack and claim cryptocurrencies. It is estimated that millions of Bitcoins have been lost in such exchange attacks. To add to this there are not many regulatory compliant exchanges and hence investors are at the mercy of those running the exchanges. And we are yet to touch on the downtime that such exchanges face leaving the investors on the lurch as far as their "call" is concerned. These are but few of the challenges that investors, individuals and small traders have to face when looking at the crypto market and maybe, that is one of the reason for enterprises to stay away from the crypto-world. 
But this is set to change. How? 
Blockchain.io brings a solution which addresses the mentioned issues and attempts to make the exchange a strong loop in the otherwise strong cryptocurrency trading chain.

Now, the internet era allowed absolute independence to the flow of information, however, the flow of value was more or less controlled by a centralized authority. What I mean is, anyone could get on the net and post his or her views or even start a website and get thousands to millions of viewers. There is no central authority to control the access of any user. However, to enter a financial transaction (flow of value) each and every user will have to go through a centralized authority, in most cases, that authority being a bank.  
The blockchain world is a solution for the free flow of value as there is no central authority controlling the flow of coins and more or less the operations stand decentralized. As such, blockchain could bring about the free flow of value which the internet did for the flow of information, and more importantly, this flow of value between chains or individuals trading in different coins can happen through a gateway. This gateway is what Blockchain.io attempts to bring to the world. In effect, it is easy to see that Blockchain.io will be the gateway to the internet of value. 
Blockchain.io states its vision in their whitepaper as follows:
In Blockchain.io's vision the Internet of Value is the next level of evolution of the Internet. The internet of value enables users to securely trade assets, rights, goods, and services, globally and around the clock, without the involvement of a centralized authority, or traditional financial intermediaries, or so-called 'trusted' third-parties.
Blockchain.io intends to be the exchange with highest Security, Reliability, and Accountability Standards. In short, value transfers in the blockchain world would be safe and secure through Blockchain.io. This confidence in being reliable is not just big talk rather it is something which is grounded and comes from earlier experience. What experience you ask? 
We are talking about Paymium, a Bitcoin/FIAT exchange serving the European market. Paymium has been in operation for about seven years now and not been hacked since 2013. That's an enviable record for any exchange and to think that the same management will now look over Blockchain.io's operations instills in a lot of confidence. So, as I said, the claims on security and reliability indeed comes from experience! 
Have a look at Blockchain.io's video intro:

Let's understand the Paymium and Blockchain.io Association a bit 
We did touch upon Paymium in the previous section but it's pertinent to know more about them so as to understand the vision behind Blockchain.io. 
In fact, the stated ambition of Blockchain.io in their whitepaper is as follows:
Together with Paymium, Blockchain.io aims to become the leading cryptographic exchange in Europe by 2020.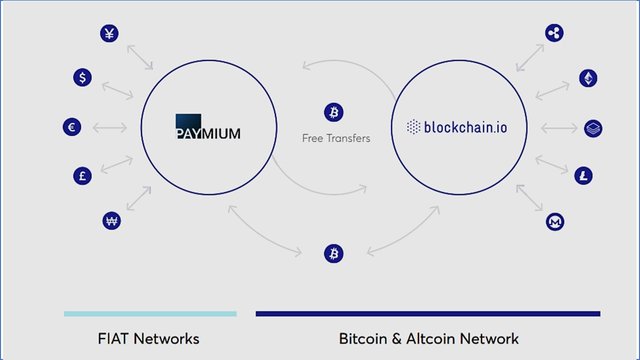 Many would wonder as to what prompted Paymium to come out with the Blockchain.io platform when they were already trading cryptocurrencies on Paymium. The answer is to come up with a dedicated crypto exchange focusing only on cryptocurrencies and not on FIAT. The FIAT part of the exchange will be taken care of by Paymium. Not only that but also the security and reliability aspect. Paymium happens to be the only one of its kind to be audited by an external auditor at a level equivalent to an American CPA. This would be unheard of in the crypto-exchange world. This and more is what Paymium brings to the table for Blockchain.io users.  
Here are some attributes of the association:
Blockchain.io investors will get Paymium platform to exchange FIAT currencies 
Keeping Blockchain.io focused on cryptocurrencies alone allows the network to focus and use the bandwidth for cryptocurrency trades only 
If Blockchain.io investors do need to trade in FIAT then they have a privileged access to Paymium to trade bitcoin, ether or BCIO tokens 
Paymium users will be encouraged and incentivized to use Blockchain.io. So, new investors thinking about using Blockchain.io can rest assured that happy and long-term customers of Paymium are also going to be using Blockchain.io 
On the FIAT currency side, Paymium will allow users to trade in Euro as of now, and soon will have USD, GBP, JPY, and others.  
All transfers between Paymium and Blockchain.io will be free of charge 
Blockchain.io will enable trade of supported coins from all other platforms and wallets 
Blockchain.io will also keep abreast with technology improvements in the crypto world and ensure that they evolve with such improvements proving a boon for Paymium users and International Traders 
Blockchain.io also benefits from the same management who have ensured fair, secure and reliable trade on Paymium for so long. Needless to say, the same benefits pass on to Blockchain.io 
So, these are some of the benefits of the Paymium association which bring to the investor communities a platform which is time-tested and proven!

So, what are the Key Takeaways and Features of Blockchain.io?
So far we have seen the pitfalls of the current exchanges and why an alternative robust solution was essential. Blockchain.io will be at the center of operations tying together the trading of existing coins, new coins still to be launched, technology, both current and future, and, of course, FIAT currencies. It becomes a perfect operator within this reality to ensure Internet of Value.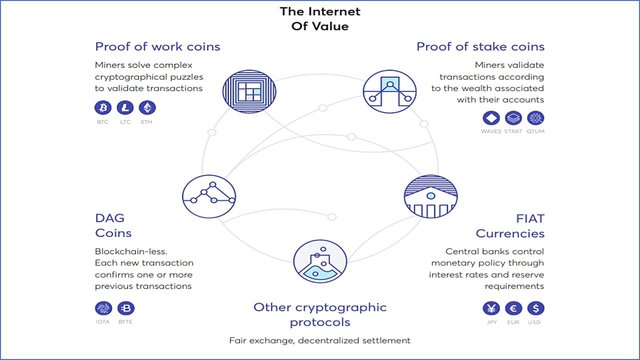 Blockchain.io team understands this and present themselves as the perfect candidate for such a reality and here's why.
The Paymium Association 
We just saw this part and it is worthwhile bringing in other aspects of the association. For example, Paymium voluntarily complies with the European Banking requirements for Anti – Money Laundering (AML) and Know-Your-Customers (KYC) standards. These are aspects which instill confidence that the investors are in safe hands and more importantly, their investments are passing through a dependable management backed gateway. 
European Leadership 
Even at the time that Paymium entered the European market back in 2011, it was safe to say that the European crypto investors were scarcely served. While the situation may have improved since then, customers continue to remain underserved. Blockchain.io intends to take the leadership position in this market which is around 28 countries with a combined population of 510 million. Despite the population size, Europe represents only 7% of the Bitcoin to FIAT currency exchanges. The optimism that European governments have towards cryptocurrencies will be another factor which Blockchain.io can utilize to be an authoritative voice in the matters concerning cryptocurrencies; not to mention closely working with the governments.
Combining a Centralized Exchange with a Decentralized Settlement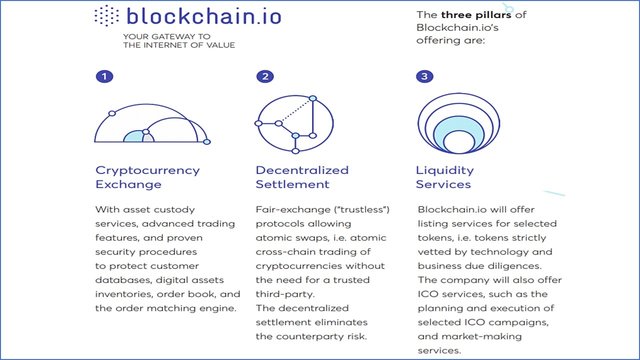 Blockchain.io attempts to combine the best of two worlds – centralized and decentralized exchanges – and creates a unique solution conducive for customers and investors. The centralized part of the exchange will allow centralized order booking, custody services and efficient order matching with least latency. This is required to ensure near real-time exchange working. It is envisaged that as Blockchain.io grows other functionalities like margin trading, peer-to-peer lending and proprietary lending will be brought in. The decentralized part of the exchange will allow cross-chain settlement based on cross-chain atomic swaps. This allows alleviating counter-party risks and completing the transactions without a third party involved. As such, a trustless and automatic cross-chain settlements is achieved and a major step towards "Internet of Value" is taken. 
Offering Liquidity Services 
One of the major challenges of exchanges is the management of liquidity to allow uninterrupted trade. Blockchain.io has thought through this challenge and hence have few ways to bring in liquidity. These can be in any or all of the following modes: 
Supporting ICOs and assisting issuers with ICO campaigns and listing 
Listing other non-ICO tokens 
Market making (trade enablement) using Blockchain.io's inventory 
Blockchain.io can offer custody and brokerage services to institutional clients 
Incentivising the 170,000 Paymium users to access Blockchain.io and benefit from the Internet of Value.  
Leveraging Advanced Cryptographic Technology and Protocols 
Any platform has to be forward-looking and be open to technologies that may grace the world in the near future. This is true in any field as much as the crypto world and not to mention the platforms which enable crypto transactions. The good news is that Blockchain.io is already on the lookout for such technologies and protocol. These include R&D from prominent teams like Lightning Networks, Tumblebit, and Rootstock working on improving on-chain and off-chain protocols enabling atomic swaps through hashed timelock contracts (HTLC), payment channels and side chains.  
But what would be the use of these protocols? These protocols will allow seamless working across crypto chains fueled by PoW, PoS, DAG, and others. Not only that but also other issues like scaling challenges of bitcoin network and thereby, reduce the cost of transaction.
Compliant and Ready for Mainstream Adoption 
Although coming as the last point, this is one of the most important point discussed so far. Cryptocurrency is still in a nascent stage as far as the financial world is concerned, and hence, we see different approaches towards cryptocurrencies across the globe. Few countries have banned cryptocurrencies while few others like US and France are coming up with a regulatory framework, while few others have launched their own cryptos and not to mention many businesses adopting crypto-policies into their regular work.  
This only means that there could be a need for regular discussion with governments, understanding needs, changes, recommending to governments and adapting the platform to be compliant. Blockchain.io is game for these realities which would remain dynamic for some time. In doing so, they present the platform as one of popular choice for mainstream adoption, across the board!! 

Some more Essential Features enabled by Blockchain.io
Please note the following is reproduced from Blockchain.io' whitepaper and can be read in detail over here.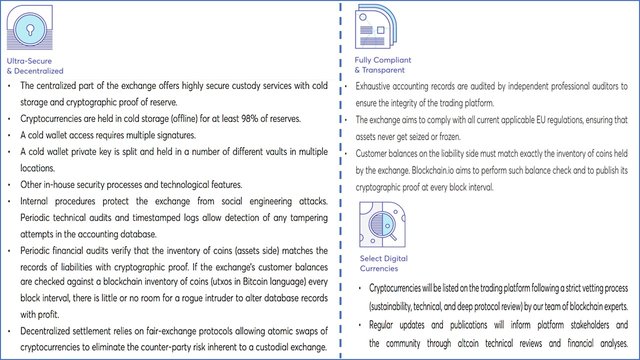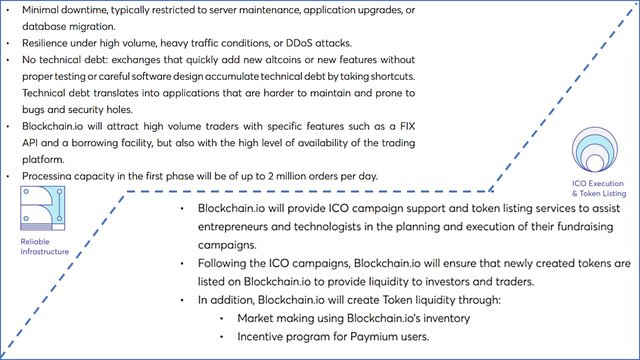 Now, a bit about the Tokens 
BCIO will be the native token of Blockchain.io and will enable the operations of the exchange. Given below are some details of the Token distribution and its intended use.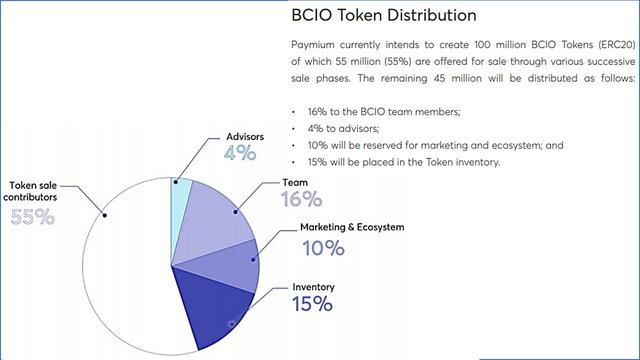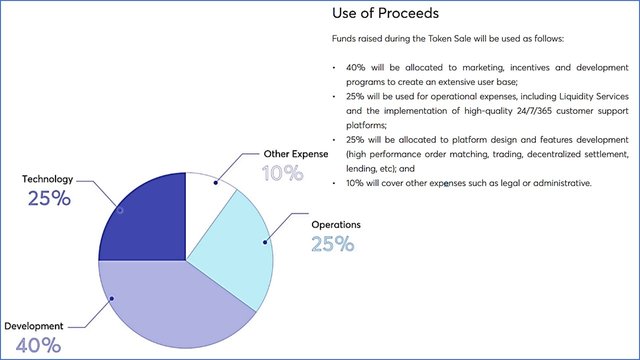 Blockchain.io Crowd Sale 
Blockchain.io appears to be one of the exchanges which appears to be reliable, secure and adapting to technology changes and cryto realities across the globe. Hence it is quite evident that it would be successful and hence it is a no-brainer that we public in general would want to get in the game as early as possible. 
Blockchain.io offers that chance to buyers and investors. Here's how: 
Interested buyers can participate in the Crowd Sale which is going on at the moment. They can get a 5% Bonus if they contribute more than 100 Euros in buying tokens using the referral code: emwinVWrVCzugXiWVP3z. Please ensure that you use the referral code else the bonus may not apply.
There is no soft cap and unsold tokens will be burned. Also, readers can get an additional 5% referral bonus on any contributions above 100 Euros. Blockchain.io is currently in the third week of their crowdsale and their crowdsale is set to finish on October 25, 2018, 6:00 AM UTC. In the first 7 days of the crowdsale, $1.2M USD was raised despite the current market conditions. All unsold tokens will be burned, meaning the exchange could enter the market with an unusually low market cap for a project of this stature
So hurry and make full use of this offer!

Blockchain.io Roadmap
All that we discussed so far as features of the platform and the expected features in the near future are shown in the raodmap. A third person look at the roadmap gives the impression that Blockchain.io team have given a fair thought between feature launches and time to settle. A well-thought-out plan!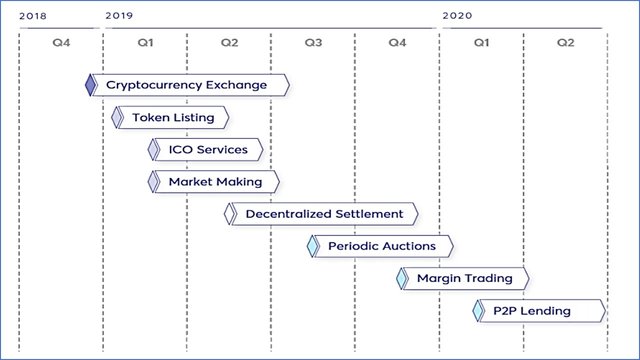 Summary
At a time when the crypto world was witnessing its strongest growth it was obvious that many investors and fence-sitters would be attempting to take a plunge. The mood could be dampened by the exchanges available globally. This would be a setback for the investing community which will then refrain from getting involved in the crypto world.  
Such moments are the ones which require an infusion of confidence by reputable and dependable exchanges like Blockchain.io. Blockchain.io will also act as guiding light for countries which intend to bring in a regulatory framework and not to mention the other exchanges which will attempt to follow the set example.  
Blockchain.io stands to be an example not only for the European market but also the global standards of crypto exchange operations. It truly is a reliable and secure crypto exchange!

It is also recommended that readers understand more about Blockchain.io through any of the following informative resources.

This article is written in response to crypto.hype's call on authors' thoughts on Blockchain.io. It can be read here.
Image Courtesy: Blockchain.io Resources