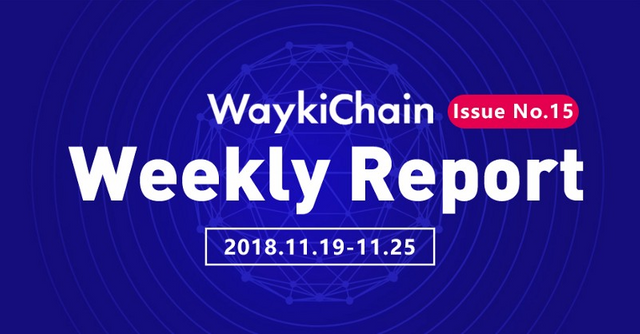 Weekly News
Beijing Academy of Blockchain Consensus was officially established.
Singapore's central bank finalizes regulatory framework for crypto payment services.
South Korea's National Policy Committee has stated that a parliamentary debate on the country's controversial ICO ban could take place in December.
According to statistics, cryptocurrencies lose $700 billion in market cap this year.
Blockchain evidence judgment was selected into the top ten cases of Internet law.
Marketing Weekly Report
Domestic
Attended "2018 Blockchain New Economy Hangzhou Summit".
WaykiChain was invited to attend "2018 Central China Blockchain Technology Enabling Real Economy Summit".
Enter Bituniverse Link.
Invited crypto KOL to WaykiTimes.
Co-held Thanksgiving activity with BiShiJie.
Corrected WICC circulating supply on Mytoken, Feixiaohao and Huobi.
WaykiChain 2019 Campus Recruitment — Tongji University Station successfully concluded.
"Influencers' Questions" has been ongoing in WaykiTimes.
Community reward activity has been ongoing in WaykiTimes.
Xueqiu quiz activity has been ongoing.
Global
Community Members: Telegram: 263,282; Twitter: 3,465; Facebook: 10,163.
Held WaykiChain CEO & Global Medias Online Meetup. 8 medias including Cointelegraph, AMB Crypto, Core Blockchain Development, Inoformance attended the meetup.
Community activities: Successfully held "WaykiChain Thanksgiving Bounty" and "WaykiChain Telegram Quiz #1".
Enter Bituniverse Link and co-held Twitter activity.
Project Updates: WaykiChain Milestone; WaykiChain CEO & Media Online Meetup Review.
WaykiTimes v1.0
Preliminarily confirmed items to optimize in next version.
Completed software copyright registration.
Launched on Xiaomi, 360, Tencent, Alibaba, and Huawei app store.
Completed preparation work of monthly WICC lock revenue distribution.
Blockchain Game (47% Completed)
Followed up the front and back end development work.
Designed game numerical system and conducted sand table.
Planned play models of new game.
Developer Web Portal (80% Completed)
Knowledge system construction. (90% completed)
Training material for simplest ICO sample development. (70 completed)
Homepage construction. (80%)
Welcome feedback from the community, so please do get in touch. Want to dive in further? Follow WaykiChain on Telegram, Twitter, and LinkedIn.