A Decentralized Gathering During the Kentucky Derby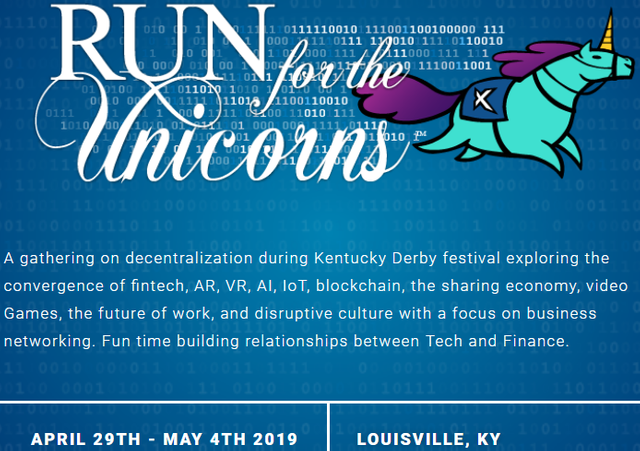 A gathering on decentralization during Kentucky Derby festival exploring the convergence of fintech, AR, VR, AI, IoT, blockchain, the sharing economy, video Games, the future of work, and disruptive culture with a focus on business networking.
APRIL 29TH - MAY 4TH 2019
University Club, University of Louisville
200 E Brandeis Ave, Louisville, KY 40208
About The Event
RUN is assembling the top innovators in fintech, ICOs, and blockchain technology in Louisville KY during Derby Week, one of the top world class festivals of the year. Featuring the hottest startups to the Fortune 500 companies showcasing the best digital experiences in all aspects of life and work: from entertainment and brand engagement, to enterprise and industrial, urban and architecture, education and training, government, and commerce.
The RUN 2019 Program includes mind-blowing keynotes by industry luminaries, classes and tutorials, products and startup demos, industry use cases, Startup Competition, Art from Jassen Popp , talks by industry leaders covering business, technology and design, and exhibits. Do not miss the opportunity to position your company in this world-changing industry, and create awareness among Fortune 500 companies, potential buyers, partners, investors, and the media.
Went to this event last year and had lots of run as well as attending the Kentucky Derby for the first time too! Even knew some of the speakers and attendees too as well as organizers!
See website for more information. Will do more posts (in the near future).
Run for the Unicorns Giveaway
Will be offering at least a Run 19 - 1 Day Admission to Expo Only or two days given interest. Please express your interest in the comments below with giveaway contest ideas!
May be open to including a STEEM event during the Run with the Unicorns if there may be interest or maybe just a table during the Unicorn Ball for STEEM community (&/or TeamVG) people!

Also check out Silica Nexus as the main project behind the Run for the Unicorns with the droid tokens!
Come Run With the Unicorns and Derby With Us!,