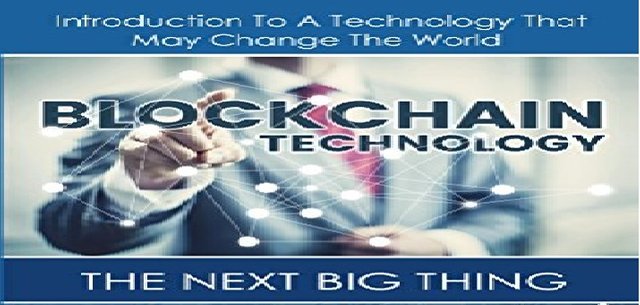 https://www.amazon.com/Blockchain-Technology-Thing-Introduction-Change-ebook/dp/B01M3P2JN6
I started looking into Blockchain when I watched an interesting episode entitled "The Next Digital Revolution." The episode was first aired on January 09, 2017.
I learned what blockchain technology is, its financial implications , the companies that are prepared to embrace this technology. how trust is built into the blockchain model and the challenges that are associated with blockchain technology.
A brief description of my understanding from the above mentioned talk show is given below:
The blockchain technology is simply a global distributed digital ledger which would transform today's internet of information into internet of value. Nowadays people manage companies through big intermediaries. That's going to change through this blockchain technology where anything of value , the money , the votes , or the music can be stored , managed and exchanged peer to peer without a powerful intermediary.
The blockchain technology would have a huge implications on the financial sector. It would redraw the structure of financial institutions and the back end of services. It would allow consumers to pay less for all kinds of financial activity, from international payments to trading of stocks and bonds. It could also give regulators new capabilities by allowing them to stop regulatory violations before they start and to watch more effectively for warning signs of financial crisis. It would enable financial institutions get rid of intermediaries, which would not only cut costs and save money but also would reduce risks like counterparty risks. For an example, If the Banks were to move into blockchain infrastructure , the time period of the standard 3 day settlement of a credit card transaction would be reduced to real time as there would be no intermediaries.
Apart from financial institutions other industries like creative industries, music , film, art, journalism, power and energy industries are prepared to embrace blockchain technology. For an example, today in the music industry the creator of content is not fairly compensated for the value that they have created. They are usually 10th in line to get paid after financial intermediary, lables, the performing rights organizations and other 3rd parties who get paid first. Blockchain technology would turn this paradigm fix where the artist would get paid first. It would turn music into a digital asset from a digital information. Every time a song is consumed, It will trigger the smart contract that is programmed within it to enforce payment. Every time it is played, streamed, sampled or used for another piece of track, it would automatically trigger the smart contract which would ensure that the creator of content get paid automatically.
Within the blockchain model, people would not need to trust anybody as it would be all automatic , directly to peer to peer without any intermediaries. The global distributed ledger would do all transactions by its trust protocol. It is part of the blockchain platform. For an example , if a block is a 10 minute period of time where some of the transactions are captured and if someone wants to hack a block , that person need to hack millions of computers around the world in the light of the most powerful computing resource as all blocks are connected as a chain. Theoretically, it means that it would be more secure than the system today.
Conclusion:
The biggest challenges that are associated with blockchain technology is that people are sceptical and afraid in adopting new technology and its rather unknown implications that might have. Most of them still don't understand what blockchain technology is. Some saying that it's moving very fast. However, these types of concerns are inevitable for any new technology. Just like people were first sceptical about 'Internet' and its usage 25 years ago. Its because , Internet was at its infancy that time just like Blockchain Technology is now. Top Universities are already offering courses on Blockchain Technology, one of which is Oxford University, UK. So, this technology is gonna stay and evolve in the future, just like 'Internet' did.