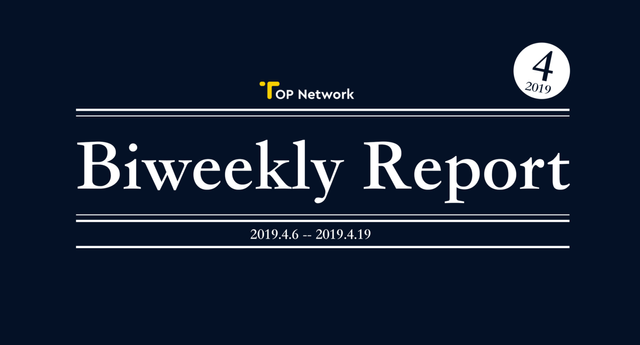 In less than three months away from our Mainnet launch, TOP team, going all out to realize the decentralized dream, has completed a bunch of tasks including enhanced security, performance optimization, functional verification, on-chain governance and tool development on Testnet 4.0. TOP is expanding our community around the globe and has established strategic partnerships with prominent blockchain projects including Conflux, Blockcloud and MultiVAC. TOP CTO Taylor was invited to present at meetups organized by Algorand, our strategic partner, in Hangzhou and Beijing. On April 30, Taylor will share TOP technical innovations with the developer community in Silicon Valley. Please stay tuned for more updates!
I. Upcoming Events
TOP CTO Taylor will give a hands-on workshop regarding the latest updates on our cloud communication services with developers in San Jose on April 30. If you happen to be in the Bay Area, hurry up to register and grab a ticket with world-class developers in Silicon Valley here!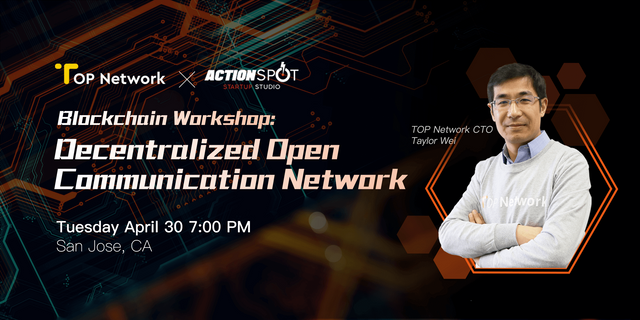 II. Technical Development
Enhanced Security on Testnet 4.0:
Completed the integration, testing and verification of flow control on requests and anti-DDoS tasks;
Completed the development, testing and acceptance of Serialization and Deserialization on consensus and the strong security mode of transaction packages;
Completed the development, testing and acceptance of security enhancement of network connection and handshake verification, and enabled the transmission layer to support decentralized account verification;
Separated smart contracts and transactions in storage, threads, and management to prevent negative effects on each other;

Performance Optimization on Testnet 4.0:
Completed the development, testing and acceptance of independent task scheduling system and independent thread pool;
Dynamically leveraged smart contracts to execute in an ensured order and increased efficiency;
Completed the random optimization of the FTS (Follow The Satoshi) algorithm; reduce the number of factors impacting staking to increase randomness; reduce the impact of staking on the system;

Functional Verification on Testnet 4.0:
Completed functional verification of forward-security proxy re-encryption for the decentralized storage system.

On-chain governance on Testnet 4.0:
Completed the outline design of node kernel version upgrade;

Tool development on Testnet 4.0:
Complete the first decentralized game dApp;
Completed the design and development of the on-chain wallet on iOS & Android;
Started the development of the decentralized explorer.
III. Community Management
The number of TOP Telegram members steadily increased and our Twitter followers surged at a high pace every week. TOP will launch a series new Testnet bounty program soon. Dabble with the decentralized chats to earn TOP tokens!

We released our official website in Korea. Visit our website and click the button on the upper right to switch the language.

We've received a large number of qualified applications for the translation campaign in Korea and Vietnamese. Check out the instructions on Medium and gain up to 20,000 TOP tokens!

IV. Partnership
TOP announced a strategic alliance to collaboratively pursue technological advancements, business use cases and community operations with Conflux, a novel public blockchain architecture developed by a highly qualified group of university professors including Turing Award winner Dr. Andrew Chi-Chih Yao. Upon the collaboration, TOP Network will integrate the cloud communication services as well as 60 million users in the system to Conflux's high-performance public chain platform.

TOP Network announced strategic partnership with BlockCloud, the first project on OKEx JumStart, to work together in the areas of mutually beneficial product integrations and community development. Blockcloud is a blockchain-based advanced TCP/IP that improves and upgrades the existing Internet. It provides better mobility, credibility, incentives, security, fairness, and scalability to upper-layer applications.

TOP announced strategic partnership with MultiVAC to advance the R&D in underlying public chain technology. TOP believes that the alliance with MultiVAC, the first project on KuCoin Spotlight, will bring a huge momentum to both projects in areas including technological development ,community operations and ecosystem.


Congratulations to TOP's advisor Eric Yuan on Zoom's successful IPO! Eric worked with TOP CEO Steve at WebEx in the 1990s. After WebEx, Steve founded Cenwave, a video conferencing and distance-learning software, and Eric founded Zoom in 2011. Check out this article for more details about TOP advisory board.
V. Event Highlights
Taylor was invited to Algorand meetups in Hangzhou and Beijing to discuss the technological innovation of public chain with Algorand community and senior analyst at TokenGazer.


Taylor presented talk about the application of DAG in the next-generation public chain technology as a guest speaker at a meetup co-hosted by Lianchaguan and Rebase, a developer community in Beijing. Taylor shared the architectural and design of TOP Network as an example to give a deeper dive into the horizontal scale-out technology in blockchain.


TOP CMO Noah Wang showcase TOP's decentralized ambition at Ewha Womans University in Korea. TOP will roll out more activities in Korea and expand our global strategy towards our mission in the upcoming months!
You can find TOP Network on:
Email Contact: [email protected]
Official Website: http://www.topnetwork.org
Telegram: https://t.me/topnetwork_top
Twitter: https://twitter.com/topnetwork_top
Medium: https://medium.com/@topnetwork
Steemit: https://steemit.com/@topnetwork-top
Reddit: https://www.reddit.com/user/topnetwork_top
About TOP Network
TOP Network is a decentralized open communication network that provides cloud communication services on the blockchain. TOP offers secure, low-cost services such as messaging, calling, video, VPN, CDN, IoT data sharing and more.
TOP Network is also a high-performance public blockchain platform designed to handle real-world business of any size or volume. Powered by innovations including three-layer network, two-layer sharding, two-layer lattice DAG and PBFT-DPoS*, TOP can process several hundred thousand transactions per second on the blockchain.
The long-term mission of TOP Network is to build a public blockchain infrastructure for all Dapps. Our world-class team of over 100 developers is striving for this goal.
TOP Network originated from the common underlying network layer of Dingtone, CoverMe and SkyVPN, three communication apps built by the TOP team before the blockchain project. These apps, having attracted over 60 million users in total, will be ported to TOP Network upon the launch of TOP and generate huge volumes of transactions in the TOP ecosystem.
TOP Network was founded by serial entrepreneur Steve Wei and his colleagues in late 2017. Steve was one of the earliest employees of WebEx in the 1990s. After WebEx, he founded a successful video conferencing software company which was acquired by Huawei in 2010. In 2012, Steve co-founded Dingtone, a public listed company operating popular communication apps such as Dingtone, CoverMe and SkyVPN.
On March 26th, TOP Network made its debut as the first project launched through Huobi Prime — Huobi's selective Direct Premium Offering platform. A total of 1.5 billion TOP Tokens were sold out in seconds, after which the price of TOP surged 2770% once it was freely tradable. Upon the listing, TOP's trading volume hit $100 million in just eight seconds, and surpassed the trading volume of Bitcoin at $167 million in less than a week, ranking first in terms of volume on Huobi Global. Before that, TOP Network has closed $15 million early investments from prestigious institutional investors and individual billionaire investors, including DHVC, Fenbushi Capital, NEO Global Capital (NGC), Ontology Global Capital (OGC), LD Capital and more.